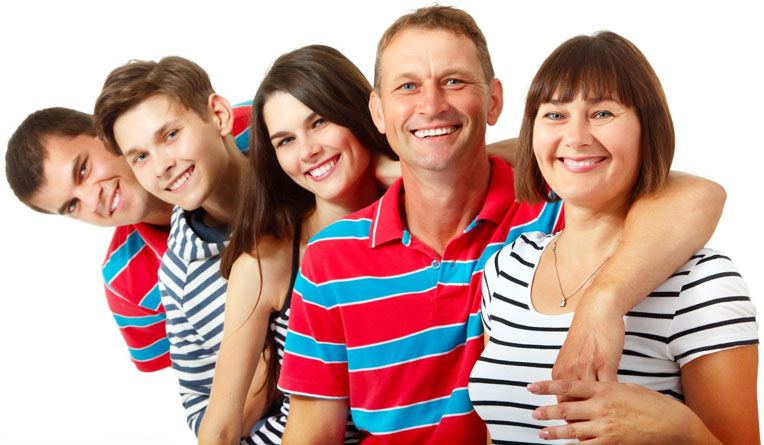 1st UK mortgages understand the demands put on people when buying a home, moving home or refinancing. We have an experienced team used to helping people who might have a bad credit history.
Key to our success is up-to-date whole of market knowledge. Getting it right first time is how we make things happen. Our team will help with your application from start to finish, working with lenders for you whilst making sure things run smoothly and headache-free.

What are bad credit mortgages?
Adverse and poor are terms used to describe mortgages that best fit the needs of those with a poor credit history. It's also a belief people have that they need a specialist mortgage product designed to cater to those with a poor credit rating.
The truth is that your credit rating is only used to assess your level of risk to lenders. If a lender feels you're a high risk, they can do one of a two things with your application…
– Outright refuse it
– Up your interest rate to make you an attractive customer
The last option is what you'd want to happen when you approach a lender and they deem you a high risk. If they're comfortable taking you on as a customer, they'll make you an offer, which will have a higher rate of interest attached to the mortgage offer. This is to cover their higher level of risk of you defaulting on your repayments.
How do I know if my credit rating's poor?
If you know you've defaulted on any debt, then lenders will know too because it's reported by credit referencing agencies. If you're unaware of any adverse credit, then you'll need to check your credit report.
If you've been refused any credit, the lender will usually give you a reason. Often, that reason is that they've run a credit check with one of the main three providers in the UK and discovered some discrepancies that's caused them to refuse your application based on your risk level.
To find out if you have adverse credit, you need to access your credit report. These will be used by financial institutions to assess your risk level. You've a right to know the same information that's disclosed on your credit report.
Who holds your credit history information?
Credit reports are compiled and held by three main companies in the UK.
1) Experian
2) Equifax
3) Call Credit (operates under two brand names – ClearScore and Noddle.)
Under the Data Protection Act, each credit referencing agency is obligated to provide you with a £2 statutory credit report. This will detail the same information that lenders see about your credit history. However, there can be discrepancies between different firms, so to ensure all credit referencing agencies have accurate information, you're best to check them all.
Call Credit provide you with free credit reports through Noddle.co.uk and ClearScore.com. Experian.co.uk and Equifax.co.uk will provide you with statutory credit reports for £2, viewable online. Paper copies will have an additional postage price added.
Do you really need all your credit reports?
No, but it is recommended that you do to ensure the data that's recorded is accurate. Call Credit data should match exactly what is on your Equifax credit report as that's the data the company uses. Experian credit reports need to be obtained from them directly.
You're best to have access to all the information because creditors won't always tell you which firm they'll use to access your credit report. If there's discrepancies with any of the information, you'll need to have those corrected. Each credit referencing agency will provide you details of how to have information changed, or query any information that you feel is wrong.
Information is supposed to be shared, but it doesn't always happen. For that reason, you could find that a default payment appears on your Experian report but isn't shown on your Equifax report. Different lenders use different credit reporting agencies, so just that one missing entry on one of the reports could mean the difference between being accepted or rejected. The only things not to report to have corrected by the reference agencies are issues that'll make your situation worse. Some things are best left be.
What information should I be looking for on my credit report that indicates I've poor credit?
The court records are the most important data set you need to know about. In this section, you'll find details of:
● County Court Judgements (CCJs)
● Decrees
● Individual Voluntary Arrangements (IVAs) and any other Debt Management Plan
● Bankruptcies
● Any other court debt orders
If any of the above are on your credit report, creditors will categorise you as being high-risk. Therefore, any of the above will mean you have adverse credit (see "how to get bad credit mortgages").
In addition to the above, there's also a section on your credit report that shows search history, address, and linked data about you. This is where previous hard checks on your credit report have been requested by other lenders.
When you're looking for any type of credit, it's never a good idea to keep applying if you're faced with rejection. That can indicate to lenders that you're in a situation of poor cash flow and in desperate need of finance. It indicates poor money management. So… too many credit checks by lenders could see your applications rejected, despite having no court records.
Account data is also tracked…
This includes:
All of your bank account data
Gas and electricity account data
Your telephone and broadband bills
Credit cards
Store cards
Loans
Mortgages
Mobile phone contract
In the case of loans, it will also indicate the type of loan as being unsecured or secured. A secured loan is one that's tied to an asset. An example is your mortgage as that's linked to your home. Defaulting on your mortgage puts your home at risk as the lender can repossess it.
The data from the above are tracked and can put you at disadvantage in certain situations. It's not just for lending that your credit report is used for. How you manage your accounts are also reported.
The above companies go above standard reporting and also report the amount you repay each month. If you're on a 0% interest credit card and looking to play the system by switching before your interest-free period runs out, and always pay monthly in full so you don't pay back interest… banks and credit card firms will know this and can reject your application solely based on the knowledge that they won't make any money from your account.
You could be great with money but find that you become too good at avoiding interest payments, that financial firms won't entertain you. This should not affect you accessing mortgage products but it can affect your ability to be accepted onto a 0% interest credit card. If you continue applying for better deals on your credit card, the multiple hits on your search history can deem you to be a higher risk than you actually are.
If you find yourself rejected for a credit application, don't go applying for numerous offers as it could be that you're being rejected because of the firms profit potential rather than you being deemed as a high-risk borrower. Finance firms have the upper-hand here. If you're continually allowing hard checks to be done on your credit report, you're only making yourself look bad in the eyes of potential creditors. Just know that there's a bigger game being played by financial institutions as they use credit reports for assessing profit potential and not just for risk assessment purposes.
What credit issues will UK mortgage lenders accept?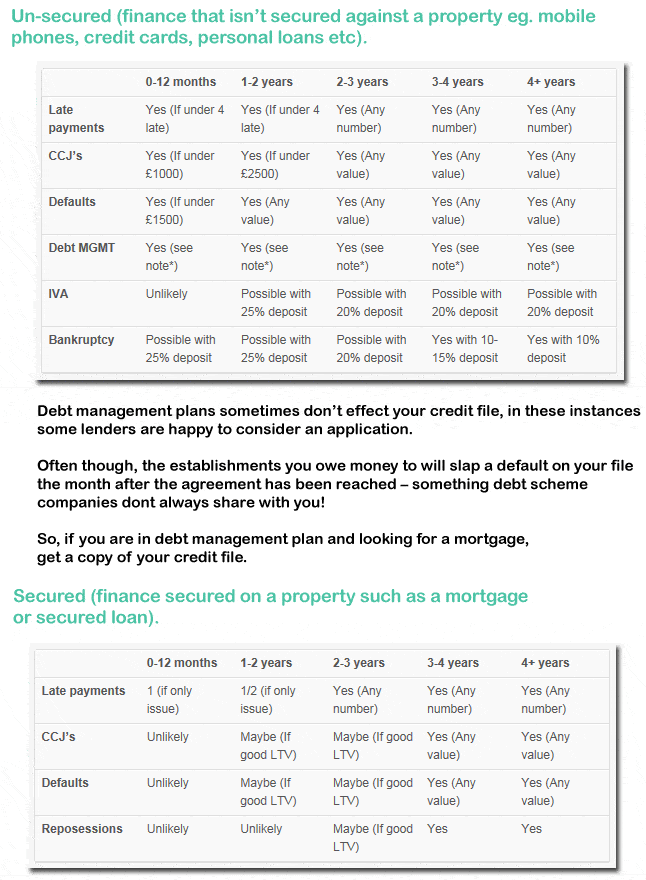 Are you listed on the National Hunter Database? (blacklisted)
No credit referencing agency can tell you if you're blacklisted. In fact, you'll probably be told it's a myth and there is no blacklist. There is and it'll cost you £10 to find out if any financial institution has entered your details onto a fraud prevention database known as the Hunters Register, or the National Hunters Database.
It's owned by banks and building societies and the company itself (National Hunter) only take care of the administration of the database. If your details are on it, they can't remove your details. All they can do is refer you to the company who put your details onto it for them to make a decision to remove you.
To find out if you're details are held on the database, you need to request the information be released to you.
Go to the link above, click on "obtaining your data" and you'll find the information you need to release any data held about you. Under the Data Protection Act, they're obliged to let you know. It costs £10 (administration fee) for the information and that's non-refundable so even if your details aren't on the database, it's still going to cost you £10 to find that out. For that reason, you're best to check with the credit referencing agencies first for any possible discrepancies. If you still find no possible reason that you could be being rejected for financial products, then check the National Hunter Register as that's set up for fraud protection purposes. Naturally, if any lenders suspect you of fraudulent activity, they will never accept your application for any financial product.
Assessing the severity of credit report entries
The entries on your credit report may look bad, but lenders see these all the time, so it may not be as bad as you're thinking. The severity of entries is based on the amount and date it happened. If it was close to six years ago, most lenders will overlook it. If, however, it's a recent entry, then it's going to be given more weight in the risk assessment.
The amount matters too. A £25 default on your mobile phone contract is given less weight (maybe even ignored) than a £2,000 CCJ.
If bankruptcy is an issue, that's an exception that most lenders will not consider. For a mortgage after bankruptcy, most firms won't consider the application until at least four years have passed. The majority will lean towards six years, but there are specialist mortgage lenders that will consider granting a mortgage application after a couple of years following a bankruptcy filing.
Obtaining any financial product after filing for bankruptcy is extremely difficult but it's not impossible provided some years have passed since you filed for bankruptcy. Never in the first 12 months though.
If there's certain things reported on your credit file, perhaps a few late payments that happened within a specific time frame like two months last year when payments were defaulted on, which could be explained for example, by a period in hospital, lenders can make an exception.

The other thing that's looked at is the type of missed payment that's listed on your report. If you're late paying a secured loan – that's bad. A secured loan is similar to a mortgage product in that the mortgage is linked to the home and is at risk of being repossessed if payments are defaulted on. Secured loans are loans secured against an asset and are considered a more serious type of payment default than a missed payment on an unsecured loan, like your mobile phone contract.
Recent late payments will look worse but for lenders who use credit scoring systems, some won't be considered. Minor entries are balances outstanding under £100. On your credit report, files are retained for six years. If you've a few late payments dating back a few years and then no entries, it's unlikely to have much impact on your risk assessment. Unless, it a late or missed payment on a secured loan/mortgage, then it will affect it, regardless how long ago it was. Information is retained on your credit files for six years so any late or missed payments, or accounts defaulted on during the past six years will hinder your ability to access the majority of financial products.
Property risks
There are some types of properties that lenders are wary of getting involved with. For example, a property with a thatched roof, one that has an outbuilding on the land, or a property that'd be difficult or maybe even expensive to get buildings insurance on. Those can present as higher risks to lenders, therefore, it's not always you that could be being rejected but rather the place you want to secure your loan against. Mortgages are tied to your property so if that's flooded or starts to crumble, the value of the home will decrease and so too will the amount of the loan secured against it, therefore, there's a higher risk to the lender.
About lenders and risk levels?
For mortgage lenders, they need to be able to make sure their business is profitable. They can't do that solely on 90% to 100% LTV mortgages, as there's a very low profit margin. If someone on a high LTV mortgage defaults, it's unlikely that repossessing and selling the home will even cover the costs let alone turn a profit. For that reason, lenders are looking for diversity. They have some customers on high LTV mortgages, but to diversify, they need customers on a lower LTV to decrease their risk across their portfolio.
In other words, they need people who have an adverse credit history.
Okay, my credit's looking bad, what are my options?
For remortgaging, speak to your current lender first. They'll be able to tell you the criteria they look for before doing any formal applications. They're the best place to turn before you look for alternative suppliers, because it'll be easier to be approved by a current lender than it will be by someone who doesn't know you and can only judge you based on your credit history.
What often happens is a person's credit history changes with time so by the time it comes to renewing your current mortgage, there's new data showing on your credit report that gets your current lender on edge.
What they're likely to do is offer you a remortgage at a higher interest rate. It's unlikely that they'll reject your application when you're a current customer. It's in their best interest to retain you. If the offer's too high though, it might be in your best interest to jump ship.
Bad Credit Mortgage or Remortgage?
This is the first question to ask yourself when you're faced with a poor credit rating because the process for applying for a bad credit mortgage is just the same as remortgaging with bad credit. The only difference is that you're going to get a bit of an advantage with remortgaging because you'll have your home equity, which you can use to boost your deposit amount.
Many people have questions about remortgaging, so we've a detailed Remortgaging FAQ page here you can use to understand the process better.
Understanding the LTV (Loan to Value) Ratio
In order to find decent mortgage deals, even those for poor credit, you need to know about the Loan-to-Value Ratio. It's used by UK lenders to determine how much they're prepared to lend you and will determine how much of a deposit you will need for any mortgage product.
The LTV ratio is simply the difference between the value of your property and the amount you're looking to borrow.
The higher the LTV is, the higher the risk is to the lender.
LTV ratios range from 100% to 60%. The majority of bad credit mortgage products will be no less than an 85% LTV, with 70% being considered reasonable.
Can Help to Buy or any other Government Scheme's help raise deposits and support adverse mortgage products?
For someone with poor credit, it's unlikely that financial assistance will help your application. The reason being, it's your ability and willingness to repay that's being risk assessed. Not your ability to put down a lump sum. If you've defaulted in the past, the risk level will be high to lenders and it's unlikely that any mortgage product for adverse credit will work in conjunction with Government schemes. Also, Shared Ownership won't usually be considered for a higher risk type of mortgage.
The only exception to Government scheme's is the Right to Buy.
About the Right to Buy Scheme
The Right to Buy is a Government Mortgage Scheme. It's available to council tenants across England. There are separate schemes operating in Scotland and Northern Ireland. All work on the same premise… That eligible tenants can buy their home at a significant cost reduction. Discounts are up to £75,000 and up to £100,000 in the London area.
The discount tenants receive through the Right to Buy scheme can be used as the deposit, therefore, it is possible for someone to use the Right to Buy scheme and get a 100% LTV mortgage. In a nutshell, you can get a bad credit mortgage for right to buy and put down absolutely no deposit. The reason being the home is worth a lot more than is being borrowed due to the Government discount scheme.

The criteria you need to meet is that you've been a tenant with the same council borough for more than five years. This doesn't have to have been at the same address. The longer you've been in the area, and a paying tenant to the local council (public sector tenant), the larger a discount you'll be eligible for.
For a rough guide on your property value, the HMRC have a calculator specifically for the Right to Buy scheme. Access the Right to Buy Calculator.
How much of a deposit will I need?
The higher you can deposit, the less risk you pose to lenders, therefore, aim for no less than 15% deposit. To increase your chances of being accepted, consider increasing your deposit to 30% or more if you can. The more you can put down as a deposit, the less of a risk the lender is being asked to take on.
For someone with a generally good credit history, they'd be able to access mortgages with 90% to 100% LTV. With bad credit, mortgages are going to below 85% LTV, although applying for a 70% LTV will increase your likelihood of being accepted for a mortgage.
If your credit history is really poor, there will still be options worth exploring but you can expect it to increase the amount of deposit you'll need, based on your level of risk to lenders.
What types of mortgages are available?
There isn't a specific bad credit mortgage that'll save you comparing the market. Speaking of comparing the market, use comparison websites to find which bad credit mortgages are available across the whole-of-market so you know the typical interest rates. Without knowing the current rates for standard products, it'll be difficult to know if you're being offered a good deal, or to spot one when you see it.
Places to research include:
U switch bad credit mortgages
To use the above comparison websites, you'll need to insert your home value and the amount you're looking to borrow. As bad credit mortgages aren't a specific product, you'll need to tweak your search so that you're looking for 70% LTV mortgages, or below. This will limit the number of lenders offering above 70% LTV which you'd more than likely not be suited for. As an example, if you're looking to purchase a home loan for a property value of £225'000, you'd be looking to borrow £168,750 which is a 70% LTV home loan. If you've only a few minor issues with your credit report, you could look for 85% LTV mortgages. Just tweak the amounts to your search criteria.
To find out which bad credit mortgages are a good fit for you, you're best to consider the amount you can comfortably afford to put down as a deposit, as well as the amount you can comfortably afford to repay each month as that will be determined by the interest rate you're offered.
Products to search include:
Fixed
Variable
Discounted rates
Pretty much any standard mortgage type can be suitable for someone with poor credit. It really boils down to the lender and the level of risk they're prepared to accept.
The only type of mortgage for someone with bad credit to steer clear from is interest only. Any firm who does bad credit mortgages will never let you borrow on an interest only basis as it's the riskiest product there is.
You need a plan for repaying it; it will be scrutinised by the lender in the best of circumstances, so any hint of a colourful credit history will be met with rejection. All other types of mortgage products will be considered by lenders who are comfortable with the level of risk you pose. Provided you can pay a deposit that is, because there are no bad credit mortgages with no deposit payable. There will always be at least 15% upfront required, plus any fees applicable to the product.
Who Offers Bad Credit Mortgages?
Building societies offering mortgages for bad credit include:
The Family Building Society
Furness Building Society
Monmouthshire Building Society
Newcastle Building Society
Yorkshire Building Society
Chelsea Building Society
What banks offer bad credit mortgages?
TSB
Halifax
Lloyds Group
First Direct
Royal Bank of Scotland
HSBC
Barclays
About the banks above; some will offer you a Mortgage Promise, also known as an Agreement in Principle. These will involve a search on your credit report, which will affect your credit rating.
An example of this would be the bad credit mortgage with Halifax, which gives you an Agreement in Principle, but it can be withdrawn for any number of reasons. You're able to use the certificate the bank gives you to show to sellers as proof that you're able to get a mortgage. That's not the case as circumstances can change. The Mortgage Promise is not a legally binding document.
Other specialist providers work directly through mortgage brokers and can't be accessed directly. Some broker only providers include:
The Mortgage Lender
Precise Mortgages
Pepper
Vida Home Loans
Magellan Home Loans
Platform is another finance firm who offers bad credit mortgages, which is a part of the Co-Operative banking group.
That we know of off right off the bat… there's five specialist brokers, a half dozen building societies and seven high-street banks, so where to get bad credit mortgages isn't an issue. It's only a case of knowing how to get them.
Are there any bad credit mortgage lenders for shared ownership?
These are few and far between and the ones that are available have strict lending criteria and excruciating interest rates. The Shared Ownership mortgage market offers little to those with adverse credit. For the majority of Shared Ownership deals, a stellar credit rating is usually a requirement.

Can I get a mortgage with bad credit if my partner has good credit?
In the case of joint mortgage applications, it's the person with the lowest credit score that the most weight is given to in the risk assessment. Therefore, it's likely that for one named person on a joint mortgage application who has an adverse credit history, you will not be able to access a mortgage with less than 85% LTV so you'd need to be looking for mortgage providers catering to those with a poor credit history.
Bad credit mortgage loans for first time buyers
There are bad credit mortgages for first time buyers available. Risks are assessed by lenders the same as they are for remortgaging applicants. There will be a higher deposit amount required, therefore, it's in your best interest not to apply for mortgages with any more than 85% LTV. The more deposit you can offer, the better your chances of being accepted by lenders.
When you have bad credit, mortgages with no deposit don't exist. The larger the deposit you can offer, the better your chances are of obtaining finance.
If you apply for a bad credit mortgage with large/big deposit, you will be able to get closer to 70% LTV, possibly even better.
Bad credit mortgages for self employed
Mortgages for the Self Employed with bad credit is achievable. Provided you can prove your income, reliability to repay and pass the affordability checks that all mortgage providers are required to conduct, yes you can get a mortgage. Even with poor credit. The only requirement is proof of income. That's the only difference.
Be aware that you must be able to prove your income. This means you will need documented evidence, such as tax returns, income and expense sheets.
What you cannot do is self-certify your income. This practice was banned in the UK in 2011.
In 2007, it was estimated that 40% of UK mortgages were listed as no income verified. This led to some believing that the self-employed had inflated their income to levels where they couldn't afford the repayments, and therefore a contributing factor to the financial collapse
The FCA (Financial Conduct Authority) issued this warning with regards to self-employed mortgages from the European market. You cannot obtain these from UK lenders. This practice was banned due to the unreliable nature of it as contractors and the self-employed could theoretically take on more debt than they could afford to repay.
Self-Cert Mortgages are still available in Europe, which is why the FCA issued the warning. They bypass the UK laws by using the Electronic Commerce Directive, which applies to countries within the European Economic Area (EEA).
If you choose to self-certify with a European Self-Cert Mortgage Provider, you will not have the securities offered from the UK regulatory bodies. Laws and regulations differ between countries. The UK finance market is robust and very strict. There are provisions in place for consumer protection, industry best practice, and codes of conduct for financial institutions to abide by. The same can't be said for other European markets, therefore it is not advised to go outside of the UK for a Self-Cert Mortgage. These were banned for a reason.
Stick with the rules and make sure you retain all your financial records as they will be required for proof of income. There is a higher risk element to self-employed individuals but there are finance firms willing to meet that higher level of risk. It will depend on how bad your previous credit history is.
What to expect: Two years accurate accounting data is generally expected. New businesses operating within the first year of trading will not have sufficient data to satisfy the affordability checks. There are some providers who will accept accounts for only the first year of trading.
You will need to use your official figures that you submit to the HMRC on your tax return. It's not uncommon for self-employed individuals to deflate their income to reduce their taxable income. It is considered to be good accounting practice, (and perfectly legal) but it's not going to help you obtain a bad credit mortgage. You'll need to decide if you want to follow good practice on your accounts reporting, or if you're happy with the taxable trade-off in order to report your realistic earnings.
What you cannot do is submit your official accounts documents with a cover letter to detail the amendments you made to deflate your official figures. That will not be considered – only the figures on your official documents will be used for your affordability check.
For the self-employed, a bad credit mortgage with 50 deposit wouldn't be unreasonable to justify the risk level lenders will be taking on. For the self-employed, bad credit mortgages with no down payment won't be possible. Expect a high deposit amount for any lender to consider your application.
How to get a mortgage with bad credit but good income
For those with a poor credit history, perhaps because of financial difficulties in the past, which has now changed and you have a good income, it's not going to matter. The fact you've a good income coming in now, doesn't deflect from the issue that you've defaulted on previous loans and/or credit agreements. The fact will remain that there's issues on your credit files showing that you've a history of defaulting, or paying late, or not paying at all. That raises concern with lenders and increases your risk level.
Your risk level will always be given more weight than the amount of income you have.
How to get a mortgage with poor credit
Most people are baffled when they think about how to get bad credit mortgages, but it's not really difficult. The first thing to do is find out what's on your credit report. Then it's all about making you as credit-worthy as possible.
One of the frequently raised questions for adverse credit mortgage products is:
Can I get bad credit mortgages with a guarantor?
After all, a guarantor is considered security because someone else is willing to take on the responsibility of making the payments if you don't.
The realistic answer is yes you can but it's not advisable. You'd be putting someone's else's home up as collateral and therefore at risk should you default on your home loan repayments.
A more attractable option is to consider using other assets. It could be that you have a vehicle that could be sold and you can downgrade to release some capital to raise your deposit amount. Or you could have other assets such as investments, savings, perhaps securities like home equity in another property you lease as a landlord.
Investments can also be used, and put up as collateral, but more than anything they show lenders that you're responsible with money and if you need to back out of the deal, you have other ways of paying for the mortgage, without requiring selling the property for full market price. The housing market is not consistent price wise. What your home's worth now will change years from now. So if you're taking on a five-year fixed term mortgage, the loan amount may be higher or lower at the end of the fixed-term period.
Because of the housing price fluctuation, as well as your current position of having adverse credit, it's unlikely worth you tying into a five-year deal. You only need long enough of a mortgage deal for you to do some repair work to your credit files. Two years should be sufficient. By the end of the two-year deal, provided you've taken steps to boost your credit score, there's no reason you can't be eligible for a better remortgage deal.
Your income will be considered too. The rules and regulations surrounding mortgage products are strict. This is because these are the financial products that caused the global financial crisis. Too many loans were made for residential and commercial properties prior to the financial crash, which pushed up house prices. House prices rose faster than annual salaries, and eventually people couldn't afford the repayments. For a while, they could still borrow though. In the financial sector, there's an entire market devoted to people with a bad credit history. It's called the subprime market.
Subprime mortgages and subprime backed loans were the main cause of the financial meltdown on a global scale. For that reason, lenders generally allow borrowing of 3x your annual salary now, although 4x your salary is possible, albeit riskier. Five times your salary will only be considered when you have a high salary coming in, for which you'll be paying a hefty chunk towards the mortgage repayments.
Disposable income is also something to consider for bad credit mortgages. If you can consolidate debts to free up some monthly income that could go towards your mortgage repayments, then do that. The more disposable income you have, the higher a monthly payment you can make, and depending on how you go about it, you could find that consolidating debts into what's considered a bad credit loan, could give you some extra capital to put down on the initial deposit, thus lowering your LTV ratio and making you more attractive to lenders.
How do I go about fixing my credit rating?                                                 
This is something that requires a long-term approach. You need to start right away though. No more missed payments on any of your accounts, because they will be entered onto your credit files with Experian, Equifax and Call Credit. Keep up your repayments on all accounts, including your utility bills, any mobile contracts, subscription services (inc. TV).
As soon as you find yourself beginning to struggle financially, assess your personal financial situation and get rid of any paid subscriptions that you do not need. Like your subscription TV, or a premium phone contract that can be switched to PAYG, or if you're out of the contract period for any service you have, like phone, Internet, TV, premium banking services – consider cancelling and if that's not an option, then switching to a more attractable deal.
There are some services that when you apply for them, they will credit score you. Utility companies do this if you're asking for a credit meter to be installed to replace a PAYG meter, and so too will the majority of companies offering any type of contract. They'll want to assess your risk to make sure you'll be able to keep up repayments for the duration of the contract, so if your credit report is really bad, it might not be in your best interest to start switching energy providers (although that is a soft check rather than a hard check used for lending) or subscription services requiring the firm to check your credit report.
There are financial products available designed to help you repair your credit. Or even just build it. For young people who have never had credit, they will have a problem getting approved for a first-time mortgage, simply because the lender has no data to use for risk assessment. If that's the case, then some type of credit history needs to be developed.
A good first step is to get yourself onto the credit radar. One of the fastest ways of doing that is with a prepaid credit card. There's no credit check required as there is with mainstream cards. So, if you're lacking credit history details, don't go to mass market lenders if you know you've little or no credit history for them to check. One option open to you is to use a prepaid card with the Credit-Builder Add-On. It won't fix bad credit but it'll build you positive credit history by reporting your account is held in good standing. Provided you keep in good standing anyway.
Fixing your credit rating is all about getting credit approved and then maintaining your accounts without ever defaulting. Getting credit approved is all about approaching lenders with as low a risk potential as possible. A mobile phone contract of £10 to £15 per month over a 12-month term is more likely to be approved than applying for a car on hire purchase. The more accounts held in good standing and more recently than previous files reported for defaults, will improve how your file looks to potential lenders. The idea is to make you look like a responsible borrower and good at money management.

The better your credit file shows you managing your finances, the better your credit score will be and the more attractive you'll be to lenders.
The electoral register: You need to be on this to improve any chance of obtaining credit as it proves you're a UK citizen. You can go https://www.gov.uk/register-to-vote and as the link says, Register to Vote. If you believe you're already registered, then at least check your details are accurate. You may have moved address and have your old details still registered while your other accounts like your bank have updated details. Check your details are correct on the Electoral Roll and if you're not on it, then get yourself registered.
With time, when you go through some sensible steps to obtain manageable debt with a low risk to lenders, you'll be able to build a positive credit file, better your score and be able to access better mortgage deals. Until you can improve your credit rating, you're best to look for a mortgage with less than an 85% LTV to be able to obtain a mortgage with bad credit. Bad credit mortgages aren't really a thing but when you modify what you're searching for in terms of the LTV ratio, you'll be able to find a number of firms who cater to the Sub Prime market and offer reasonable finance products designed for those with adverse credit.
To summarise what we do:
At 1st UK Mortgages we understand how lenders assess risk levels. We work with a variety of financial institutions, and mortgage brokers, as well as specialist remortgaging firms, but most importantly for you – we understand the level of risk our partners are comfortable with.
Therefore, we're in a tremendous position to help you by telling you straight what your risk level will be assessed as and the best type of mortgage product, designed for customers with adverse credit ratings and help you grab the best deal on the best possible terms.
What we offer:
– Access to the Top UK Mortgage Lenders
– Thousands of different Mortgages
– Free, impartial advice (no obligation)
– Almost all credit histories catered for
– Switch your mortgage
– Top Lenders Searched
– Arrears, CCJ's… Not a Problem!
– Fully CeMAP qualified mortgage brokers
– Guaranteed confidentiality
– Zero Upfront Fees
– Nationwide Service
– We search the market for you!
Our staff work 9am till 9pm, 7 days a week. Between those times, we're on hand to offer you a free, no obligation advisory service for home-owner loans including bad credit mortgages and remortgages.
A mortgage is probably the largest financial commitment you will ever make, thats why we offer a free no-obligation mortgage quotation service. If you are happy to proceed with a mortgage once you have reviewed your mortgage quotation then we will send one of our fully CeMAP qualified mortgage brokers to visit you to assist with the paperwork if required.
Remember, with thousands of UK mortgages, it represents a daunting task for you, the mortgage seeker, which is why we strongly recommend getting in touch for a free one-to-one consultation. Our mortgage brokers are there to take the mystery and chance element out of finding the right mortgage for you. They know their stuff and have helped thousands to buy their homes!

All enquiries are completely confidential and you are under absolutely no-obligation to proceed at any time. We charge no upfront fees at all unlike some of our competitors, offer a nationwide service and are happy to talk to you at a time to suit you.
Our staff work 9am till 9pm, 7 days a week to make sure that you are always in the picture.
Average rating:
3 reviews
Aug 2, 2017
grateful
The inland revenue bankrupted me a few years ago. I didn't think I could buy a house. But 1st UK found me a mortgage and I now have a house with a garage I can work on my car.
Jul 27, 2017
no more rentals...relief!
My husband and I were sick of moving from one rental house to another and disrupting the children's school. They helped us to get a mortgage for a house we really liked and the payment is similar to the rent we were paying which is great.
Apr 12, 2017
a sincere thank you
We wanted to buy a house before property prices went up any more. Even with some credit problems and a small deposit we managed to get a mortgage and complete on the house before the seller got tired of waiting.