Evolution Money Secured Loans Review 2022

Determine whether Evolution Money Secured Loan loan rates are worth contemplating. Huge panel of 2nd charge finance products. All credit considered
Unique "broker-only lenders" not available on the comparison sites with great terms
Intelligent lending technology & no upfront fees
Ideal for clearing other loans/credit cards/existing car credit
New lender offers for 2022
High loan-to-value (LTV) with many lenders
Homeowners could borrow from £10k – £700k
Keep your current mortgage with no worries
Convenient Secured Homeowner Loans – Pre-Approval Without Credit Checks
Sympathetic To Previous Credit Problems: We Have Lenders That Accept ​Nearly All Types Of Credit.Prime, Light, & Heavy Adverse All Considered.
Pre-Decision In Principle Application Form:
​How Evolution Money Fair For Poor Credit Secured Loans
​Initially founded in 2011 as the Darwin Group – the company Evolution trade under – they have come a long way since their founding days.
From just two employees in their early days to now moving into their state-of-the-art HQ in Manchester City Centre employing over 170 staff.
Along the way, they have picked up numerous awards:
2014: The Best Specialist Lender by The Financial Reporter Awards
2015: The Best Adverse Credit Secured Loan Product by the Secured Loans Awards
2016: Featured in the Sunday Times Fast Track 100
Feefo Platinum Trusted Service Award 2021
Today, Evolution Money Limited have full FCA authorisation to provide loans to homeowners throughout the UK.
​​​What Evolution Money Offer
Homeowners loans from £1,000 to £20,000
Borrow up to a maximum of 150% LTV (loan to value) and with no minimum home valuation required
Repayment terms from one year to fifteen years
The early redemption fee is just the equivalent of one month's interest
Variable rate loans with interest rates starting at 18%
Active Debt Management Plans (DMP) are considered, provided the loan is for debt consolidation by paying off your DMP
IVA (Individual Voluntary Agreement) will be considered if it's discharged

​​​​​Eligibility Criteria
Minimum net monthly income of £800
Both employed and self-employed are considered
Minimum employment history: One year. Self-employed or employed. They are flexible with regards to the proof of incomes required.
Most benefits can be used to support your affordability assessment
Evolution has no maximum arrears amounts, and there are no restrictions on the number of accounts you have in default to be considered
Evolution Money Secured loans Borrow for Any Purpose:
Debt Consolidation
Home Improvement
Vehicle Finance
For the Ultimate Special Wedding
Holiday Finance
Even for business purposes
When we say, any purpose loans, it really is. Unlike most lenders who will not approve on a secured loan to be used to fund any type of investing, regardless of your business's success, Evolution will.
All that's required is that the principal applicant has a steady and secure monthly net income of £800 and can meet the affordability assessment. As long as you're not going to pack in your job and use your loan to meet living expenses, you can use the funds released for any purpose.
For any business owner in need of a poor credit secured loan, Evolution Money could be the lender you need to get a new work van, new equipment, hardware or release cash flow to support your business in the short term with flexible repayment terms.
Evolution has its own dedicated Loans Calculator to give you an idea of how much your repayments are likely to be as well as a rough guide on the expected interest rate.
Typical Example: Loan Amount: £7,000.00, Loan Term: 48 Months, Interest Rate: 19.56% PA (variable), Monthly Repayments: £240.85, Total Amount Repayable: £11,561. This example includes a Product fee of £700.00 (10% of the loan amount) and a Lending fee of £499.00.
​​So Why Choose Evolution Money?
​When you're short of options with multiple lenders turning you away, there's a high likelihood of acceptance with Evolution. They are a specialist lender and are very well-versed in adverse credit profiles and are incredibly tolerant of the levels of risk they take on.
No matter how severely you feel your credit is impacted, whether by a couple of DMPs, some with defaults, recent CCJs, or IVAs, Evolution will not credit score you, but instead listen to your needs.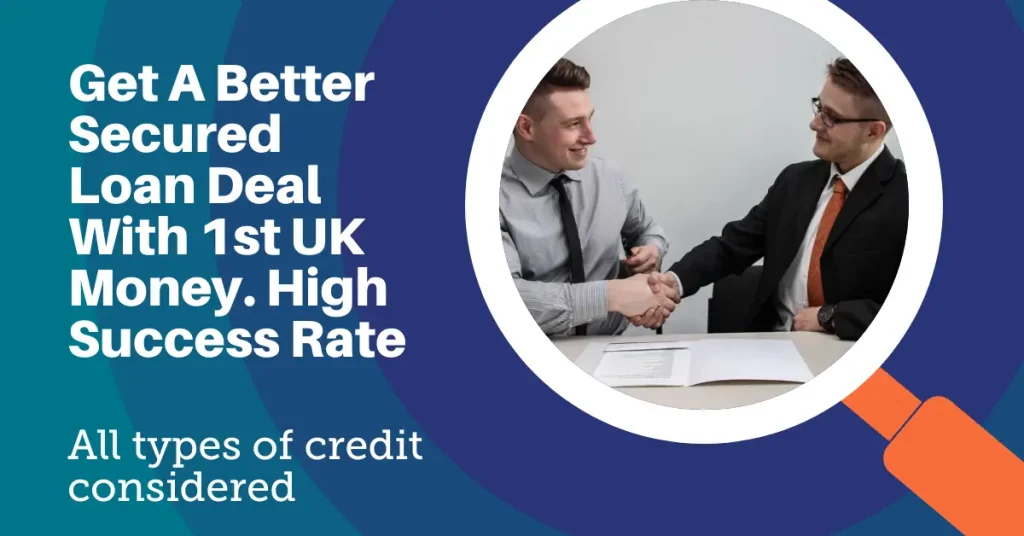 All the staff are highly experienced in all aspects of personal finance, secured loans, and know full well that life events happen. No customer is ever a number. You deal directly with the staff, in their UK HQ in Manchester City Centre. They do not outsource customer care to an overseas centre.
What's more, is they don't ask for much of your time either. The only real eligibility criteria you have to meet is to be between the ages of 18 and 70, be in full-time employment, and live in the UK in your own home. Not a rented property, otherwise you couldn't use it as security.
As long as you're a homeowner with a full year's employment history and meet the requirements, you could have your evolution money secured loan approved in days from the staff reviewing your application and forwarding your official binding offer.
Obtain professional advice and a free quotation (based on a soft credit search only) by contacting the 1st UK- Adverse Credit Specialists.
Evolution Money is one of the numerous specialist lenders able to approve poor credit second mortgages. We'll tell you if there are any better offers on the market, which could save you thousands over the term of your loan.
​​Related To Evolution Money Loan Reviews