The Top Equity Release Providers Compared for 2022
Benefits Of Our Services:
Release equity from your home as a cash sum or via regular payments
Exclusive rates and offerings from the top equity release providers
Release money for repairs or home improvements like a new kitchen or bathroom.
Help a family member purchase their first home.
Pay off all your credit cards and loans and have zero monthly payments.
Switch to a better lifestyle, change your car or have a well-deserved holiday.
100% independent, securing you quotes from the UK's leading equity release companies.
Looking For The Best Equity Release Providers? Release Tax Free Cash. Get Your Quote Below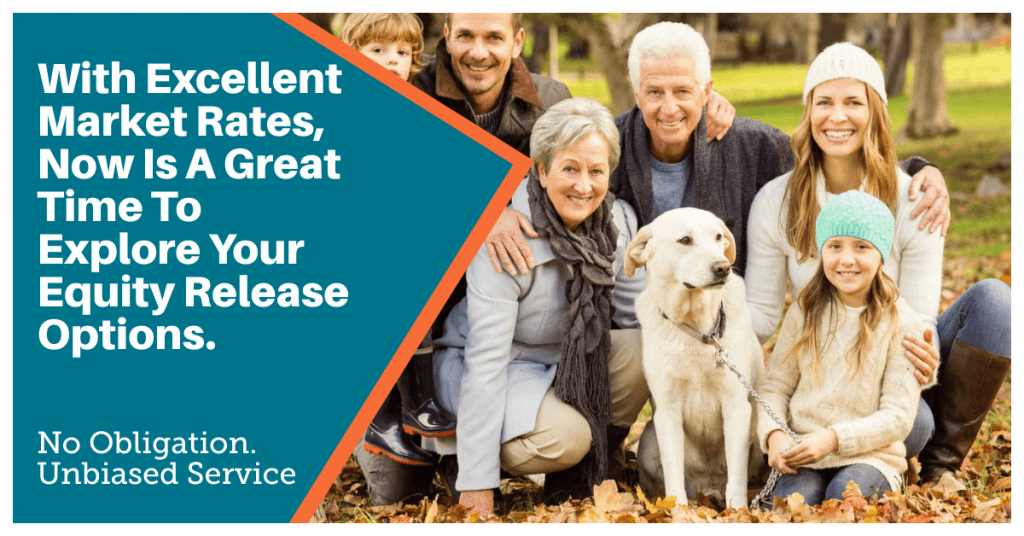 Whether you're considering equity release or ready to jump in and release the cash tied up in property wealth or interested in switching equity release providers, it's imperative to do your due diligence by investigating what's on offer from a list of equity release providers.
An Overview of Equity Release
Equity release is available to all UK homeowners who are aged over 55, however, just meeting the age requirement, doesn't make this type of finance suitable. It is a specialist product, is highly regulated, and needs careful consideration before arranging a Lifetime Mortgage of any kind, be it to release a lump sum or to use as income drawdown for additional capital in retirement years.
Know Your Options
Option 1: The Lifetime Mortgage
A lifetime mortgage is as it sounds – a mortgage you take out on your main place of residence that stays in place for the rest of your life. There are various options available for repayment, depending on which equity release provider you use. Some will allow you to ring-fence some of your property wealth to leave for inheritance. Others let you make partial repayments, which can leave more capital for beneficiaries of your estate.
While others apply interest roll-up across the entire loan requiring no repayments, instead of taking capital plus interest from the sale of your home when you (or both people living in the property) die, after which the finance company sells the property to recoup the capital they loaned with interest.
Things to know about Lifetime Mortgages:
The minimum age is 55
The maximum percentage you can borrow is 60% (most equity release providers are 50% max; however 60% LTV is available from some specialist lenders through a medically underwritten lifetime mortgage)
Interest rates need to be fixed, or if it's a variable rate, there must be a cap, which will represent the upper limit that the amount repaid can't go above. The cap needs to be there to prevent more being owed than your property's worth. This is called a no negative equity guarantee, and all reputable providers offer this as standard.
Despite the lifetime mortgage being for life, you can move property if you wish, provided the new property fits the security requirements of the equity release provider.
While some equity release companies will let you repay some of the interest on a lifetime mortgage, the amount you can repay may be restricted as you need to be able to prove you can afford the repayments.
Interest roll-up is only applied to funds released, as they're released. For this reason, it will cost more in interest fees to take out a lump sum payment than it would be to take out smaller amounts at frequencies to suit your lifestyle.
Option 2: The Home Reversion Plan
With a home reversion plan, you would sell some or all of your property to an equity release provider, who'd provide you with a lump-sum payment or regular payments at intervals of your choosing, which can be used to supplement your retirement income. Just as with a lifetime mortgage where you can set some cash aside for inheritance purposes, you can do the same with a home reversion plan.
The key differentiator between a lifetime mortgage and a home reversion plan is a lifetime mortgage lets you borrow from the equity you own in your home, whereas with a home reversion plan, you'd be selling your equity rather than borrowing against it, but you do retain the right to live in your property, rent-free.
Things to know about Home Reversion Plans:
Home reversion providers generally require a higher minimum age, usually 60 or 65 years of age
Reversion companies will generally only provide between 20% and 60% of your properties market value
The older you are at the time of application, the higher a percentage the finance company will pay
Home reversion companies will promise you the right to live in the property without needing to pay rent, but you do still have to pay maintenance fees such as ground rent.
Find Out How Equity Release Could Help You. Stay In Your Own Home. Quick Quote Form

A List Of Equity Release Providers (UK)
The equity release providers list below summarises the main insurance companies and retirement finance houses currently providing equity release and the general conditions required by each provider.
Just Retirement
Just Retirement provides three types of equity release products. Drawdown, Lumpsum Lite, and Lumpsum Plus. All plans have a minimum age requirement of 60 years of age. The minimum you can borrow is £10,000, and the maximum is £600,000 for homeowners in England, and £250,000 elsewhere in the UK, including Northern Ireland, however, only the Drawdown option covers Northern Ireland. All three plans are available to homeowners in England, Scotland, and Wales, subject to a minimum property valuation of £70,000.
Responsible Lending
Responsible Lending is a newer entrant to the UK equity release market after gaining regulatory approval in 2017. The company was headed by the prior Managing Director of the Just Retirement Group and Prudential before that. The minimum age for Responsible Lending's Equity Release products is 55 years of age, and the lifetime mortgages offered are targeted towards those who feel trapped in the wrong mortgage product, and those on interest-only mortgages due to come to an end.
Retirement Plus
Retirement Plus is currently only catering to existing customers; however, they are approved by the Equity Release Council and may accept new customers in the future. They do have a minimum age requirement of 65 years of age and specialise in home reversion plans, not lifetime mortgages. The Retirement Plus Limited Group is the trading name responsible for administering home reversion plans through Milton Homes. If you're interested in Home Reversion Plans for equity release, see further down our equity release providers list for the Bridgewater Group, which is the largest provider of this type of equity release finance.
Pure Retirement
Pure Retirement focuses entirely on equity release, providing finance from £10,000 up to a maximum of £100,000 to any homeowner over 55 years of age. If the amount you take is below the maximum you can borrow, a cash reserve is available, letting you use drawdown to release a minimum of £2,000 at any time in the future without additional fees.
Hodge Lifetime
Hodge Lifetime caters exclusively to retirement finance and has four types of equity release products, each lifetime mortgages. The Flexible Lifetime Mortgage with variable repayment fees or with fixed early repayment charges, a lump sum lifetime mortgage with variable early repayment charges, and indexed lifetime mortgages with fixed early repayment fees. All products have a no negative equity guarantee and are exclusively available through select partners. Requirements for eligibility are a minimum age of 55 with an upper age limit of 85 years of age.
Your home must be mortgage-free, or the money released will need to be used to clear your mortgage balance. Properties need to be freehold (house, maisonette, or flat); alternatively, if your property is a leasehold, there need to be over 90 years left on the lease. The minimum property valuation is £100,000 and properties must be in Scotland, England or Wales and built of standard construction that hasn't been recently affected by flooding or any structural issues. The minimum you can borrow with Hodge is £20,000, or £15,000 using the Index-Linked Lifetime Mortgage. If using drawdown, the minimum transaction is £1,000. The maximum loan amounts range from 15% to 50% of your property valuation.
Aviva
Aviva provides two equity release products. The Lifestyle Lump Sum Max and the Aviva Flexible Plan. The lump-sum max lets you borrow a minimum of £15,000 as a tax-free lump sum, and the Flexible Plan is Aviva's drawdown option, letting homeowners over the age of 55 release an initial lump sum of £10,000, leaving at least £5,000 in a cash reserve to use in the future.
The minimum age for each plan is 55, and the minimum property valuation is £75,000. Properties need to be located in Scotland, England, or Wales and cannot have any recent issues with subsiding, structural damage, or flooding. Aviva does consider equity release on leasehold properties, but there need to be at least 160 years remaining. There is also an option to voluntarily repay up to 10% of your loan amount each year, after your first year, although this is voluntary and not a requirement; it can help reduce the overall interest fees at the end of the loan term.
Retirement Bridge Group
The Retirement Bridge Group is the UK's largest administrator of home reversion plans. Currently, there are dozens of home reversion companies in the UK, but most have their plans administered by the Retirement Bridge Group, the largest of which is Bridgewater Equity Release, which provides three types of home reversion plans. Rent-free, Fixed rent, and an Escalating Rent plan, letting homeowners sell equity in their home and keep some control over future finances for inheritance purposes. You could apply to over 60 home reversion companies or cut the process short by applying directly to the policy administrators.
Nationwide Building Society
Nationwide are the only major lender to offer lifetime mortgage products. Most high street banks have tried and failed in the equity release market, causing all but Nationwide to exit the market and leave this type of lending to the specialist finance houses. Nationwide launched their latest lifetime mortgage in 2017 with some straightforward eligibility requirements. Those being, a minimum age of 55, up to a maximum age limit of 85 years of age. The minimum loan amount is £10,000 with an upper limit of £460,000 subject to a maximum of 55% LTV, meaning you can't borrow more than 55% of your property's market valuation.
A big differentiator with Nationwide Equity Release is the repayment options, which the fees reduce the longer you have the lifetime mortgage. If you repay within the first five years, a 6% early repayment fee is applied. That drops to a 3% early repayment charge if you repay the entire amount between 5 and 10 years, after which you'll only pay 1% if you repay in full after ten years. Alternatively, there is a downsizing guarantee that lets you repay the entire loan amount without penalty when you sell your property to move to a smaller home after five years. The majority of equity release providers offering downsizing protection, do so with a higher rate of interest to add the feature to your policy.
LV= Liverpool Victoria
LV= is one of the largest insurance, investment, and retirement finance companies in the UK, serving millions of customers. They offer two types of equity release plans, both lifetime mortgages. A lump sum plan and a drawdown option. Both are suitable for homeowners with a property valuation of at least £70,000 and who are over 60 years of age.
The upper age limit for LV= equity release is 95 years of age. The minimum loan amount is £10,000 on a lump sum plan, and on the flexible lifetime mortgage, LV= will release an initial minimum of £10,000 leaving the rest in a cash reserve to use at your leisure. The only requirement for future withdrawals is the minimum transaction needs to be £2,000, and the funds need to be used within 15 years from the date of approval. The amount you could be approved for ranges from 20% to 50% of your property valuation.
Legal and General Home Finance
Legal and General Home Finance dominate the equity release market with over 30% market share. They're a reputable company with a long-standing history of entering markets after carefully analysing what works for competitors, then entering the market with an improved offering.
With L & G equity release, the minimum you can borrow is £10,000, and you can choose from a lump-sum payment or use drawdown. If using drawdown, the minimum amount you can request is £2,000 per transaction and there are no fees to withdraw. The rate of interest applied will be based on the interest rate at the time of withdrawal and not the time your upper limit was approved, letting you benefit from possible interest rate reductions, but it's also possible interest rates could be higher in the future. On the Flexible Plan from Legal and General equity release, the maximum amount you could be approved is £250,000, subject to your age at the time of application, health conditions, and the valuation of your property.
The minimum age is 55, and the minimum property valuation is £100,000 unless your home is an ex-council property, which is subject to a minimum valuation of £150,000. There is a Premier Flexible Lifetime Mortgage available for homeowners over 55 who want to release over £250,000 from their property wealth.
One Family Lifetime Mortgages LTD
OneFamily is a mutual society that was formed in 2015, following the merger of Engage Mutual and the Family Assurance Friendly Society Limited. After the merger between the two, One Family was formed and today serves over 2.6 million customers. OneFamily provides three types of equity release products, all lifetime mortgages.
An interest roll-up option, which as it sounds, there are no repayments payable, but instead interest rolls up and is repaid at the end of the loan term from the proceeds from the sale of your home. The Voluntary Repayment Lifetime Mortgages let you repay up to 10% of your loan amount each year, fee-free either in full or with partial payments throughout the year. The Interest Payment Lifetime Mortgage lets you repay some or all of the interest each month, preventing interest from rolling up into monster size bills that could wipe out your family's inheritance. Eligibility requirements are to own property worth at least £70,000 and be aged 55+.
More2Life
More2life provides four types of lifetime mortgages, Capital Choice, Maximum Choice, Tailored Choice, and Flexi Choice. The Capital Choice and Maximum Choice plans are suitable for those between 55 and 95 years of age. Tailored Choice is suitable for anyone over 55, and the Flexi Choice is only suitable for those between the ages of 55 and 84. The Capital Choice plan pays a lump sum from £15,000 up to a maximum of £1.5M, subject to LTVs which range from 19% to 55% of your property valuation and you can repay up to 10% each year, fee-free.
The Maximum Choice plan lets you borrow from £10,000 to £750,000 with LTVs ranging from 24% to 53% and enables you to repay a higher amount of 12% each year without any early repayment fees. The Tailored Choice is More2Life's equity release product for those with medical conditions. It is subject to a health questionnaire and provides between £10,000 to £600,000 based on LTV's of 20.9% to 54.5%, which can be used for drawdown. The Flexi Choice plans let you benefit from an initial lump sum payment, then using drawdown for future payments up to your maximum pre-approved limit. Up to 10% can be repaid each year without early repayment charges and the LTVs available range from 5% to 44%. The minimum amount you borrow is £10,000 and up the maximum is £1.85M on the Flexi Choice Lifetime Mortgage.
Canada life
Canada Life provides various types of lifetime mortgages, some of which let you release equity from a second home. You can choose from interest roll-up or repayment lifetime mortgages to limit the amount of interest repayable at the end of the loan term. Interest roll-up is available on the lifestyle and prestige plan. The lifestyle option lets you borrow from £10,000 up to a maximum of £1M, either released as a lump sum or through drawdown. The Prestige option is similar but is suitable for a higher amount of £250,000 minimum amount being released based on property valuations of £500,000 minimum to a maximum valuation of £6M. Both plans have an inheritance guarantee option available.
Repayment lifetime mortgages from Canada Life are suitable to homeowners over the age of 55 borrowing a minimum of £10,000. The Interest Select plan lets you repay either half of the interest accrued or all of it for either five years or for the life of the loan term. A few missed payments are allowed, but if three payments sequentially fail, the plan will revert to interest roll-up, so while you can choose to repay interest, it still is kind of voluntary in that if you don't pay, you won't be forced to. It'll just revert to interest roll-up rather than repayment.
The Voluntary Select plan, on the other hand, allows for 15% capital repayment per year without an early repayment charge applying. The only requirement is that each payment needs to be a minimum of £50. All equity release plans from Canada Life have a no negative equity guarantee, allow for additional borrowing subject to property valuation, a cash reserve for drawdown, and an inheritance guarantee. If you have a second home that you're interested in using equity release with, there are second home finance options available from Canada Life.
Standard Life/Age Partnership
Another company that you may think offers equity release is Standard Life, as they relaunched into the equity release market in 2019. They don't directly offer the products themselves, but instead, are partnered with Age Partnership, an equity release broker service for which Standard Life use the referral service, earning referral fees and the use of marketing tools such as the equity release calculator used by Age Partnership and other mortgage broker advisors for marketing purposes.
A whole of market equity release broker service will compare all companies for a list of UK equity release providers, which are those listed above, and return to you the best deals available, providing written information on each and a Key Facts Illustration document demonstrating everything you need to know before proceeding.
More Detailed Equity Release Guides:
Equity Release Providers List Plus Questions And Answers
Does Lloyds do equity release?
If you have been on the fence or wondering whether should you consider equity release, the Q and A's below could be of further interest to you?
Yes, Lloyds equity release is ideal for many homeowners including freehold flats. Some people think it has some of the best equity release rates. It's commonly used for care home fees.
Does RBS offer equity release?
Yes, RBS equity release is particularly good for postcodes where the property is inexpensive. You can repay equity release early. It's common for it to be used to gift money to the family.
Does Santander do equity release?
Yes, Santander equity release has a low rate and has no early repayment charges. It's a great option for the over 70s.
Does HSBC offer equity release?
Yes, HSBC equity release has excellent interest rates and no fees. Some people think they are the best equity release provider and is popular for people who want to pay for school fees.
Does Royal Bank of Scotland offer equity release?
Yes, the Royal Bank of Scotland equity release has a very low rate and a free property valuation. Sometimes known as the cheapest equity release with repayment option. It's ideal for the 60+.
Does Saga have good reviews for equity release?
Yes, Saga equity release reviews are generally very good, especially for people over 80 and pensioners. The Saga equity release interest rates are very competitive.
Does Sunlife do lifetime mortgages?
Yes, Sunlife lifetime mortgages have some very low rates. It's a common choice for people looking to buy another property. Over 55 equity release plans are of course available upon request.