Pensioner Mortgages For 60, 65, 70, Or 80-Year-Olds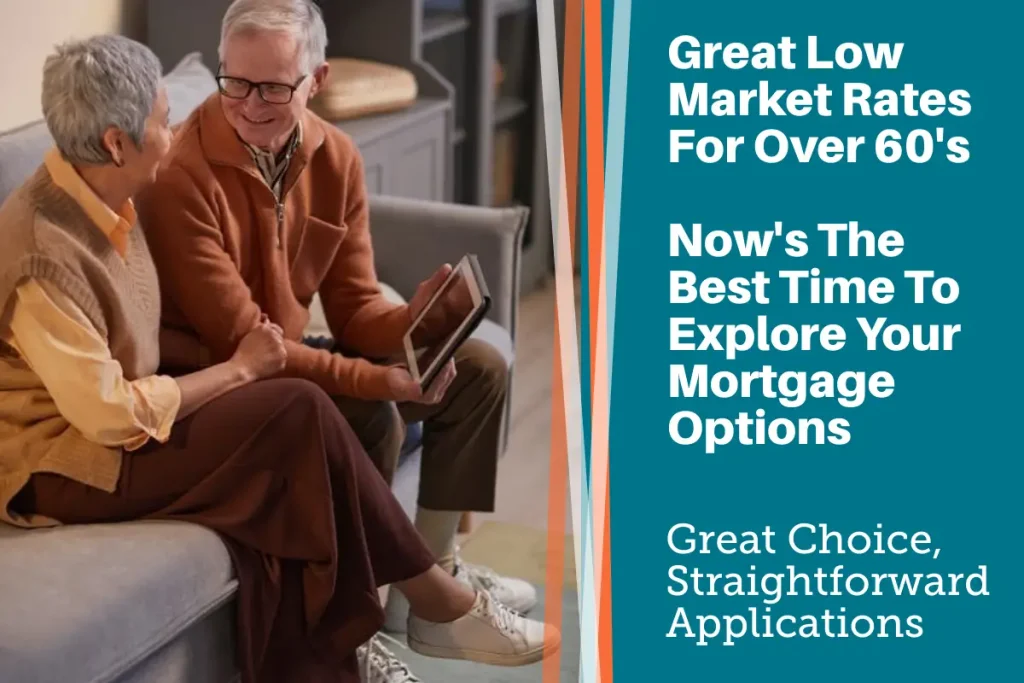 Are pensioner mortgages a good deal? The answer is YES! 1st UK has some excellent products for pensioners or more mature borrowers. Including interest-only mortgages for over 65-year-olds.
How Can Pensioners Access Such Low Rates?
Because of the stability of a pensioners monthly income, to a lender, a pensioner is considered very low risk. This is coupled with the relative stability of the UK residential property market.
What If I Don't Want To Make A Monthly Payment?
If you're looking to free up money from your home, some excellent deals are available.
Access Rates Similar To Those Offered By Prime Banks To Younger People. Discover Lenders That Understand The Needs Of Senior Borrowers
Mortgages For Over 60's, 70's and 80's With The Following Benefits:
Interest rates similar to conventional prime mortgage lenders
Flexible approach to loan-to-value
A small valuation fee
Use your own solicitor
Lenders not available on price comparison websites
Make capital repayments or just pay interest
Many people have contacted us asking can a pensioner get a mortgage? Many lenders have upper age limits. For those over 65, getting a mortgage is likely to mean taking it out over a shorter term such as 15-years or a 10-year deal.
With a shorter time to repay, the monthly premiums rise, leaving many in their golden years struggling to raise finance to buy a home or refinance on an existing home loan.
The exception is the Lifetime Mortgage option, which has a huge drawback as it can affect what you leave to your loved ones as inheritance since the lender will want to sell the property to repay the loan. It's a popular type of equity release, but that doesn't mean it is suitable or the right choice for everyone. In a lot of cases, the best option is to use a traditional mortgage product rather than an equity release.
You might want to pay your existing mortgage early if your mortgage term is about to expire. Existing customers can still have their mortgage options cut off – it's wise to get the right advice about the term end at a certain age.
Pensioner Mortgages. Compare Today's Deals With No-Obligation – Quick Quote Form
Pensioner Mortgages FAQ's
Can pensioners get a mortgage?
Yes, they can, and the good news is in 2022 the rates and terms can be as good as for younger people. The reality is that pensioner income is so unlikely to ever change, pensioners get good deals because they are the lowest risk.
Mortgages for pensioners are strictly regulated so you are protected from taking on a product that is unsuitable for you. The income of all owners is taken into consideration when you look at mortgages for pensioners so even if one person dies you can be sure that the remaining person will be OK.
A mortgage for pensioners, a good deal?
Very likely yes, as the rates are very low and can be fixed for the life of the mortgage. Some of the best deals are from the big lenders – products called Nationwide mortgages for over 70s, Halifax mortgage for over 70s, Nationwide mortgages for over 60s and Saga mortgages for over 60s.
Mortgages for retirees are likely interest only with some options with no monthly payments at all.
Loans for the over 75's?
There are a couple of lenders from 1st UK Money access that see the over 75's are a great sweet spot for risk where the borrower can get a great deal and the lender is subject to very little downside.
Mortgages In Retirement
The majority of mortgages for pensioners over 70 will be restricted to repayment only so interest-only mortgages for over 65's will be extremely difficult to find.
What pensioner mortgages lenders will assess is your ability to repay over the terms you are asking for. If you're over 60 years of age and asking for a 25-year fixed-term mortgage, the vast majority will refuse. Most lenders have an upper age limit for applications that they'll consider. There are lenders currently increasing the upper age limits that they accept borrowers to be at the age of maturity (when the mortgage is fully paid).
Nationwide are among the first high street lender to raise its upper age limit to 85 years old at the age of the mortgage maturity. Halifax pensioner mortgages will only extend to the age of 80 years old, and retirement mortgages from Barclays will only extend to the age of 70 years old.
This may increase as more lenders are starting to understand that more people are still active in their senior years. Some still working beyond state retirement age and many still earning into retirement through BTL investments, pensions, savings, ISAs, and/or they have a second property for which some equity can be released through a home equity loan.
About Interest Only Retirement Mortgages
The interest-only pensioner mortgages that were available years ago were designed to be linked to endowment policies. Many of those policies didn't perform as expected, leaving older borrowers unable to repay the capital on the home loan. If you find yourself in this situation, see Dealing with an Endowment Shortfall.
This year has seen a couple of banks go head to head in a criteria war, with Santander leading the way to let older borrowers borrow through an interest-only mortgage for over 65's by raising their upper age cap for this type of mortgage to 70 years old, the main reason being that many people are still working to the age of 70. Barclays will now accept interest-only mortgages for over 65s, up to the age of 70 at maturity too. Some mortgages for people over 50 are also available.
Nationwide Mortgages For Over 60 & 70s
Nationwide mortgages now extend their residential mortgage to older people with an age of maturity of 85 years old. So at the age of 60, you could still take out a residential mortgage over a 25-year term.
Naturally, that's subject to you being able to meet all other lending criteria such as affordability. There are other key differences between the nationwide offer compared with what you may need from other lenders.
However, Nationwide also has a buy to let specialist lender branch – The Mortgage Works. Nationwide's The Mortgage Works will accept Buy to Let applicants up to the age of 70 years old, and with the repayment terms extending from 5 years up to 35-year terms. Therefore, if you're looking for mortgages for pensioners they pay off at 105, the only current option is not in the residential mortgage sector but instead in the commercial mortgage market through the Mortgage Works.
Should you be a landlord with equity in other properties that could be an option to consider should you need to raise capital for any reason. The maximum LTV is 75% for this type of product. The more equity you have, the more favourable your application is likely to be viewed due to the lower risk level. Many people are pleased to see that nationwide mortgages for over 60s are now available. The 1st UK Money team is more than happy to include Nationwide products in any research we do on your behalf.
That being said, a report by the Telegraph listed six specialist lenders that don't apply upper age limits to residential mortgage applicants.
Those include:
National Counties Building Society
Harpenden Building Society
Bath BS
Metro Bank
Dudley Building Society
The Cambridge Building Society
Should you be looking for a residential mortgage such as nationwide mortgages for over 70s and you don't intend on entering the commercial market, those lenders may be worth considering. In order to get mortgage advice on which lender is best for which type of mortgage product, it would be best to work with a mortgage broker as they'll be aware of the criteria each lender has and help you find the best deal.
Some people get in trouble with credit cards and after say five years of struggling a retirement interest only mortgage can be a great option to pay them off. Also, you pay the interest each month so the interest does not pile up.
Interest Only Mortgages For All Ages Require A Thorough Repayment Strategy
To be approved for an interest-only mortgage, every lender will ask you to provide a repayment plan. Speculation doesn't count for this. You can't approach a lender asking for an interest-only mortgage basing your reasoning for affordability being that you fully intend to downsize when your kids fly the nest.
That would mean speculating on future house prices and as you'll know, those can flat line. Lenders will need to see evidence that you have a repayment plan that's future proof, or as close to certain that your investment plans will materialise with enough capital to repay the mortgage at the end of the term.
What you need are repayment vehicles such as:
Stocks and Shares
Unit Trusts
Investment Bonds
Pensions
Savings, including regular savings plans
Other properties and assets you hold
Obviously, you won't need all of those listed, but enough of any to prove to lenders that you have a sound investment plan that will pay enough to repay the loan. Different lenders have different repayment vehicles they'll accept.
As an example, this document from Scottish Widows shows what they'd consider acceptable for a repayment plan and the evidence you'd need to present them with to prove your ability to repay the capital of the loan. Find out more about mortgages for 65 and over here.
It's important to note that when you have an interest-only mortgage, lenders can ask you at any time to review and provide evidence that your repayment plan is still on track. If they feel it's not going to be sufficient to cover the loan amount, they can ask you to change your mortgage from interest-only to another type of mortgage product that will repay the capital plus interest.
Are you a pensioner on a low income?
If you are like many pensioners who are asset-rich and cash-poor, a good option for you could be equity release. With rates in many cases very close to conventional repayment mortgages, you can release equity tied up in your home in the form of a lump sum or an agreed flexible drawdown. Put simply, you can use your home to provide additional monthly income. The team at 1st UK Money are here to answer any questions or concerns you might have regarding pensioner mortgages, so please feel free to contact us today.
Interest only mortgages for over 65 year olds
Because interest rates are so low, it is even possible for someone over 65 to sell their existing home a buy a new home.
Some interest only mortgages for over 65 year olds have monthly payments lower than that properties council tax bill. As the mortgages are interest only and the principal is never paid down, the payments are very low. If you are smart enough to pick a property in a good area with house price growth, your house price appreciation could easily swamp the small monthly payment.
And it's not just people over 65, a mortgage over 70 is quite possible as retirement income is very stable and lenders have a high degree of confidence in the UK residential property market.
Halifax mortgages for over 70s
The Halifax Building Society has some very low-cost interest only mortgage for pensioners options. Interests rates are close to those offered to people that are much younger.
Nationwide mortgage for over 70s
You don't need to be a Nationwide account holder to get a Nationwide mortgage for over 70s and coupled with the trust that people have in the Nationwide brand, these mortgages or indeed remortgages from the Nationwide can be ideal for pensioners with stable personal income.
Interest only mortgages for over 65s
A retirement interest only mortgage is very easy for the over 65s to qualify for as long as they have ample funds for the monthly interest payments. A comprehensive affordability assessment and independent advice will be needed to assess your workplace pension, pension statement and state benefits. Your pension income is key for Rio mortgages.
An interest only retirement mortgage can help you pay your outstanding mortgage accounts that have a maximum age.
Even if you still have a substantial balance on your current interest only mortgage a Rio mortgage without maximum age limits at a low-interest rate can be much better than other equity release options before you die or move into long term care.
Also retirement interest only mortgages can be ideal to help a family member or loved one to buy their first home or to avoid downsizing when you may prefer to keep a bigger stake in the property market in later life. If your current home has had all the issues fixed an independent mortgage broker may suggest you don't take the risk of downsizing.
Building societies' standard interest only mortgages have mortgage payments very similar to the Family Building Society retirement mortgage. Look out for issues like minimum property value, early repayment charge, minimum loan amounts, minimum income requirements and main residence requirements.
You will need to get all your financial information together before deciding on the mortgage type and maximum loan you can get based on credit crunch modelled monthly repayments.
Many people prefer a standard interest-only mortgage that they understand, as this type of mortgage, the principal never rises. With lifetime mortgages the amount you owe grows over time and you end up paying interest on the interest – compound interest.