Equity Release Frequently Asked Questions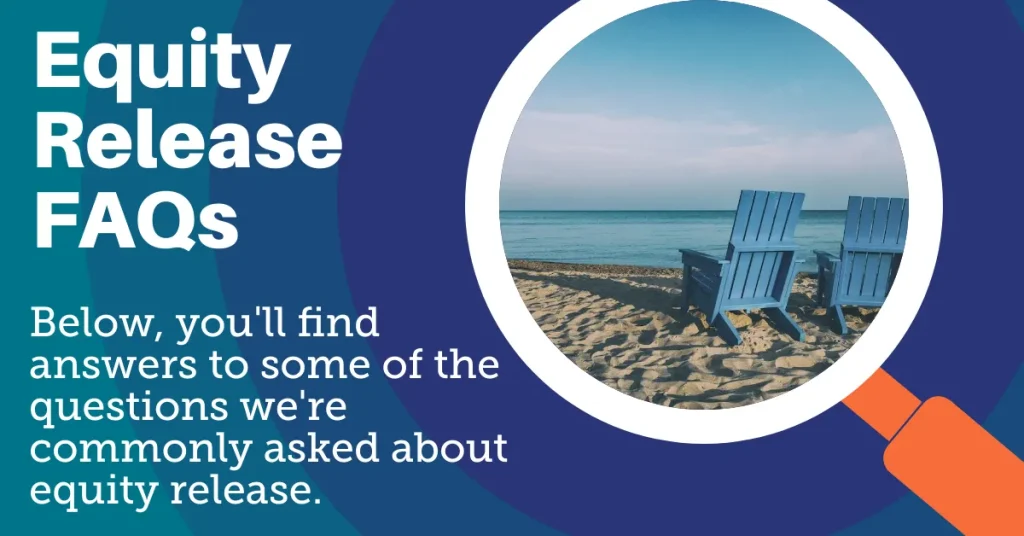 You've come to the right place if you're looking for frequently asked equity-release questions in the UK.
We have created an ever-growing resource of equity release information here on our website designed to help those considering taking out an equity release plan.
We aim to provide concise and up-to-date answers to your equity release queries so that you can make informed decisions.
All our equity release FAQs are reviewed regularly, ensuring they remain relevant and answer any changes in legislation or industry developments. This page is a great way to stay informed on new equity release offerings if you are considering taking out an equity release plan.
Our helpful and friendly customer service team are also ready and waiting to provide quick and clear responses should your questions not be answered on the page – so why not bookmark it today?
So What Is Equity Release?
Equity Release is a term used to describe financial products that allow you to access the equity in your home. Equity is the difference between what the property is worth and how much you owe on it. It's often referred to as a 'lifetime mortgage' or 'home reversion plan,' and can be beneficial for people who want to release money from their home without having to downsize or move house.
In the UK, this kind of arrangement has become increasingly popular in recent years with older homeowners looking for an additional way of generating income, funding long-term care costs, clearing debts or helping out family members.
In most cases, those wanting to release their equity will enter into a lifetime mortgage agreement with a lender; meaning that they can borrow up to 50-60% of their property's value and repay either when they pass away (or if moving permanently into care) through sale of the property – along with any accumulated interest over time.
How Safe Is Equity Release?
How safe equity release is for UK homeowners depends on which lender they choose and what kind of product they take out, as different lenders offer flexible products tailored to different needs. Generally, the financial regulator makes sure the products are regulated so they can be taken out with confidence that they are suitable and secure.
All reputable lenders should provide full information on how your plan works before making any decisions. If in doubt, seek professional advice from an independent financial adviser who will help assess your options and advise you if equity release is the right option.
Several safeguards exist, such as the no-negative equity guarantee (NNEG). This protects customers against losing more money than they initially borrowed, giving them a sense of security and peace of mind. Ultimately, it's clear that while everything comes with risks, equity release provides UK homeowners with a relatively safe way to access their capital.
What Is The Equity Release Council?
The Equity Release Council (ERC) is a trade body that was established in 2001 to protect homeowners and promote safe equity release products. It represents over 700 members, including providers, qualified financial advisers, solicitors and other professionals who are involved in the equity release sector.
The ERC sets standards and safeguards to protect the financial future of those who take out an equity release plan.
Equity Release After Death?
When a homeowner with an equity release plan passes away, the property will typically be sold to repay the outstanding debt owed to the lender. Any remaining proceeds from the property sale will go to the homeowner's estate or beneficiaries.
It's important for homeowners considering an equity release plan to carefully weigh the potential benefits and drawbacks and consult a financial advisor or solicitor before deciding.
Equity Release And What Happens If I Go Into Care?
If you transition into a long-term care facility without a spouse or partner retaining occupancy rights in the residence, the property will be put up for sale. The proceeds from the sale will be utilized to reimburse your equity release provider for the sum initially borrowed, as well as any accrued interest. Our equity release long-term care guide goes into more depth on this subject.
What Is The Equity Release Process?
The equity release process in the UK is an increasingly popular way of releasing cash from a property for later life. It is designed for people aged 55 and over who own their own home, offering access to money stored in their home's value without moving or downsizing.
To undertake equity release, homeowners must first apply with an approved provider. The advisor will review the homeowner's financial situation before proceeding with product recommendations. The equity release process takes about eight weeks and involves talking to a financial advisor, filling out forms, and getting the property valued by a surveyor.
Once you have received appropriate advice, you can choose your product. There are two main types available: lifetime mortgages and home reversion plans – both offering different options to meet individual needs and circumstances.
Can You Get Equity Release On A Leasehold Property?
Yes, it is possible to get equity release on a leasehold property in the UK, but it can be more complicated than with a freehold property. This is because there are additional factors that lenders consider, such as the length of the lease and ground rent charges. However, many equity release providers now offer products specifically designed for leasehold properties.
Equity Release And Inheritance Tax, How Does It Work?
Equity release can affect inheritance tax, depending on how the money is used. If you are releasing equity to gift money to someone else, this will be exempt from Inheritance Tax if you live for seven years after gifting the money and do not benefit from it in any way.
However, if you die within three years of gifting the money, it will be subject to a 40% tax rate. When raising money through equity release, any loan repayment is deducted from your inheritance, and so is not liable for Inheritance Tax.
It's important to understand how equity release affects inheritance tax before making any decisions about releasing equity.