Best Remortgage Deals 2023 From 1st UK Money
To find the best remortgage deals you need the help of a person that knows the entire remortgage market. It's not just the search for the best remortgage rates, it's lenders fees you have to consider too. Plus you have to work out how long you want to keep the mortgage.
The key to a low overall cost (risk-adjusted) is also to work out if you can afford a higher payment if interest rates go up. If you don't want a variable monthly payment you should get a fixed rate.
Remortgage Deals For January 2023 And Beyond
Remortgage interest rates from 2.16% fixed for a minimum of two years and subsequent discounted rates.
1st UK Money have funding from lenders who offer excellent terms and are open-minded to those with bad credit.
No need to pay an exororbitant £1495 fee to a broker!
Funding is limited with some lenders, so please complete the form further down the page with your details.
So what does 1st UK money have that others don't? We have over a decade of experience in financial services. We have a history of delivering remortgage deals with a low overall cost over the term the mortgage is likely to be in place.
In addition to the same lender panel most brokers use, we have access to some overseas lenders, some private boutique UK lenders, plus some firms of solicitors that lend their own money to suitable applicants.
Try finding a credit broker with all the lenders we have access to – it would be easy. If you want to save money on your mortgage deal, we are the people to help you.
Remortgage While You Can Still Get A Low Rate, 60 Second Form – Apply Today.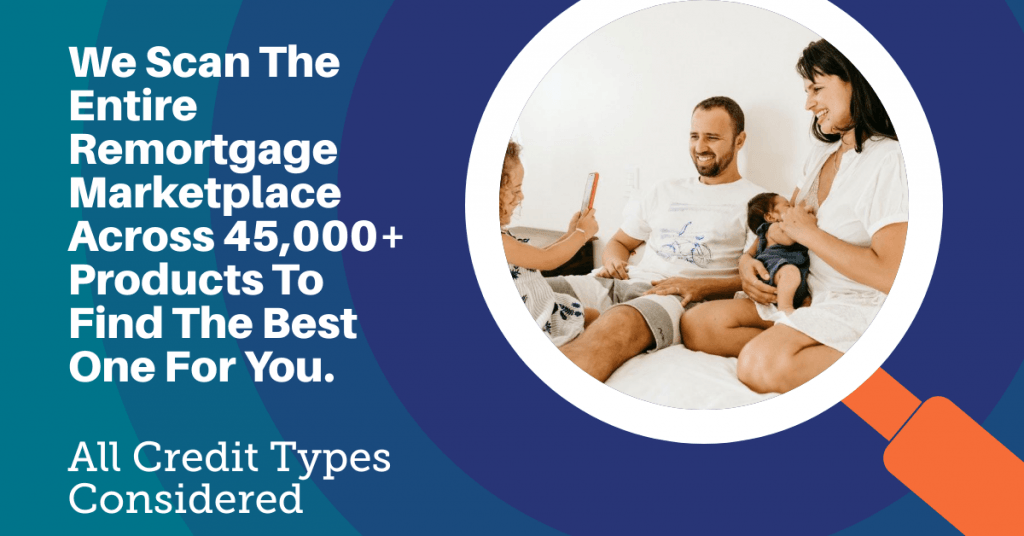 What about my current mortgage deal – could I keep the same lender?
We are not afraid to point out if you are better off sticking with your current mortgage deal with your existing lender and can advise about keeping your existing mortgage deal and getting a secured loan.
Interest-only mortgages can be hard to find now, so if you still have one from back in 2006, it could be wise to keep it. If you need money to fund home improvements and have enough property value and a current loan to value ratio, a secured loan could be ideal.
You will still have to pay valuation fees and maybe an arrangement fee, but this could be worth it if you want to raise money with a low overall cost.
Fixed-rate mortgages – the best remortgage rates or a good deal for the mortgage lender?
Many people have it in their heads that a fixed-rate mortgage is the only way to go, but while your monthly repayments are fixed, there is a real danger your remortgage deal could have early repayment charges that may end up being costly for you.
We are a mortgage broker who can help you quantify if these interest rates can save money for your circumstances, even if your credit score is less than perfect.
People with larger mortgages and a much higher net worth have been known to stick with a discounted tracker or variable rate mortgage and hedge the risk of increased interest rates with a derivatives contract!
An interest-only mortgage can be suitable for some people, but most lenders want you to have a repayment mortgage.
If you believe rates will stay low for a long time, a tracker mortgage could be a great deal for you with low monthly payments and little or no early repayment charge.
The overall cost for comparison can be useful. Still, it would help if you also considered the lender's standard variable rate, as you may need to be on this rate for a while, waiting for other mortgage deals to appear.
If interest rates fall, and it's far from impossible, the bank of England base rate is forced negative; you are stuck with mortgage repayments that are unnecessarily high. You would have been better off looking at tracker mortgages.
With a redemption penalty in place, you can't pay back the mortgage balance early.
Discover Today's Best Remortgage Rates. Quick Quotation Form
Compare remortgage deals for debt consolidation with minimal mortgage fees
If you are in a financial situation where you need to consolidate debts that you pay interest on at a high rate, the mortgage costs can sometimes easily be covered by a lower overall rate. It's key to choose the best remortgage deals at the time.
What about new mortgage legal fees, arrangement fees, remortgage fees, and valuation fees?
Some of the best new lender discount mortgages will have lender's fees added on, especially ones with 3 year or 5 year fixed rates that are very low. Part of the mortgage process will be to consider if these fees are worth paying to get that deal from that mortgage provider at today's interest rates.
What mortgage calculators don't consider when it comes to the best remortgage deals
If you compare remortgage rates to release equity to reduce mortgage payments, you could take on a mortgage with high redemption costs. If you get a new job or have to move house for personal reasons you could lose money. Sticking with your current lender could save you these costs. 1st UK money can help with a remortgage calculator and give consideration to the outstanding mortgage balance, your credit rating, speed of mortgage offer and the longer-term standard variable rate mortgage costs.
The mortgage market changes fast and a fixed rate deal when you compare mortgages may require a speedy application.
Many people say they want a fast remortgaging process, and the key to this is getting your paperwork prepared. Repayments on your mortgage with a different lender may be higher because the lender may force you to pay the money back over a shorter term depending on your age.
When you a looking for a new mortgage deal, look carefully at the following:
Your current consumer credit commitments
The exit fees if any
Your longer term financial circumstances
The good parts of your initial mortgage
Using a broker, not a lender initially
Using a remortgage comparison tool that is not oversimplified
The remortgage costs including the valuation fee and fees for a further advance
The things on your bank statements that the lender may not like e.g gambling
The right deal may let you borrow money even though it has a big fee
Find remortgage deals before your current deal expires
Don't spent a lot of time comparing mortgages where your annual income for the fixed term is insufficient
Get a copy of you credit file and study the lender's criteria before starting the remortgage process
The lenders with a higher loan to value ltv will likely have higher rates and higher set up fees
The best remortgage deal may not be the one that has the lowest fees.
What are the costs if you payback the mortgage early
What if you are nearing retirement age?
If you want to keep your mortgage as late into life as possible, you should pay close attention to the mortgage term and get mortgage interest rates that go out a long way.
The money you borrow against your home is likely the cheapest money you will ever borrow due to the perceived quality of the collateral you post (your home).
What about if I have a bad credit history?
It's not all bad news – far from it.  If you have some good income and put in a good, truthful mortgage application, you can still compare mortgage rates, just with a smaller pool of specialist lenders. 
You have a good chance of getting a better deal than your current mortgage lender if that mortgage has reverted to a very high lender's standard variable mortgage rate. Some of the best bad credit remortgages are from smaller less well-known lenders.
What about offset mortgages – are these the best remortgage deals?
Suppose you are lucky enough to have access to a pool of capital like your company's retained earnings or other money. In that case, you could change your current deal for an offset mortgage with lower interest payments because you have a smaller mortgage. For some people, the best remortgage deals are offset mortgages.
Best remortgage deals for 2023
1st UK Money is one of the few mortgage brokers that will make applications with modest fees if you borrow a reasonably sized lump of money.  It's infrequent to get a free valuation.
Best remortgage deals with additional borrowing
As long as you have a strong provable income and enough home equity, getting a new deal for your mortgage with additional borrowing won't be a problem.
Loan to value requirements for top remortgage deals
You can easily archive an 85% loan to value at a good initial rate if you have a good credit history and strong earnings. Some lenders will go to 95%, but the choice and terms are nowhere near as good. With some poor credit, higher loan-to-value deals are more difficult but not impossible as long as you have suitable proof of income. The best remortgage deals usually require near-perfect credit.
Don't forget the best remortgage rates today may not be the best rates in a few weeks time. You also must look out for the other costs.
What about if I need to release equity and I have a large mortgage redemption penalty?
If you are looking to consolidate debt, buy a car or another large purchase, you should click here to read about the choices you have for secured loans.
Even if you have a DMP or have an old CCJ, as long as you have an appropriate level of personal income, you should be able to get a remortgage or secured loan.
Remortgage to release equity – getting mortgage advice
If you have a suitable income, the mortgage money is probably the cheapest money you will ever be able to borrow due to the quality of the collateral you pledge (UK residential real estate) and the lender's belief that your income will be sufficient.
If you have any higher cost credit, it could be wise to remortgage to release equity. Still, the best reason to remortgage is to increase the size of your home by doing building works or use the money to put towards the purchase of another property – maybe a holiday home or to rent out.
But, it might only be worth doing if you can find the best remortgage deals with no lender fees.
What are the best secured loan deals in 2023?
Even considering the cost of living crisis there are still some great homeowner loans with bad credit available as lenders are still competing for business. There are many fixed rates under 8% still when inflation is over 9% the real cost of borrowing is low!
Who is offering the best remortgage deals?
If you have perfect credit the best remortgage deals are from the big banks like the woolwich, but if you have a poor credit history or lots of other debts you may be better off considering precise or another niche lender. The best remortgage deals 2023 is fought over by 4 main lenders.
What is the best way to get a remortgage deal?
You should look for the best remortgage deals with no fees and use HSBC mortgage rates as a benchmark.
Is it worth remortgaging every 2 years?
It can be yes, especially if you think rates are going back down and you don't want a 5 year fixed deal.
Is it better to remortgage with an existing lender?
It can be yes, as they know you and they know you make the payments on time.
How to find the best remortgage deal
The best way is to go to a qualified mortgage advisor that can look at a panel of all lenders, this is especially true if you have less than perfect credit.
Should I remortgage?
Good reasons to remortgage include, to get a better rate, to get a fixed rate, to consolidate debt, to move from an interest only mortgage to a repayment mortgage or to release money to buy another property.
Who offers the best mortgage rates 5 year fixed
Currenlty Barclys, Lloyds bank and Danske bank offer the best deals for a 5 year fixed deal.
Terminology Explained
Interest rate
An interest rate in the UK is a percentage that lenders charge borrowers for using their money. It's calculated by combining the lender's interest rate, plus any additional fees and charges associated with a loan or mortgage. The interest rate can vary depending on the type of product you're looking for and your specific financial situation.
When interest rates go up, the cost of borrowing increases and lending becomes less attractive – making it harder to get products like mortgages, loans, and credit cards.
On the other hand, when interest rates go down it tends to be good news for those looking for financial products as costs fall. Ultimately, interest rates are important because they play a major role in how much people will pay for money borrowed.
5 year fixed rate mortgage
A 5-year fixed-rate mortgage is becoming increasingly popular in the UK. It offers a lot of financial security because you'll know exactly how much your repayments will be over 5 years. In contrast to variable rate mortgages, 5 year fixed rate mortgages have an interest rate that remains fixed for 5 years, making budgeting easier.
And while 5 year fixed rate mortgages usually have slightly higher interest rates than variable rates, you benefit from the knowledge that whilst other mortgage rates may go up and down, your 5 year fixed rate won't change during this time.
Remortgage with bad credit
A remortgage with bad credit in the UK is an opportunity for someone who has previously been rejected for a remortgage to reconsider their options. Despite having bad credit, remortgaging can still be possible.
There are certain lenders in the UK that specialise in remortgaging to people with less-than-perfect credit. This type of remortgage allows borrowers access to much better interest rates than they could have obtained from elsewhere, making it easier and more economical to pay off their mortgage. Whatever your situation may be, remortgaging with bad credit is worth considering and may be the best option for you.
Standard variable rate SVR – best remortgage deals 2024
A standard variable rate SVR is a type of mortgage rate offered in the UK. Unlike fixed-rate mortgages, SVRs offer more flexibility since you can move to another lender without any financial penalty.
The SVR usually varies depending on the Bank of England's base interest rate and the lender's discretion, meaning it could rise or fall over time.
It's important to consider that with an SVR your monthly payments could increase significantly if the interest rates go up.
However, if you decide to move lenders then all you need to do is pay off the balance or any early repayment fees associated with your mortgage. Knowing what type of mortgage rate and how it works can help you decide if an SVR is right for you.
3 year fixed rate best remortgage deals uk
A 3 year fixed rate in the UK is a financial product that gives customers the ability to benefit from 3 years of fixed interest rates on their mortgage or loan. With this type of agreement, you can enjoy peace of mind knowing that you won't have to worry about rate increases during a 3-year period.
Fixed-rate products are beneficial for those who want to avoid potential shocks from rising rates and also those who want to know exactly how much money their payments will be for 3 years.
However, it's important to consider that these fixed-rate agreements come with an early repayment penalty which means that if someone decides to repay their balance before 3 years, they will have to pay additional fees. Making an informed decision about 3 year fixed rate options in the UK can help you make a positive financial move in your future.
Mortgage lenders
Mortgage lenders in the UK come in many forms and vary depending on your individual circumstances. A mortgage lender will most likely be a high street bank, a building society, an insurance company or another form of financial institution.
Some mortgage lenders only offer their mortgage services through a mortgage broker and not directly to you as the customer. Your mortgage lender can advise you on finding and getting the best mortgage deal for your individual requirements.
It is very important to shop around for mortgage lenders and decide which one suits your specific needs best – it may even be worth consulting with an independent financial advisor to ensure you make the right decision.
Free mortgage advice
Free mortgage advice in the UK is valuable for potential homeowners looking to take their first steps on the property ladder. It is free of charge by qualified experts and covers everything from understanding the process to making an offer to finding suitable financing options.
This advice can help make what can often be an overwhelming experience less intimidating and much easier to navigate. Whether it's learning about fixed-rate mortgages, getting mortgage protection insurance or exploring joint applications, free mortgage advice can help explain everything you need to know straightforwardly.
Self employed remortgage
A self employed remortgage in the UK is a type of mortgage for self-employed individuals or those who are self-employed for years on either a full-time or part-time basis.
Self employed remortgages are often used by self-employed workers to help them pay for a property they may want to purchase or refinance. It provides self-employed individuals with access to funds from secured loans and mortgages that can help them reach their goals of owning their own property.
UK self employed remortgages are a great way to make homeownership possible, as they often have lenient criteria and potentially lower interest rates, which makes them attractive options when compared with traditional self employment mortgages.
Variable rate mortgages
Variable Rate Mortgages in the UK are a popular way to pay for a home. This type of mortgage has an interest rate that varies according to changes in the market.
This can be beneficial in two ways – it can mean lower monthly repayments when interest rates fall and more manageable repayments when they rise.
For financial flexibility, variable rate mortgages in the UK could be a good choice. Before making your decision, it's important to factor in any potential risks associated with variable rates, such as increased monthly payments if there is an unexpected increase in the base rate.
Mortgage brokers
Mortgage brokers, sometimes referred to as mortgage advisers, are a great way for UK homeowners to find the best mortgage for their situation.
Mortgage broker advice can be invaluable in helping homeowners effectively compare mortgage products from several lenders and make the right choice when choosing a mortgage.
A mortgage broker will typically provide a range of tailored mortgage plans and help clients understand the different financial terms and mortgage products – such as fixed-rate mortgages and tracker mortgages – that are available.
They will also be on hand to advise on any changes in their financial circumstances, such as taking out another loan or increasing their income and ensuring they get the most suitable mortgage provider for their needs. In sum, mortgage brokers are a great resource in helping renters become homeowners by connecting them with affordable mortgage providers.