Best Equity Release For Over 55s – No Fee Deals 2022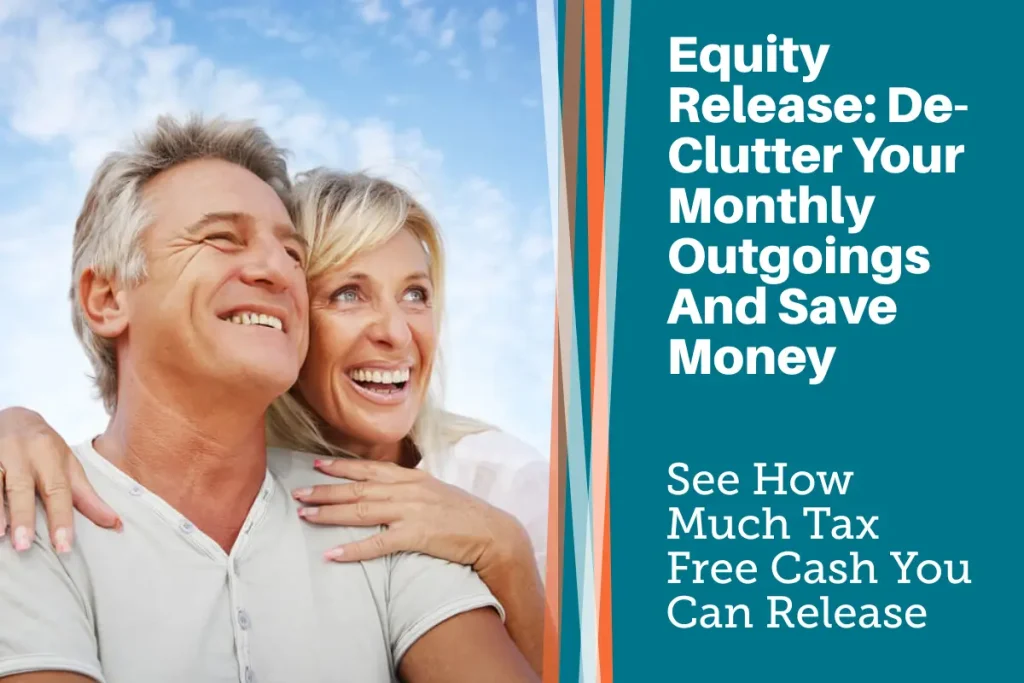 Many people aged 55 or over have a growing list of worries and concerns. Often these are financially related.
While these worries are likely to be familiar, they can also seem overwhelming at times. If you're concerned about meeting your financial obligations in retirement, then equity release could be the solution for you. Equity release over 55 is an innovative way to unlock the value in your home without having to move or sell it. Still, no one-size-fits-all approach works for everyone, so it's essential to compare quotes from different providers before making any decisions.
The experts here at 1st UK Money can help with this process by comparing multiple quotes from leading companies on your behalf and providing impartial advice on which option best suits your needs. We'll even walk you through every step of our comparison process to know exactly what information we need from you and why we ask for it – giving you complete peace of mind throughout the entire process.
Looking For The Best Equity Release Products In 2022? Release Tax Free Cash. Get Your Quote Below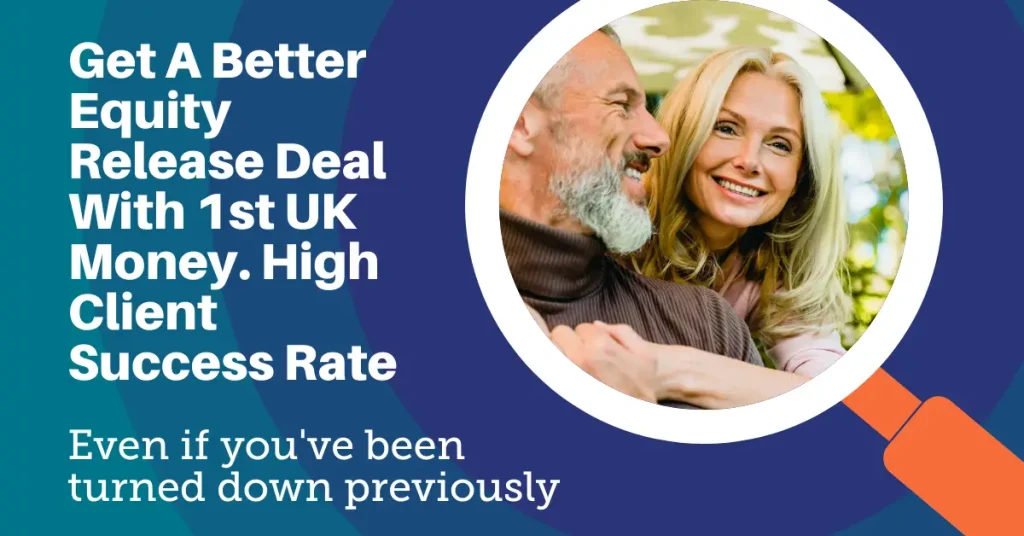 Benefits Of Using Our Services:
Release equity from your home as a cash sum or via regular payments
Exclusive rates and offers from the top equity release providers
Release cash for repairs or home improvements like a new kitchen or bathroom.
Help a family member or loved one purchase their first home.
Pay off all your credit cards and loans and have zero monthly payments.
Switch to a better lifestyle, change your car or have a well-deserved holiday.
100% independent, securing you quotes from the UK's leading equity release companies.
What is equity release for those over 55?
The equity release industry has been around for some time, but only now is equity release being openly talked about. It is is an option that allows you to unlock equity from your home without downsizing or cashing in equity.
In such schemes, the equity in a property is released from a borrower's home. The equity can be released in a variety of different ways including lifetime mortgages and home reversion plans.
This enables borrowers to take equity out for different reasons such as funding long-term care fees or paying for shorter-term projects such as household improvements without having to sell their homes. When equity is released, the equity can be used by the borrower as they see fit and often provides more options for funding things that were not initially considered or catered for in a retirement plan.
When considering equity release schemes it is important to remember that there are some risks and there are consequences that need to be assessed beforehand. For example, equity release can affect a borrower's state pension and means-tested benefits, requiring consultation with the equity release provider and their financial advisor to ensure that equity release is right for them without disadvantaging them financially in other areas of their retirement plan.
In many cases, equity release schemes require a guarantee from the borrower. This could be in the form of a pension or other income-producing asset to ensure that should customers succumb to either illness or death, equity release providers will not need to claim on the loan through their home.
As equity release is becoming more popular it means that there are more options that borrowers have when considering equity release schemes and the flexible options they have when looking to release equity from their property.
Equity release no negative equity guarantee
The no negative equity guarantee: The Equity Release Council guarantees that no borrower will ever owe more than the value of their property and all plans approved by them must offer this guarantee or risk complaints to the financial ombudsman service.
How does equity release over 55 work?
As mentioned above, there are two main types of equity release schemes: lifetime mortgage schemes where you move or borrow money against your home and home reversion plans, where home reversion providers allow you to sell the value in your home in return for a tax-free cash lump sum.
With both schemes, payments are either made monthly or as one lump sum. Payment may be made to you directly or into an account for your benefit under the plan's terms.
When you die, your home is eventually sold to repay whatever you owe. If the sale proceeds are more than what is owed, then any surplus goes to your estate. Whichever plan you're interested in, it's important to do some research before committing yourself. Always seek independent financial advice on the best option for you.

Is equity release for me?
Equity release refers to a way of accessing the value in your property without having to move home or make regular monthly payments. It can be described as a form of lifetime mortgage because it uses the capital in your house to provide you with a cash lump sum and a monthly income for life. Equity release products are a great way to take advantage of your home's value while still living in it. If you're aged 55 or older, there's no need for excessive spending on leisure time when money can be used more wisely!
The most common type is called Lifetime Mortgage. It allows homeowners with equity from their house to build up extra cash without having any monthly outgoings at retirement age unless they choose so themselves by taking additional loans against existing property valuations etc. – very flexible indeed!
Exclusive Lifetime Mortgage Deals Get A Free Quote Independent Whole of Market Comparison.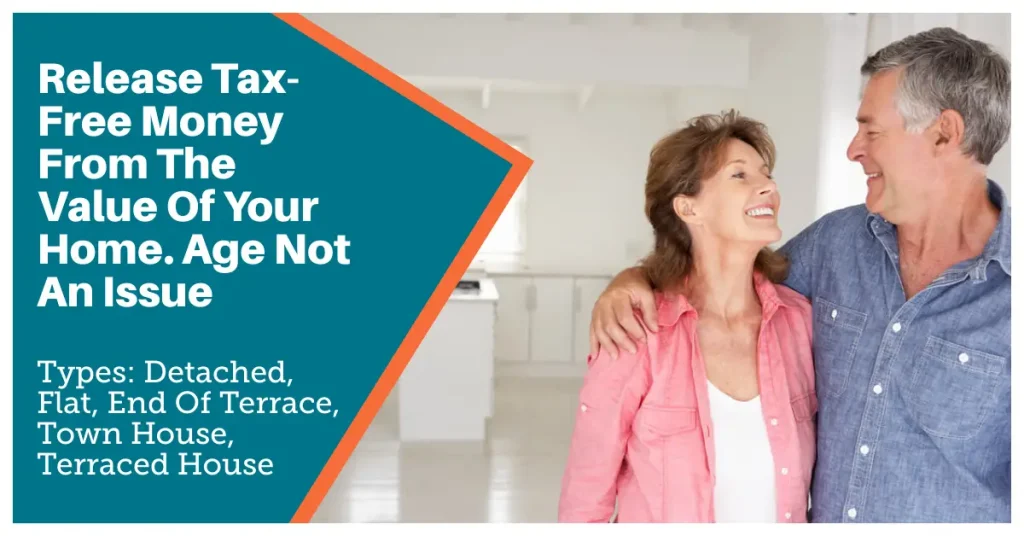 Releasing equity with a Lifetime Mortgage
Lifetime Mortgages can broadly be grouped into two:
The lumpsum lifetime mortgage over 55
A lump sum lifetime mortgage is the perfect equity release product solution for people ready to release equity from their homes in one big payment. You don't need to make any more payments on this type of loan, so it will add interest every month and 'roll up' over time too.
Drawdown Lifetime Mortgages over 55
The Drawdown Lifetime Mortgage is a tax free lump sum strategy for individuals who want to have some money set aside while they're still living in their house. You can use this type of mortgage so that you don't actually pay interest on your reserves, which are essentially funds available when needed without being subject to market fluctuations or tight credit requirements like other types of loans might entail.

Do I qualify for equity release? Is it right for me?
The Lifetime Mortgage is perfect for people who own a home and want to borrow money. It's only available if your property is worth over 70k has equity; you're over 55 with at least £10K in savings or retirement funds that are guaranteed by the government (in case of an emergency). This type of mortgage will give you access without having any other debts on top; clearing an existing mortgage or interest only mortgages happens more often than not, so this could be why some choose this option!
Is there an upper age limit for equity release?
As mentioned previously, homeowners can take advantage of equity release plans as early as 55 (minimum age), and there are no upper age limits. Not all providers offer loans to applicants over 80-years old but most will.
What is the catch with equity release over 55?
Equity release plans for those 55 or over are a great way to provide you with sensible retirement planning and the freedom and flexibility of having access to cash when needed, but there's always that concern about not being able to repay. With lifetime mortgages, we offer both options – either pay back what was borrowed or receive regular interest payments.
How can I avoid risks if I'm considering equity release?
The Financial Conduct Authority (FCA) regulates the industry to ensure protection, security and access through a financial compensation scheme. Choose an equity release provider and an equity release adviser who is required by law to have this agreement and is a member of the Equity Release Council, so you know your money will be safe.
Everything You Need to Know About Equity Release Schemes Video
What does Martin Lewis think about equity release?
As he mentions above, Martin Lewis is the founder of MoneySavingExpert.com. He doesn't recommend equity release as the best way to get cash because there are usually easier options available, such as downsizing or taking out a loan against the value of your home.
However, he thinks there are circumstances where equity release can make sense, such as if you need to pay for long-term care and don't have any other options or if you want to leave an inheritance for your children. But even in these cases, he recommends that you talk to an equity release adviser shop around and compare different products before deciding on one.
What possible alternatives are there to equity release?
There are a few different alternatives to equity release. One option is to take out a reverse mortgage. With this type of loan, you borrow against the equity in your home and don't have to make any payments on the loan as long as you live in the home. The downside is that if you decide to sell your home, you'll have to pay back the total amount of the loan plus interest.
Another option is downsizing. If you downsize your home, you'll free up some extra cash from an existing mortgage that can be used for retirement expenses. You could also consider taking out a personal loan or using your credit card to cover your retirement costs. Just be sure to compare interest rates and fees before choosing a lender carefully.
Can I move if I have equity release?
Yes, you can move if you have equity release. However, it's important to note that there may be restrictions on where you can move depending on the specific type of plan you choose. Be sure to talk to your independent financial adviser or one of the 1st UK team about the specifics of your plan to make sure you understand any restrictions that may apply.
Does equity release affect your pension?
Equity release does not affect your pension. Releasing equity from your home can improve the value of your pension, as you will have more money to contribute to it. Additionally, when you reach retirement age, you can access the equity released from your home without selling it. This provides a steady stream of income that can help supplement your monthly pension payments.
What are the pros and cons of over 55 equity release plans?
Pros:
Provides you with extra income during retirement and later life
Improves and increases the value of your pension
It can be used to pay for long term care and other non-essential costs
Cons:
If you move, you may not be able to draw equity from the home if it isn't in your name alone or as a joint tenant
You could lose your home if you don't repay the loan or pay interest on time
There are restrictions on how much equity you're able to release, which may limit the amount of money available
If you have had experience with taking out an equity release mortgage, do you have any tips or ideas on how to go about it?
When you're taking out an equity release product, it's important to read the terms and conditions of your contract carefully. You'll want to make sure that you understand all fees and charges that may apply, such as interest rates and penalties for early termination. It's also a good idea to get a home valuation to have an accurate understanding of how much equity and market value you have in your home and contact an equity release adviser for further help.
What are the advantages and disadvantages of equity release with an interest-only mortgage?
Interest-only equity release is not recommended to older people, as it can lead to negative equity (when your outstanding loan amount is higher than the value of your home). This could make it difficult, if not impossible, to sell your home in the future. It could also become a problem if you decide to relocate or pass away before repaying the loan.
What's the maximum percentage you can borrow?
The percentage older people can borrow with equity release will depend on multiple factors such as your age, home valuation, as well as the amount of equity in your home and what type of equity release plan you choose. Most plans limit the maximum amount that can be borrowed to 65% of the value of your home.
What are equity release calculators?
Equity release calculators are life lending tools that can be used to determine how much money you may be able to borrow in later life with equity release, as well as the key terms of your loan. When using an equity release calculator, it's important to remember that lenders may offer different plans and rates, so you'll want to make sure to compare lenders and equity release plans before making a specific choice.
How do I apply for an equity release loan?
While older people can find lump sum equity release calculators on the web, applying for an equity release loan is best done with the help of a financial advisor. A good advisor will be able to provide guidance explaining how equity release works and areas like monthly repayments ensuring that you choose the type of equity release plan that's best suited to your needs and financial situation.
Over 55 equity release in conclusion
There are many different life lending equity release companies out there, and they can all make their services and lump sum deals sound very attractive.
While this is great news for you as a consumer, it also means that finding the right company to help you with your equity release needs can be pretty tricky or even a big decision.
We offer a free independent financial adviser service that lets you compare quotes, interest rate levels and possible monthly repayments from multiple companies in one place. You'll know exactly how much each provider will charge before you even pick up the phone to speak to them. Simply fill in our short form, and we'll do all of the hard work for you.
We're here to answer any questions you might have about equity release for those over 55. Contact us today for a free consultation and see if it is the right option for your financial situation. You can also check out other pages on our website, which has more information on equity release and later life lending in general.