Equity Release Under 55 Years Old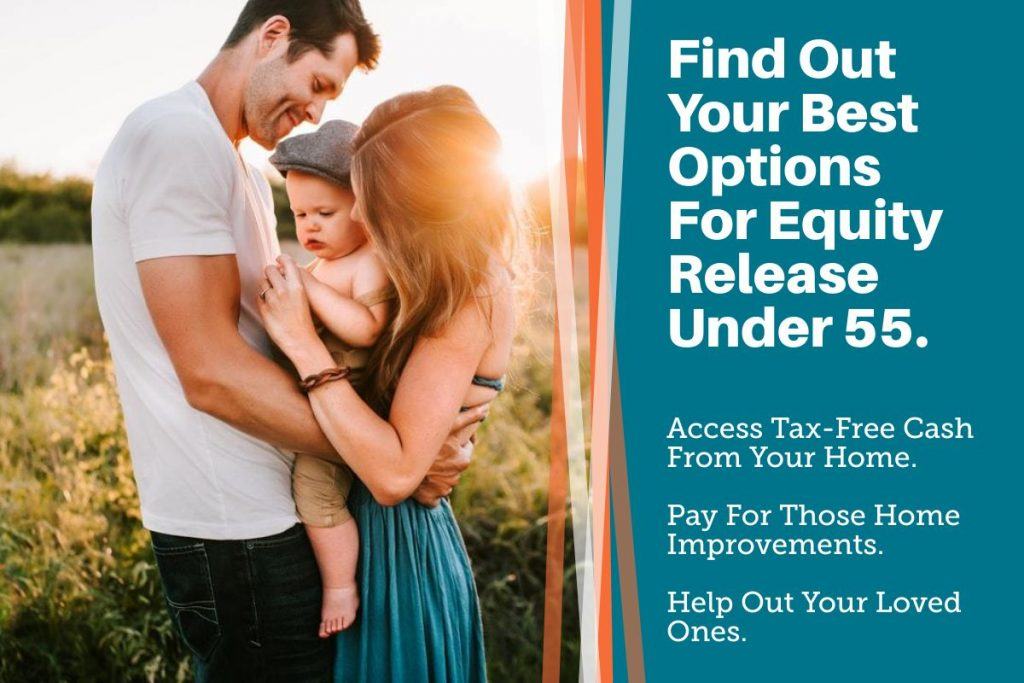 Home equity release under 55 can be cost-effective for many UK homeowners. Even younger people can have a significant amount of equity in their homes.
If you're age 55 or under, you have an excellent chance to secure your finances and those of your loved ones. Equity release schemes provide individuals access to money stored in their property, allowing them to make the most of their home's concealed worth.
Though the UK economy has experienced disruption this year, more than 217 equity release plans are available. These provide competitive interest rates, high loan-to-value ratios, and a range of long-term safeguards that ensure the plan meets your requirements at any age.
UK Property Equity Release Under 55 At 3.19% APRC
No brokers fees
No lenders fees
New equity release product lender available from February 2023
Lenders not shown on the "popular" comparison sites
No redemption penalties/early repayment charges
Please Enter Your Requirements Below: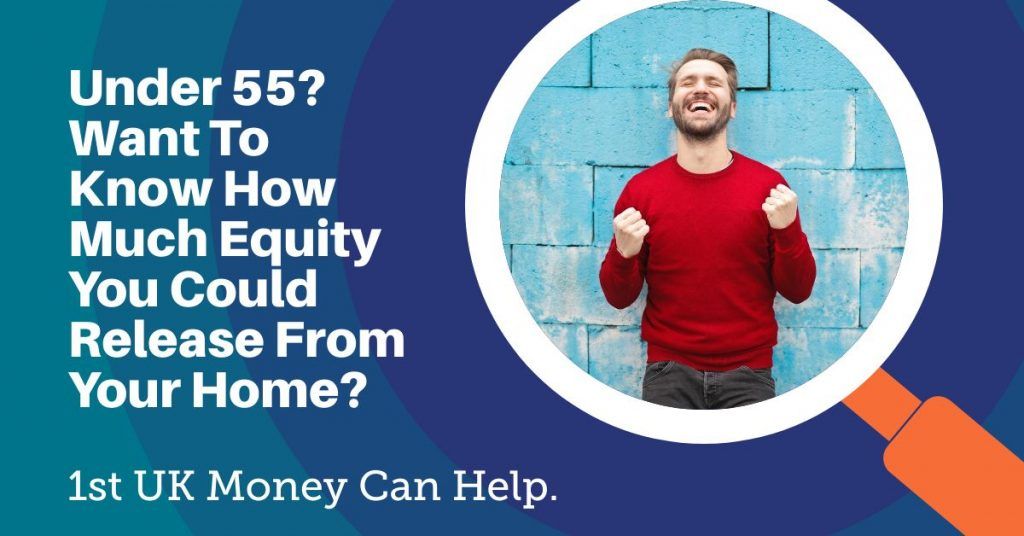 Can you release equity under 55? Yes, you can release equity in a house under 55. 1st UK Money has many lenders – not featured on the comparison sites that offer equity release under 55.
Are interest rates going to go up soon?
Maybe, yes, it could be best to secure your fixed-rate equity release as soon as possible.
Can I get a fixed rate equity release mortgage under 55?
Yes, you can, and if interest rates go up, which many economists think they might, this could be a very savvy option for you.
Can I get equity release on a jointly-owned property?
Yes, this is no problem with 1st UK Moneylenders.
Should I wait and get over 55 equity release?
If you need to release equity, the rates might be higher once you are over 55. Equity release for younger people can be very cost-effective.

What is the minimum age for equity release?
With the 1st UK Money, it's less to do with age and more with the amount of equity you have. So the theoretical minimum age for equity release is around 30 years old.
Can I get bad credit equity release?
Yes, no problem. It's more related to the amount of equity you currently have.
How does the equity release calculator under 55 work?
It uses an algorithm that considers your age, property value, existing mortgage or charges, and the area your home is located in.
Can I get equity release under 55 on a property with non-standard construction?
Yes, homes that are BISF, poured concrete, timber frame, flying freeholds, leasehold houses, and other non-standard property titles are all considered.
Is it probable or even likely that my home price appreciation could be more than the interest on my equity release?
Due to the lack of supply and substantial demand for UK homes, many people think that home prices will continue to rise. An equity release mortgage under 55 will allow you to maintain 100% ownership of your home, your valuable asset, so any upside in the property market is all yours.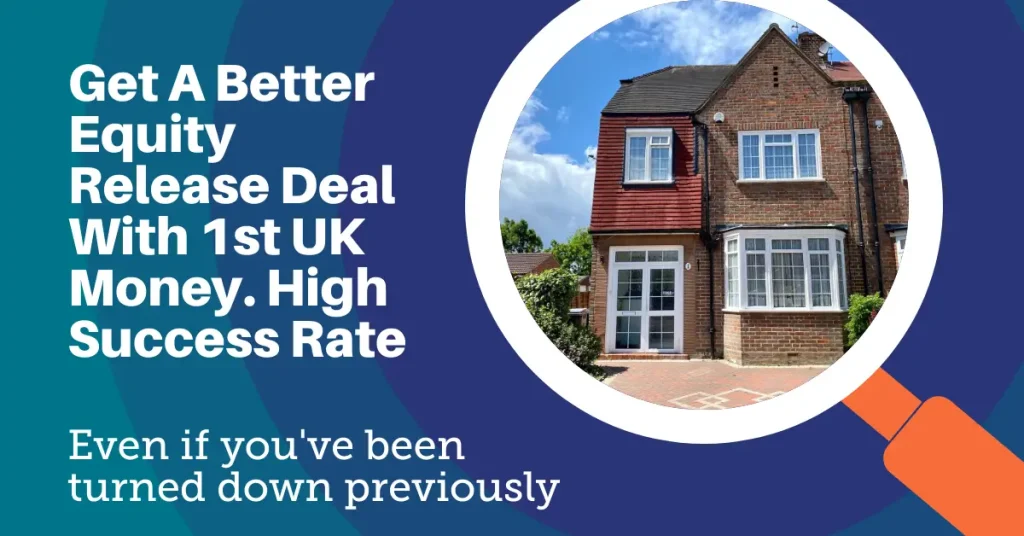 Does equity release on a buy to let property exist?
Yes, you can get equity release under 55 on a buy-to-let property.
How popular is releasing equity for home improvements?
It is very popular to release equity from your house for improvements. The most powerful home improvements are when you increase the size of your home, especially in popular areas or areas where the price per square foot of homes is much higher than the build costs.
Can I rent out my house if I have equity release on it?
Subject to certain conditions, yes, you can rent your house even if it has equity release on it, depending on your specific lender.
How much equity can I release from my home?
If you can make a monthly payment, you can release virtually all of your home equity. If you don't want to make a monthly payment, the amount of equity you can release is slightly lower.
Please Enter Your Requirements Below: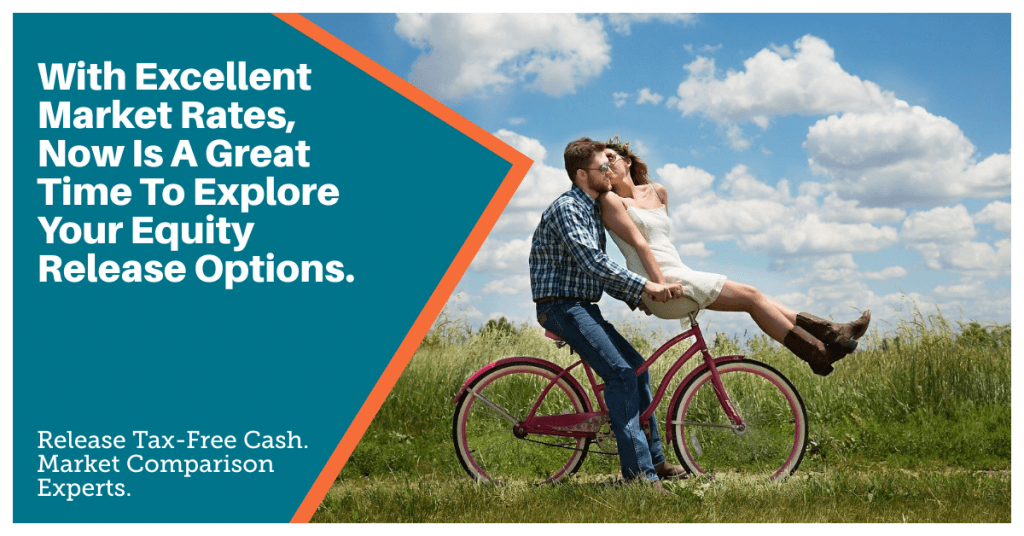 Release equity in house under 55 years old questions and answers:
Does Lloyds offer equity release under 55?
Yes, Lloyds equity release under 55 can be ideal for many people's needs.
What is the average interest rate on equity release plans?
Typically the rates are around 3.17% MER fixed for life.
Does HSBC do equity release in house under 55?
Yes, HSBC equity release under 55 for UK properties over £110,000 in value.
Can you equity release at 50?
Yes, equity release under 50 can be achieved at rates close to normal prime mortgage rates.
Does NatWest offer equity release under 55?
Yes, the NatWest equity release under 55 products can be cost-effective for some UK homeowners. Equity release at 55 can be achieved at rates under 3.17%.
Can you get equity release on a buy to let property?
Yes, as long as you have no arrears on your mortgage, you can release additional equity from your buy-to-let property.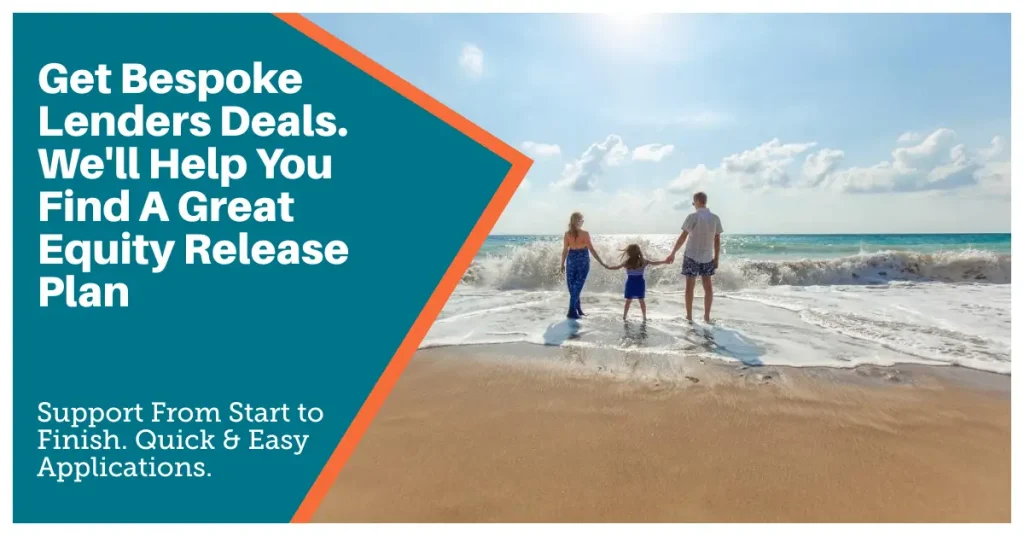 Does Halifax offer equity release under 55?
Yes, Halifax equity release under 55 is an excellent product for many homeowners with property worth more than £120,000.
Are there lenders that offer equity release on non-standard construction property types?
Yes, subject to valuation, many lenders will release equity in a non-standard construction house, including BISF, steel frame construction, concrete panel construction, and timber frame houses.
Does Legal and General offer equity release under 55?
Yes, L&G equity release can have rates much lower than other UK property lenders.
Does TSB do equity release?
Yes, TSB equity release has very low rates for leasehold flats and freehold houses and does not haircut the valuation of flats.
Please Enter Your Requirements Below: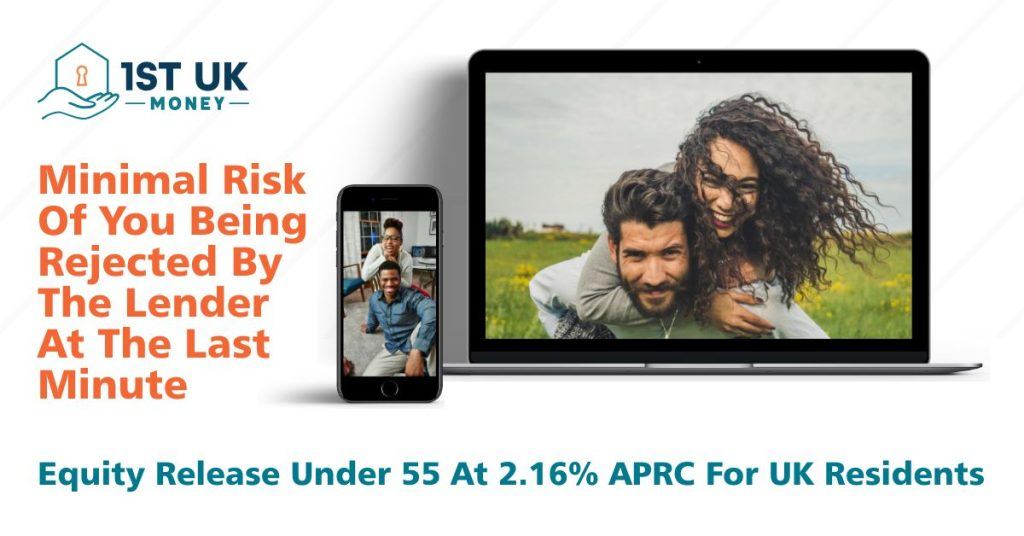 Lifetime Mortgage
A lifetime mortgage provides the same tax-free advantage for selling all or a proportion of your home equity, but you still retain full property ownership. The disadvantage here is there is interest accruing continually for the rest of your life.
With a lifetime mortgage, you're releasing equity from your home by borrowing in advance. When you die, the lender gets the money back with interest from selling your home. Interest rates on a lifetime mortgage can start at around 3.5% per year. The longer you live, the more interest is accrued, but there are generally no upper age limits.
The various types of lifetime mortgages…
Lump-sum
This is the traditional approach to equity release whereby you're paid a lump sum then the interest rolls up for the rest of your life.
Drawdown
A lifetime mortgage with a drawdown lets you withdraw smaller amounts (based on a pre-approved limit) at regular intervals to reduce the amount of interest accruing. As interest is only accrued on money borrowed from equity released, you could save by releasing money as and when needed.
Interest Repayment
There are equity release providers around now that let borrowers pay interest throughout the term of the loan. This can reduce the overall interest payment applied at the end of the term leaving more money in your estate for beneficiaries.
Enhanced Lifetime Mortgage
An enhanced lifetime mortgage is available to those with existing poor health that's likely to lessen their life expectancy. These products have a lower interest rate and pay a higher lump sum than traditional equity release products.

Please Enter Your Requirements Below:
Alternatives To Equity Release For Over 55's
If you're eligible for equity release, there are other options to consider before committing.
The main two options are:
To downsize
As it sounds, sell your home and use the money to buy a cheaper, smaller home.
Take out a Retirement Interest Only Mortgage
This option is most suited to those in retirement who have a fixed monthly retirement income that allows them to afford to repay the interest on the loan amount each month for the rest of their life.
Alternatives to Equity Release Under 55s
Secured finance – keeping your outstanding mortgage
Getting a secured loan means that the money you borrow is linked to an asset you own. Mortgages are a secured loan. Most lenders will have minimum loan amounts, generally £10,000 and higher.
Types of secured loans include:
Homeowner loans via a mortgage advisor
These are a second charge on your property. Your mortgage is the first-charge secured loan.
Logbook loans and vehicle finance agreements
These are secured against your vehicle for the cash lump sum.
Bridging finance on your own home
Are often large loans secured short-term on properties to bridge the gap between alternative finance arrangements being put in place.
Debt consolidation loans
It can be secured against your home in certain instances. A conventional mortgage lender can help you access money tied up in your home in specific circumstances depending on loan to value. The cash can be lent at a very low-interest rate if you have good proof of income. Your credit score could be important. To get the best deal, the age limits of the youngest applicant and other factors apply.
Unsecured finance
With unsecured finance, the amount you can borrow is usually limited to £25,000. The maximum repayment term for unsecured finance is seven years. As the lender has no security, there is a higher risk, thus raising interest rates. In particular, if you're affected by a poor credit history.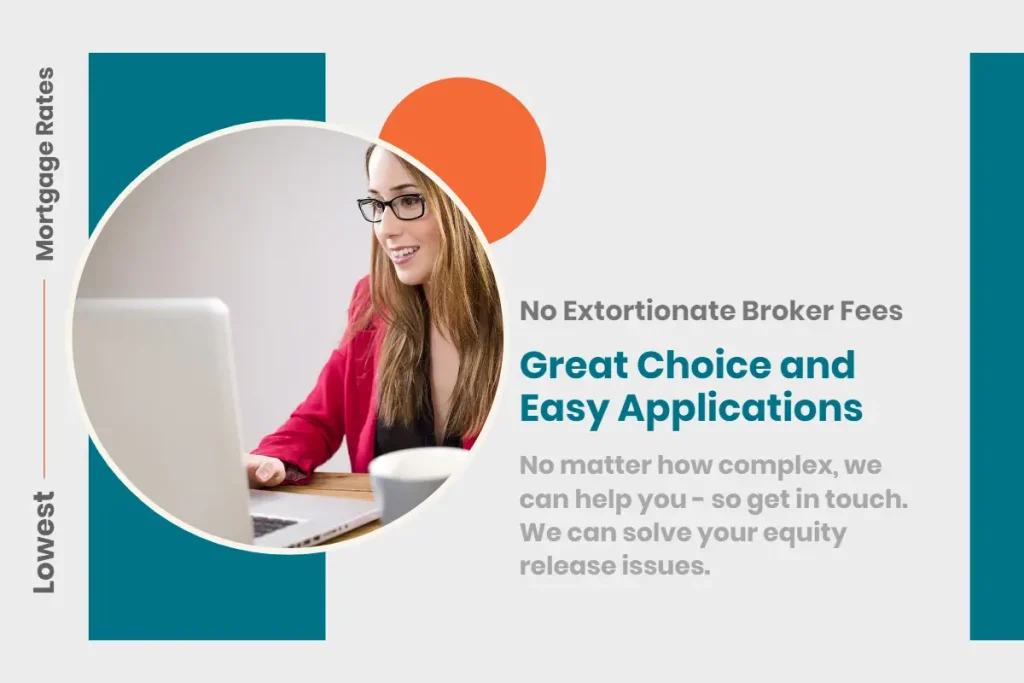 Remortgage your property aged 55 or over
Remortgaging is most suitable when you borrow a large sum of money. It will only be appropriate (in most cases) when your existing mortgage ends, meaning you won't have to pay early repayment charges to switch lenders.
That is provided you're repaying capital with interest and not interest only because you'll have more property equity when you've been paying capital plus interest. The more equity you have, the more likely you'll be able to release money from the equity you've accumulated by borrowing more secured against your home using a higher LTV.
For example, if you've paid enough to have 50% equity in your property, you could remortgage for 60% or higher, releasing around 10% of your property's value. For example, if your home is worth £200,000 with £100,000 remaining on your existing mortgage, remortgaging for 60%, LTV could release an additional £20,000.
The advantage here is mortgage products have lower interest rates. The main downside is that interest accumulates for longer, resulting in higher interest charges. Additionally, as with all mortgage products, fees will be incurred and must be budgeted for.
Can I release equity if I'm under 55?
If you're nearing 55 and want to release equity from your property, a question you'll want to be answered sooner rather than later is, do you have to be 55 for equity release?
With 1st UK Money, you can release equity even if you are under 55 years old. Some equity release scheme lenders allow you to borrow money without a traditional mortgage lender or apply for personal loans.
One of the main reasons lenders are keen to lend is the strength of the UK residential property market. The maximum loan on your existing property, regardless of your credit status, can provide extra money without monthly payments.
How a Transfer of Equity Works without an Equity Release Plan
A Transfer of Equity can be used when one person on joint home ownership is under the age of 55 and the other over 55. Lenders won't consider the joint application unless it's in the sole name of the older person. Legal fees are payable, and depending on the proportion (consideration) of the amount being transferred, Stamp Duty Land Tax may be payable if it's over the threshold.
Additionally, if there's an existing mortgage on your home, you can't instruct a conveyancing solicitor to transfer equity without first contacting your existing lender.
They need to assess your affordability to ensure you can repay without your partner's income. It could be wise to transfer equity before looking at equity release at 55.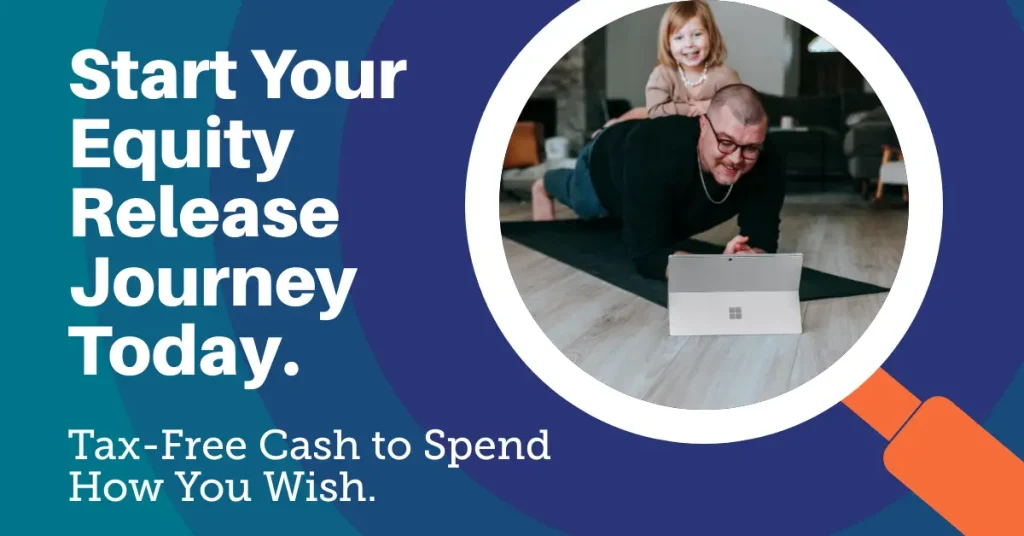 How Age Impacts the Equity Release Mortgage Options Available
Age is only one factor that lenders take into consideration when you're applying to an equity release scheme. Most lenders offer between 20% and 50% of your property's market value through equity release with a lifetime mortgage and up to 60% on a home reversion plan.
What home reversion schemes and types of equity release lenders are interested in are your age and your circumstances – mainly your health.
With equity release, you'll either sell all or part of your home equity and then accrue interest (or live rent-free with the right to remain in your home until you die). Therefore, the older you are, you'll accrue less interest, meaning lenders have an increased chance of making a profit on the sale of your property.
If you were to release equity from your property under 55, chances are, interest would accrue for decades, making it more unlikely that the lender would recuperate the full payment with interest upon the sale of your home. That's why you can't use equity release under 55. It's a safeguard.
The demand to release equity from property under 55 increased in 2022 and will likely increase further in 2023. A high loan to value in one lump sum will give you more cash but may be difficult to qualify for, especially at the lowest rates.
How Equity Release Mortgage Brokers Can Help You Release Money and Save
Releasing equity from your home is not a decision to take lightly, and we always recommend talking to an equity release adviser or your own independent financial adviser. Equity release through a lifetime mortgage is payable for the rest of your life. Using a home reversion plan has its advantages and drawbacks too.
If you're under 55 and want to release equity from your property, alternative financing methods can be explored across the whole market.
This is where specialist mortgage brokers stand out. They can access all products available, assess your eligibility before applying, and give you a breakdown of the best deal options available with a total cost breakdown – before you commit.
Equity release schemes for under 55s can happen at rates under 4% with no fees added on, and we are also happy to discuss equity release for over 55 plans, so please don't hesitate to get in touch. We can help discuss the options home reversion providers currently have to offer.
This webpage does not constitute financial or legal advice, and some schemes require monthly repayments, such as a second mortgage. The value of your property or buy to let property will have to be assessed by a 3rd party valuer.