Equity Release Under 55 Years Old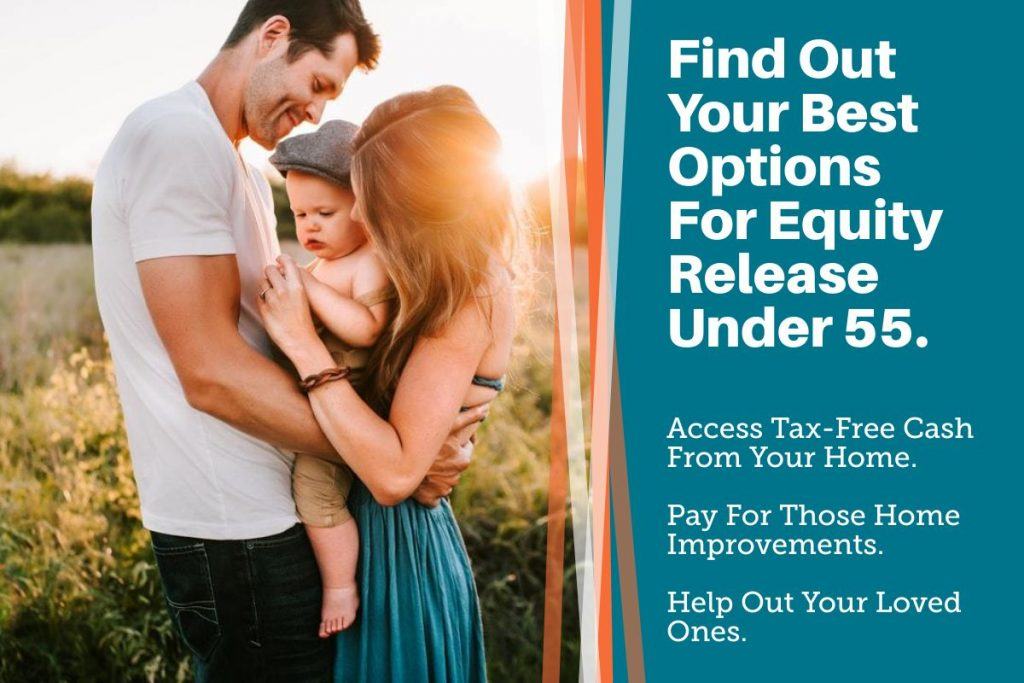 UK Property Equity Release Under 55 At 2.16% APRC
No brokers fees
No lenders fees
Small valuation fee of £299
New lender from 1st September 2021
Lenders not shown on the "popular" comparison sites
No redemption penalties/early repayment charges
1st UK Money can study your situation and plan how to release money from your home using products unavailable on the comparison engines for releasing equity under 55.
Equity Release is normally reserved for those over 55 but it is possible to secure equity release under 55. 1st UK Money has years of experience in the equity release sector and would be delighted to discuss your equity release under 55s options without obligation.
Please Enter Your Requirements Below: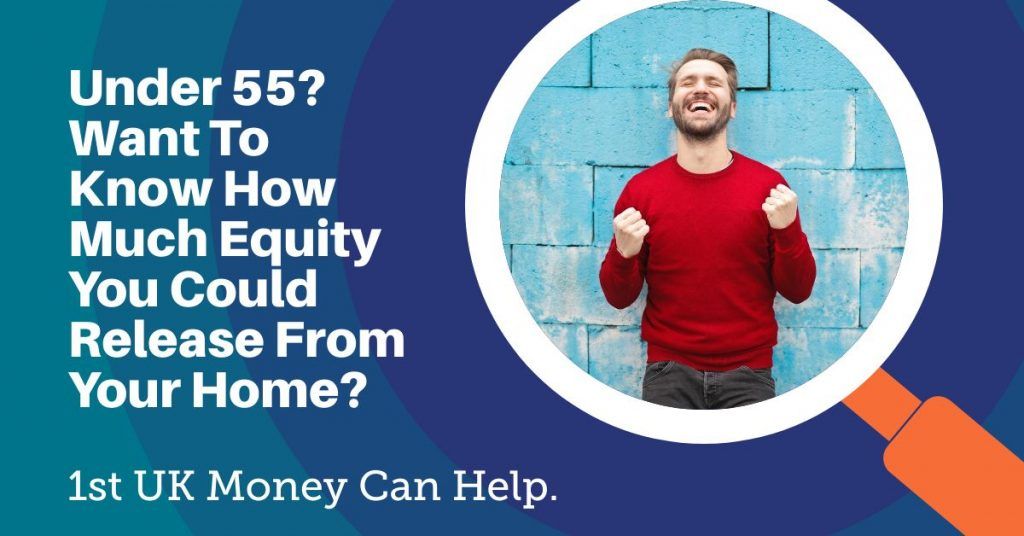 The Types of Equity Release Schemes Explained
There are only two types of equity release schemes available to UK homeowners.
A Home Reversion Scheme
Using a home reversion scheme provider, you'd sell all or part of your home equity but retain the right to live there without paying rent for the rest of your life.
Consider this:
As an example, your home's value is £150,000. A home reversion scheme will only give you a maximum of 60% market value, so £90,000. If you got the high-end of 60% market value and lived there rent-free for another 15-years, the cost of pre-paid rent would be £6,000 per year. Or a monthly rent of £500. If you died just five years after entering into a home reversion scheme, the cost would be £18,000 per year or £1,500 per month rental equivalent. That's a high expense.
In effect, by paying below market value in exchange for your home equity, you are essentially pre-paying your rent. The longer you live, the better your finances. The shorter your lifespan, the more profit the home reversion scheme provider makes.
Home reversion schemes are mostly an option open to over 65's rather than for those aged 55. Should you need to downsize soon after agreeing to a home reversion plan, there's the possibility an early sale could cost a significant amount of money.
Please Enter Your Requirements Below: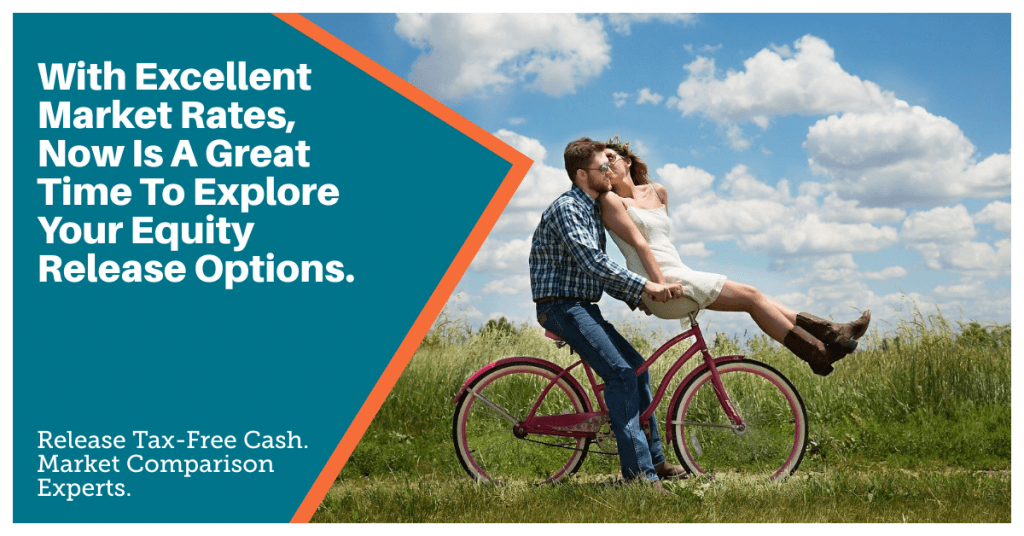 Lifetime Mortgage
A lifetime mortgage provides the same tax-free advantage for selling all or a proportion of your home equity, but you still retain full property ownership. The disadvantage here is there is interest accruing continually for the rest of your life.
Lifetime mortgages are open to those over 55 and generally provide 20% to 50% of your properties market value. Instead of pre-paying your rent, you're pre-selling your home but keeping 100% ownership.
With a lifetime mortgage, you're releasing equity from your home by borrowing in advance. The lender gets the money back with interest from the sale of your home when you die. Interest rates on a lifetime mortgage can start at around 3.5% per year. The longer you live, the more interest is accrued.
The various types of lifetime mortgages…
Lump-sum
This is the traditional approach to equity release whereby you're paid a lump sum then the interest rolls up for the rest of your life.
Drawdown
To reduce the amount of interest accruing, a lifetime mortgage with drawdown lets you withdraw smaller amounts (based on a pre-approved limit) at regular intervals. As interest is only accrued on money borrowed from equity released, you could save by releasing money as and when you need it.
Interest Repayment
There are equity release providers around now that let borrowers pay interest throughout the term of the loan. This can reduce the overall interest payment applied at the end of the term leaving more money in your estate for beneficiaries.
Enhanced Lifetime Mortgage
An enhanced lifetime mortgage is available to those with existing poor health that's likely to lessen their life expectancy. These products have a lower interest rate and pay a higher lump sum than traditional equity release products.
Alternatives To Equity Release For Over 55's
If you're eligible for equity release, there are other options to consider before committing.
The main two options are:
To downsize
As it sounds, sell your home and use the money to buy a cheaper smaller home.
Take out a Retirement Interest Only Mortgage
This option is most suited to those in retirement who have a fixed monthly retirement income that allows you to afford to repay the interest on the loan amount each month for the rest of your life.
Alternatives to Equity Release Under 55s
With equity release schemes under 55 out of the equation, your only option is to consider the alternatives. Those include:
Secured finance
Getting a secured loan means that the money you borrow is linked to an asset you own. Mortgages are a secured loan. Most lenders will have minimum loan amounts, generally £10,000 and higher.
Types of secured loans include:
Homeowner loans
These are a second charge on your property. Your mortgage is the first-charge secured loan.
Logbook loans and vehicle finance agreements
These are secured against your vehicle.
Bridging finance
Is often large loans secured short-term on properties to bridge the gap between alternative finance arrangements being put in place.
Debt consolidation loans
Can be secured against your home in certain instances.
Unsecured finance
With unsecured finance, the amount you can borrow is usually limited to £25,000. The maximum repayment term for unsecured finance is seven years. As the lender has no security, there is a higher risk, which raises the interest rates. In particular, if you're affected with a poor credit history.
Remortgage your property
Remortgaging is most suitable when you borrow a large sum of money. It's only going to be appropriate (in most cases) when your existing mortgage is coming to an end meaning you won't have to pay early repayment charges to switch lender.
That is provided you're repaying capital with interest and not interest-only because when you've been paying capital plus interest, you'll have an increased amount of equity in your property. The more equity you have, the more likely it is you'll be able to release money from the equity you've accumulated by borrowing more secured against your home using a higher LTV.
For example, if you've paid enough to have 50% equity in your property, you could remortgage for 60% or higher, releasing around 10% of your property's value. For example, if your home is worth £200,000 with £100,000 remaining on your existing mortgage, remortgaging for 60% LTV could release an additional £20,000.
The advantage here is mortgage products have lower interest rates. The main downside, though, is the interest accumulates for longer resulting in higher interest charges. Additionally, just as all mortgage products, fees will be incurred and need to be budgeted for.
Fees you could incur:
Early repayment charges
These are incurred if you switch mortgages before your current deal ends.
Admin charge
This is just for your lender to release the Title Deeds to your solicitor.
Mortgage arrangement fees
Arrangement fees can be expensive, although a large number of lenders allow you to add this to your mortgage rather than pay it upfront. You'll generally find the lower interest rate mortgage deals have higher arrangement fees.
A valuation fee
Is required, although some lenders cover this cost.
Legal fees
A lot of lenders include a legal package; however, this will only apply to general legal work. If you're using a remortgage to remove the name of someone on the Title Deeds who is aged under 55 to be eligible for a lifetime mortgage on your own name (or vice versa) lenders legal packages aren't likely to cover special circumstances.
Broker fees
If you choose a mortgage broker to search the market and compare broker-only deals with offers you're able to access to find a better product, a fee is likely to apply.
Can I release equity if I'm under 55?
If you're nearing 55 and want to release equity from your property, a question you'll want to be answered sooner rather than later is, do you have to be 55 for equity release?
In short – you do. Equity release schemes go by two terms: lifetime mortgages and home reversion plans. While you're researching online, you may come across an equity release calculator.
Under 55, these are no use as you won't find a lifetime mortgage or home reversion plan provider catering to the under 55 age market. A remortgage is the closest to an equity release mortgage under 55, and you'd need to search on comparison sites or discuss your options with a broker/mortgage advisor.
How to get equity release under 55
The method that's most suitable for you depends on the amount of equity you want to release from your property, and if you're a single homeowner. It is possible for someone to release equity from the property, under 55, provided it's the younger of two applicants, with one person on the Title Deeds aged 55 or above. Doing so can be complex though.
To guide you through everything involved, we've compiled our latest…
Guide to Equity Release (UK) Updated for 2021
Scroll to the section you're interested in learning more about:
Age requirements to be eligible for equity release
How a transfer of equity works
How age impacts the equity release mortgage options available
The types of equity release schemes explained
The alternatives to equity release for over 55's
The alternatives to equity release under 55
How equity release mortgage brokers can help you release money and save!
Age Requirements to be Eligible for Equity Release
Equity release is only available to those aged 55 years and older. Most lenders will have an upper age limit, often 85 years of age. Some lenders extend that to homeowners up to 95 years of age.
While the minimum age for equity release is 55; it is possible for one person on a joint mortgage to be under 55 provided their share of equity in the property is transferred to the person over 55.
Equity release for those aged 55 to 79 is straightforward. Aged between 70 and 84, some restrictions could apply. Eighty-five years of age and above, are more likely to require a specialist lender with no upper age limitations.
How a Transfer of Equity Works
A Transfer of Equity can be used when one person on joint homeownership is under the age of 55 and the other over 55. The joint application won't be considered by lenders unless it's in the sole name of the older person. There are legal fees payable, and depending on the proportion (consideration) of the amount being transferred, Stamp Duty Land Tax may be payable if it's over the threshold.
Additionally, if there's an existing mortgage on your home, you can't instruct a conveyancing solicitor to transfer equity without first contacting your existing lender. They need to assess your affordability to make sure you can repay without your partner's income.
How Age Impacts the Equity Release Mortgage Options Available
Age is only one factor that lenders take into consideration when you're applying to an equity release scheme. Most lenders offer between 20% and 50% of your properties market value through equity release with a lifetime mortgage and up to 60% on a home reversion plan.
What lenders are interested in is your age and your personal circumstances – mainly your health. With equity release, you'll either sell all or part of your home equity and then accrue interest (or live rent-free with the right to remain in your home until you die) therefore, the older you are, you'll accrue less interest, meaning lenders have an increased chance of making a profit on the sale of your property.
If you were to release equity from your property under 55, chances are, interest would accrue for decades, making it more unlikely that the lender would recuperate the full payment with interest upon the sale of your home. That's why you can't use equity release under 55. It's a safeguard.
How Equity Release Mortgage Brokers Can Help You Release Money and Save
Releasing equity from your home is not a decision to take lightly. Equity release through a lifetime mortgage is payable for the rest of your life. Using a home reversion plan has its advantages and drawbacks too.
If you're under 55 and want to release equity from your property, alternative methods of raising financing need to be explored across the whole of market. This is where specialist mortgage brokers stand out as they're able to access all products available, assess your eligibility before applying, give you a breakdown of the best options available with a full cost breakdown – before you commit.