Just Retirement Equity Release & Lifetime Mortgages Review 2022
Do any of the following apply to you?
Do you have a mortgage you need to pay off?
Do you require money for repairs or home improvements? Like a new kitchen or bathroom.
Would you like to help a family member purchase their first home?
Would you like to pay off all your credit cards and loans and have zero monthly payments?
Use the money to purchase another property. Maybe take a world holiday or cruise?
Please Enter Your Requirements Below: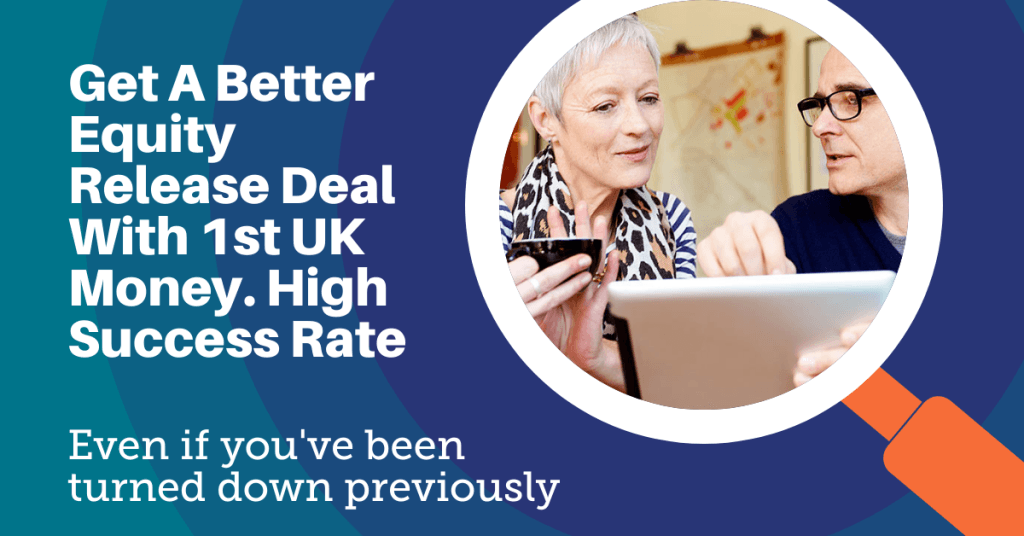 Lets Get Started: Just Retirement Equity Release Review
Just Retirement merged with Partnership Assurance in late 2015 as a result of pension reforms announced in the 2014 budget. The same year Retirement Advantage acquired Stonehaven Equity Release for the same reasons. Following the merger, Just Retirement re-branded and are now just 'Just', despite all their products being squarely focused on retirement finance.
The Just product range includes savings, investments, credit, mortgages, pensions, plans for later life care funding. They also provide equity release products through lifetime mortgages including lump sum, income drawdown in addition to home reversion plans.
Our Just Retirement Equity Release reviews are focusing on the latter products of lifetime mortgages only and not the home reversion plans. If you're interested in a home reversion plan, which involves selling some of the equity in your home for below market value instead of borrowing against your home equity, we welcome you to speak to one of our advisors.
When conducting our just retirement review we noted that all equity release products are regulated by the Financial Conduct Authority, for which Just are regulated. In addition, Just are members of the Equity Release Council (ERC), so homeowners interested in any of their equity release products will have the benefit of the ERCs no negative equity guarantee and the right to retain full homeownership for the rest of your days, or that of your partner. All members of the Equity Release Council are required to provide homeowners with those two assurances.
About the Just Brand
The tagline for Just Group PLC sums up what Just are about…
"We Help People Achieve A Better Later Life"
The Just Retirement Group was first established in 2004. Their first products focusing on retirees were guaranteed income plans, which were provided through pension annuities. Annuities were the target of the 2014 budget announcement of pension reforms, forcing annuity providers to innovate or face being left behind if they didn't provide alternative financing solutions that were better than the annuities on offer before 2015.
As part of the Just Retirement journey, the group focused a lot on understanding how health and lifestyle affect life longevity. They'd compile data to understand how different conditions would change people's lives and livelihoods and design 'enhanced terms' into their financial solutions to meet the needs of retiree finance.
Please Enter Your Details Below For A Free Quote
This is a strategy that has served them well by keeping them centred on customer needs, and it's also resulted in Just Retirement receiving five stars in the Financial Advisor Service Awards for the Life and Pensions category every year consecutively since 2005.
By 2016, Just Retirement Limited formed the Just Retirement Money Limited Group, representing a more diversified offering for later in life borrowers with a stronger focus on those nearing retirement rather than those already retired.
The Just Retirement Money Group became voluntary members of the Equity Release Council, ensuring the products provided to those nearing retirement were in line with the ERC's Statement of Principles. For customers, it meant safe, reliable and trusted financing solutions with integrated guarantees.
The Just Equity Release products on offer now are designed to offer a variety of financing solutions to those over the age of 60, who either own their homes outright or have a small amount remaining on their mortgage.
If you feel equity release could be something to benefit your finances, speak to one of our advisors today. Equity release can only be entered into after you've received professional financial advice.
As well as writing this just retirement review we also provide expert equity release advice in addition to a free whole of market equity release comparison, ensuring you're fully informed and have access to the best deals available both for now and in the years to come.
About Just Lifetime Mortgages
Just offer two types of lifetime mortgages: one to provide near-retired and those in retirement a more substantial one-off payment based on the amount of their property valuation and their age at the time of the application.
In addition to a one-off payment, Just also provide a lump sum with an income drawdown plan, which can be used to provide a supplemental income during retirement or as smaller one-off payments as and when you need it. There are also Enhanced Lifetime Mortgages available to those with a shorter life expectancy due to existing health concerns.
An overview of each of the plans is listed below:
The Just Drawdown Plan
This is a lifetime mortgage suited to those aged 60 and over. You can use it to release equity from your home as and when you need it. You can borrow from £10,000 up to a maximum of £600,000 if you live in England. For homes in Scotland, Wales and Northern Ireland, the maximum you can borrow is capped at £250,000. The amount you'll be eligible for is based on your age at the time of the application and is subject to a home valuation. The maximum LTV you can borrow from your home equity increases with age.
Instead of being paid an advance on your home equity once, as a one-off transaction, you can specify a lower amount, leaving some of your funds available on reserve to withdraw in the future at a time you choose.
The advantage to drawdown lifetime mortgages is you only pay the interest on funds released rather than the total loan approved, helping you to save on interest charges.
The interest rate payable from the outset is only applicable to funds released. The interest rates charged on future funds will be based on revised interest rates which may be higher, lower or remain the same.
The Just Lite Plan
Just Lite is a lifetime mortgage designed to pay a lump sum once. There's no reserve facility offered to withdraw funds at a later date. Once the initial funds are released through a Just Lite plan, further lending options would only be available after six months of your funds being released, but that's not guaranteed.
If you need the guarantee of future borrowing, the drawdown plan would be more suited. To be eligible for the Just Lite plan, the minimum age is 60 years old, and the least Just will accept for a home valuation is £70,000 on this plan. The minimum you can withdraw through the Just Lite plan is £10,000.
Just Lump Sum Plus
The Just Lump Sum Plus plan allows for a higher loan to value but can incur higher interest rates. In addition, this plan can be tailored to provide an Enhanced Lifetime Mortgage for eligible customers with existing health conditions expected to shorten their life expectancy. By taking into account the current health and lifestyle of homeowners applying for equity release, it may be possible to get a higher advance at more competitive interest rates.
As with all other Just plans, the minimum age is 60 years old, and a minimum home valuation of £70,000 applies.
Points of Note For Just Equity Release Products
While equity release is open to those over 55 years of age, with Just equity release, there is a higher minimum age of 60 years of age
Your home needs to be mortgage-free. If not, the funds released will need to be used to become mortgage-free.
Your home will need to be of standard construction materials
Minimum borrowing amount is £10,000
All Just retirement equity release plans offer a no negative equity guarantee
The interest roll-up is applied on an annual basis rather than monthly. This can make a lifetime mortgage cost less over the long-term depending on the rate offered.
On all plans, you remain the homeowner and have the guarantee you can stay in the property for the rest of your life or until you (or both people on a joint plan) go into a long-term care home.
There is an option to repay up to 10% of the initial loan amount per the calendar year. This is not required, but if you'd rather have an opportunity to repay some of the interest rolling up on your loan, you can repay up to 10% per year, but the amount you owe cannot drop below £10,000.
For joint policies, there is an early repayment charge waiver if the surviving partner chooses to sell the property or move into long-term care within three years of losing their partner or their partner moving into a long-term care home.
Lifetime mortgages provided by Just can be transferred subject to the new property meeting the lending criteria.
Find out how much you could borrow with Just Retirement Equity Release
You can use the Just Equity Release Calculator to get an indication of how much you may be able to borrow. The figures given are only indicative though.
While the Just retirement equity release products are only suitable for those over 60 years of age, 1st UK works with lenders who are members of the Equity Release Council and can approve lifetime mortgages from the age of 55 years old.
For impartial, non-obligatory and free advice on equity release get in contact with our advisors today.
Just Retirement Equity Release FAQ's
How much can I borrow on a lifetime mortgage?
You can borrow up to 60% of your home's open market valuation. So if your home is valued at £200,000 you can borrow £120,000
Does Just equity release charge a big fee?
No, Just equity release does not charge an advisor or broker fee.
Does Just equity release do Northern Ireland?
Yes, just equity release Northern Ireland has some great rates and generous terms.
Does Just equity release do drawdown equity release?
Yes, Just drawdown equity release is a very cost-effective way of managing your retirement.
Do Just do equity release on jointly owned property?
Yes, you can get an equity release mortgage on a property with more than one person's name on the title. Jointly owned property is no problem.
Do We Are Just advisors offer equity release products with a free valuation?
Yes, many lenders offer a free valuation for your home.
Do you pay interest on equity release from Just?
Yes, you can pay the interest monthly, or you can let the interest roll up and add to the loan, so essentially your home pays the interest for you.
Do Just offer equity release advice?
Yes, Just retirement can show you all the lenders and all the options available to you and help you work out which equity release is best for you.
How much equity release can I get?
You can borrow up to 60% of your home's full market value.
Which are the best equity release companies?
This depends on your age and the amount of equity release you require.
Can I spend the tax free lump sum on anything I like?
Yes, you can do anything with the equity release loan one lump sum. Popular uses are inheritance protection, paying off an existing mortgage, gifting money to loved ones and tax planning. To find out how much you can get you should look at a free equity release calculator.
What are the types of equity release product on the market?
A retirement interest only mortgage is like a standard mortgage where you make monthly payments from your retirement income – your financial circumstances are key. An equity release product uses your property wealth and home sale proceeds to pay the interest and the principal on the outstanding loan.
Should I consult a specialist equity release adviser?
Yes, as there are many equity release mortgages an equity release adviser can help you choose the best one for you.
Do I have to make monthly repayments?
No, an equity release lifetime mortgage can have no regular payments at all.
Can I get a fixed interest rate?
Yes, when you get independent legal advice they will take you through the concepts of compound interest and fixed interest rates.
How much does equity release cost?
In the short term equity release can cost you nothing, but some lenders have early repayment charges and you may lose your entitlement to means-tested benefits. The independent financial adviser will help you with this.
What are the two equity release options?
You can release tax free cash with and without monthly repayments. Another option is a drawdown lifetime mortgage where you can raise cash in smaller lump sums throughout your retirement using your main residence.
Could I qualify for a regular mortgage?
Maybe yes, depending on your personal situation and the age of the youngest homeowner.
Can the equity release provider throw me out of my home?
No, not under any circumstances.
Can I use an equity release plan to minimise inheritance tax?
Yes, for some people it can help reduce the estate tax, but you should find someone with a specialist qualification to help you with these concepts.
Is taking equity release a good idea to help family members get on the property ladder?
It can be yes as if they do not have a substantial deposit or personal circumstances with sufficient income for standard mortgages they may need a big lump sum for arrangement fees, advice fees, legal fees, solicitors fees and valuation fees.
Is equity release safe?
Yes, you can always ask the financial ombudsman service about the reversion company or the impact of making optional repayments.
Is there a type of equity release with downsizing protection?
Yes, if you think you might move house and pay part of the loan early, downsizing protection is ideal for you. It depends on the size of your initial lump sum. There could be some legal fees to pay for your new home.
Can existing customers release money at a later date?
Yes, especially if property prices increase, you can have a cash reserve and maintain legal ownership while the value of your home continues to increase.
Do both homeowners need to be aged 55 or over for equity release?
Yes, equity release is right for a couple when both are aged 55 and over.
What about interest only mortgages?
These are increasingly popular ways to access your home's value, an increasing number of people in recent years are looking at different products for extra money. However, lenders are very fussy bout your retirement income and your retirement planning before they will lend. The affordability checks are quite strict.
Will Just give me a personalised illustration based on my medical conditions and the amount of money released?
Yes, the just award-winning service will show you how a release from your home can help your financial freedom. You can study the overall cost as most lifetime mortgages rely on the sale of your home to raise money for the money you release.
Could moving home to a smaller home be cheaper than taking out an equity release mortgage in the long run?
Maybe for some people yes, however, if the value of your property continues to rise, you will have a smaller exposure to the UK property market. It also depends on your tax position and pension credit too.
Are lifetime mortgage interest rates likely to rise in 2022 and 2023?
Some people think so yes, this is why you should study the lifetime mortgage calculator now and get a flexible lifetime mortgage now before rates rise, you don't want to be looking at later life mortgage options when rates could be up at 6% plus.
Why should I borrow money secured on my home?
When you pledge an asset as security to a lender, the lender can offer you a much lower interest rate as the risk to the lender is very low. If you want smaller amounts it may be better to get an unsecured personal loan as most people with good credit can get these depending on your income.
What if I want to make voluntary payments?
With many later life mortgages if you want to minimise the rolled-up interest you can make monthly payments to keep down the interest charged. This could affect your tax position also.
I don't want to pay inheritance tax, can you help?
A lifetime mortgage could help you get the value of your home out before the last borrower dies or goes into long term care. You should receive financial advice before your case completes to not just protect you from inheritance tax, but also from the state taking your home to pay for long term care.
What if I miss mortgage payments on my later life lending residential mortgage long term loan?
Even though many lenders have flexible repayments and a fixed rate of charged interest, you must make payments on time to your existing lender.
What if I have a mortgage left?
The flexible features in a lifetime mortgage let you pay off the money left with the initial amount of your loan.
If equity release is suitable, we'll provide you with a whole of market comparison of leading lenders including Just, helping you decide on the best option for you and your family.
Please note that the Just logo is a trademark of The Just Group plc, to which we have no direct affiliation. The equity release firms we work with provide quotes from many providers. The prudential regulation authority has a relationship with The Just Group plc.