Remortgage Over 70 Years Old In 2023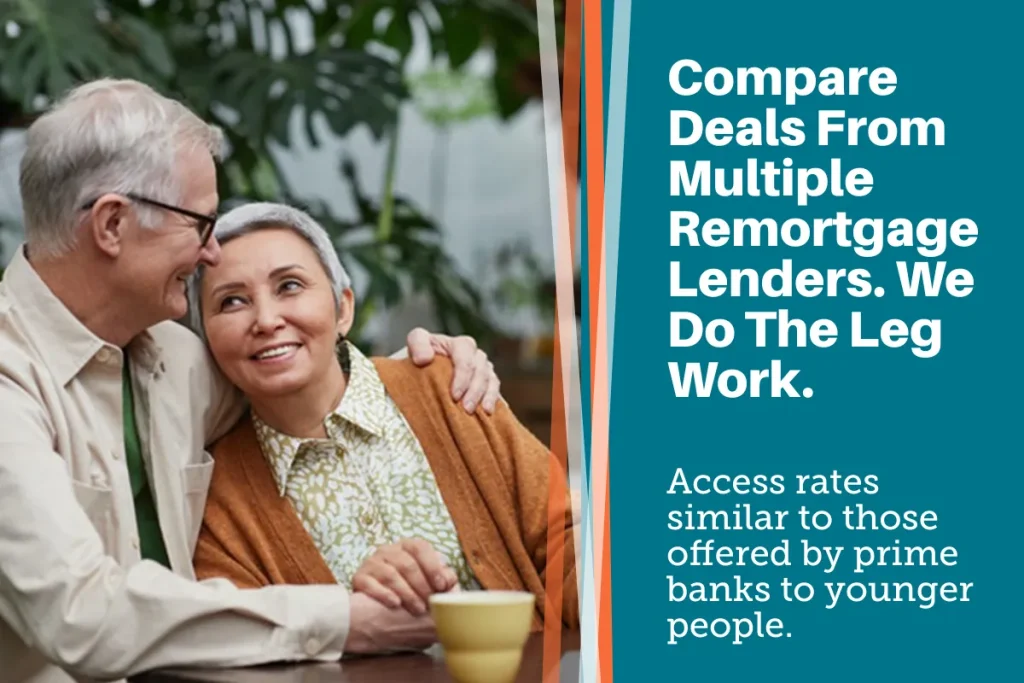 Due to the popularity of interest-only mortgages, many people are looking to remortgage over 70. Because lenders have reassessed the risks of lending to people over the age of 70, mortgages for over 70s in the UK have become more popular in 2023, and there will likely be a strong demand in 2024.
With some lenders, the mortgage maximum age 85 has been scrapped, and the criteria are based on your income and affordability.
Please Complete The Form Below To Determine What Type Of Remortgage You Qualify For.
Current Over 70 Remortgage Rates Are 3.12% Fixed For Life.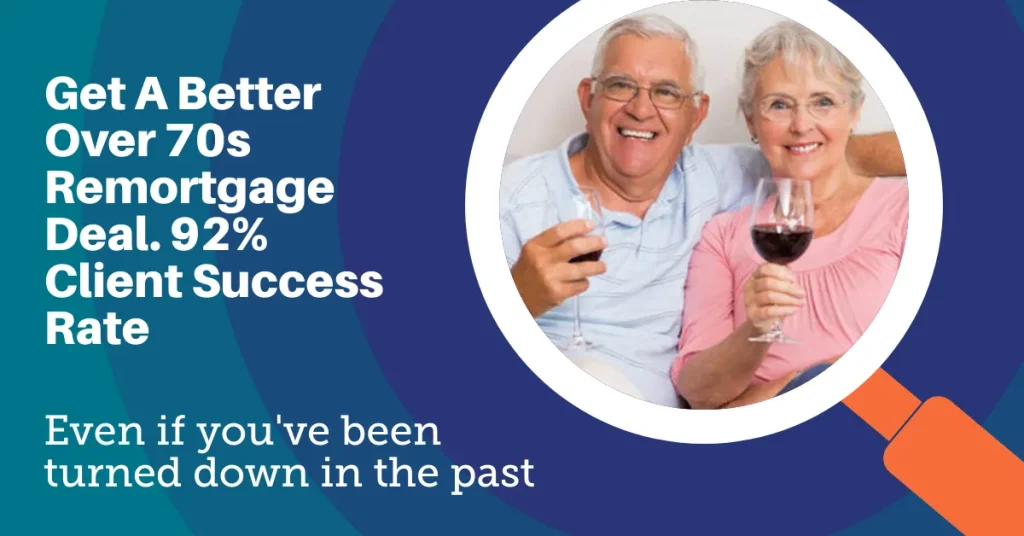 Many people are discussing how easy it is to remortgage if you are a pensioner and how the FCA manage lenders and brokers in the retirement funding marketplace.
9 Benefits Of Remortgaging At 70
A remortgage for over 70 is a great way to save money on your monthly mortgage payments.
A remortgage over 70 with a fixed rate can also help you to pay off your mortgage sooner.
A remortgage for those over 70 years old can also help you to release equity from your home, which can be used for home improvements or other purposes.
Senior remortgages can also help you to consolidate your debts into one monthly payment.
They can also help you to switch to a more competitive mortgage deal.
It can also help you to raise additional funds for other purposes.
Remortgage over 70 products can also help you to protect yourself against interest rate rises in the future.
Refinancing your home can also help you to reduce the term of your mortgage.
Over 70 remortgages can also help you to take advantage of current market conditions.
Remortgage Over 70 Frequently Asked Questions In 2023
Can you remortgage at 70 years old?
Yes, you can get a low rate mortgage with similar interest payments to younger people.
Can I remortgage my house at 80 years old?
Yes, a retirement remortgage could be much better than home reversion plans because you keep ownership of your home.
Can I get mortgage at 70 UK?
Yes, Lloyds mortgages for over 70s are an example and have very competitive rates.
Can a 75 year old get a mortgage UK?
Yes, subject to their personal income, they can; also, if mortgage age limits are a problem and other maximum age limit criteria, you could always consider a lifetime mortgage.
Can I get a mortgage at 75 years old?
Yes, retirement interest only mortgages are very common in 2023, and you can use your state pension and private pension income to get a mortgage.
Is there a maximum mortgage age limit?
With many lenders no, there is no maximum mortgage age limit. The mortgage advice bureau will tell you what age limit lenders such as Lloyds Bank, TSB, HSBC, Barclays Bank and the family building society.
Can you get a remortgage at 70 years of age?
Yes, you can, and the good news is the mortgage term is the rest of your life for some mortgage deals. The value of your property will be important for a retirement interest only mortgage.
Can I get a 100% remortgage at 60?
Yes, subject to your personal income and offering another property as collateral.
What do I need to do to take out a mortgage if I'm over 70?
You need to speak to an experienced mortgage broker. One of the best products are Santander mortgages for over 70s, Halifax mortgage for over 70s, Nationwide over 70 mortgages and HSBC mortgages for over 70s
If I want to remortgage at 70 years old, what paperwork do I need?
When remortgaging at 70, you will need to show your income and show the mortgage adviser or specialist broker your outgoings so they are sure you fit the mortgage terms.
Are lifetime mortgages with no repayments on your mortgage a good idea?
If you want to stay in your home and you can't make a monthly repayment, equity release to pay off your existing mortgage using a lifetime mortgage can be ideal.
Is getting a mortgage after retirement age very difficult?
No, mortgages for over 60s can have low mortgage repayments and flexible lending criteria. Mortgage applicants have to meet eligibility criteria where the credit history of the borrower does not need to be perfect.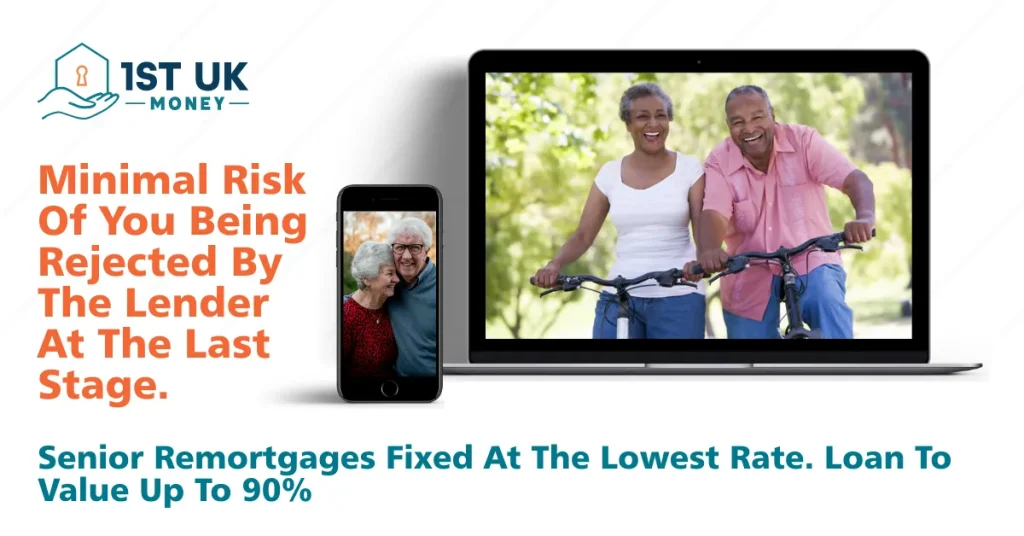 Other things to ask yourself before you consider mortgage applications:
Would a guarantor mortgage suit your circumstances?
Are equity release schemes with no fees and a free valuation better for your monthly income?
Is it worth paying a big product fee?
Is the equity release interest rate a good rate based on today's government bond yields and interbank lending rates?
Can you afford the monthly repayments?
Does your chosen product fit your life expectancy?
Are the retirement mortgages available likely better now or in the future?
Does your mortgage market review fit with your inheritance tax obligations?
When looking at the market value of your home, do the loan to value and monthly payments stack up?
Are all home reversion schemes a bad deal?
Have you considered the Leeds building society, high street lenders like Lloyds Bank, Nottingham building society and other building societies like the Nationwide?
Does this affect my mortgage options and ultimate mortgage deal if I have credit cards to pay?
Does my credit score matter for all mortgage types if I have a strong property value and house prices in my area are growing?
How much do the financial conduct authority and prudential regulation authority protect me?
Do the equity release council lender eligibility requirements protect me from being ripped off?
Do all mortgage brokers have a panel that shows every lender for a mortgage over 70?
Do I need a large lump sum or smaller lumps of money over later life?
What sort of retirement income will the mortgage lender require for my home loan?
What if property prices go down?
Why are some people better with equity release products and some with conventional mortgage products?
What is the difference between an interest only mortgage, a retirement mortgage and an equity release scheme?
How important are my credit report, my long term care costs, my personal circumstances, and my bank statements when it comes to the loan amount?
Should I get pensioner mortgages from an England and Wales company or look at interest rates on pensioner mortgages from an overseas lender?
How much does the Bank of England base rate matter?
Does an equity release adviser have to tell me upfront about the broker fees?
When is the end of the mortgage I currently have?
Does my rental income count towards my affordability for my mortgage payments?
Does the mortgage comparison and mortgage calculator clearly show the age cap/age restrictions?
If I don't have good credit, are the chances of getting a 25 year term for older people at the time of application reduced?
Should I empty my savings accounts of my tax free money so the credit broker can get me later life lending at a lower loan to value?
My loved ones need cash to buy a home of their own. Should I use the property market price of my home to get a new mortgage deal or a standard mortgage to release equity for them?