Government Mortgage Schemes & Help To Buy
Are you looking for help from the State to buy a home? 1st UK has lenders not featured on the main comparison sites. These lenders have products designed to work with a variety of government schemes/incentives.
Not got a big deposit? No problems
Occasionally missed some payments? We can still help
Flexible and open-minded approach to your various sources of income
Only been self-employed for a year or in your job for a short period? We've got a lender for that too.
When you're being challenged with adverse credit, any help has got to be a good thing. One of the best available comes in the form of the Help to Buy scheme.
The reason is it lowers the amount you need to borrow because the government mortgage Help to Buy scheme lowers the LTV ratio you need for a mortgage, and that's going to lower the risk that lenders assess you as. You still need at least a 5% deposit but you could be asking for a 75% LTV mortgage instead of 95. That's going to increase your chances of approval.
There are more mortgage schemes than that, though. The most recent is the Starter Home Scheme, which, although still to roll out, will need you to register and act fast as there's a limit of 100,000 homes due to be built and available to buy by early 2018. These properties will be available with a 20% discount off the purchase price for first-time buyers under the age of 40.
Other schemes run by the government include shared ownership (Co-Ownership in Northern Ireland) and Help to Buy ISA accounts that give you top-ups towards owning your own home.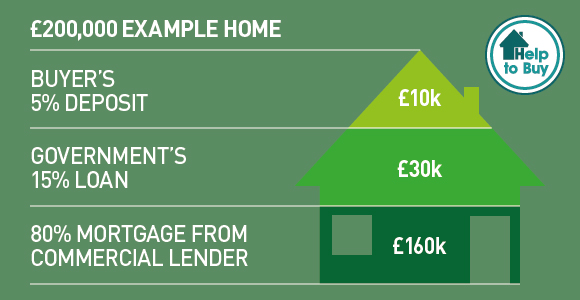 All the schemes are detailed on this page, except the Right to Buy, as that's not a government mortgage scheme but instead just gives you the right to buy your home, but nothing to actually help you finance the cost of buying it.
Another quick point is about the Government's Mortgage Guarantee Scheme. That finished in December of 2016. While it didn't affect borrowers, it did affect lenders.
They no longer have any guarantees of any money being recouped when a borrower defaults on their mortgage payments. That's going to have more lenders scrutinising mortgage applications, so it pays to know what you can do to make you more investable.
A Rundown of the Government Mortgage Schemes and How They Work
The Help to Buy Government Scheme
All areas in the UK have a Help to Buy scheme available. It's a postcode lottery, though and the eligibility and what you can borrow and how will be determined by where you're buying your home: England, Wales, Northern Ireland or Scotland.
All are based on home equity loans. You pay a minimum 5% deposit on the property, the Help to Buy Scheme will cover anywhere from 15% to 40% depending on where you're buying, and a lender will provide a mortgage for the remaining amount you need to secure the property.
Each area is covered below to explain how the Help to Buy Scheme works in different areas. In all cases, a £1 monthly management fee is payable for the first five years.
In the sixth year, interest will be charged at the minimum rate of 1.75% on the total amount of equity provided by the Help to Buy scheme, then rising in line with the UK Retail Price Index from the 7th year, so there is a chance that the interest rates could increase – or drop, so that's a bit of a gamble.
How government equity loans are affected when you sell your property
When you sell your home, the equity loan is repayable at the market price and not the amount you borrowed. If the valuation of your home rises, so does the equity stake you repay, and if it falls, you will usually require the consent of the Help to Buy Scheme to release the second charge on your mortgage before you can proceed with the sale.
Your conveyancing solicitor will need to advise you on what would need to be done because if the scheme isn't satisfied with the sale price of your home, you'll need to repay the total amount of funding that you received to buy your home, regardless of how much you sell for.
Help to Buy gives the government a stake in your home. If you profit from the sale of the property before you repay your equity loan, so will the treasury. That's the only way it differs from a loan.
Regional Help to Buy Schemes
England
The Help to Buy scheme in England has the highest threshold of all property prices. It's available for all new build homes up to the maximum price of £600,000.
It must be for your sole residence only and will not be available on landlord mortgages. First-time buyers and existing homeowners are eligible for the Help to Buy Scheme in England, provided it's on a residential mortgage for your sole place of residence and on a repayment mortgage. Interest-only mortgages are unavailable.
It is open to first-time buyers and existing homeowners. However, if you already own your home, you won't be able to enter into a part-exchange deal. It must be your only property as the Help to Buy is unavailable on a second home.
Help to Buy in London
Property prices in all boroughs of London are exceptionally higher than anywhere else in the country. The government's response was to increase the equity stake from 20% to 40%. The upper price cap of £600,000 on the property price is the same; the amount of equity is different.
Instead of a 5% deposit, a 20% equity loan, and a 75% LTV mortgage – for London Help to Buy mortgages, you still need 5% deposit, and then the government will provide a 40% equity loan, meaning you'd only need a 55% LTV mortgage.
Participating lenders for London Help to Buy include:
Aldermore
Bank of Scotland
Barclays
Halifax
Nationwide
NatWest
Royal Bank of Scotland
Santander
Teachers Building Society
TSB
There is already a narrower pool of lenders offering London Help to Buy, so if you have an adverse credit history, seek advice from an independent mortgage advisor before applying.
Wales
The equity stake by the Welsh Government Scheme is the same as in England – 20%, as is a 5% deposit required. It's open to first-time buyers and existing homeowners looking to move into a new build property. You'll need a mortgage to cover the remaining 75% of the property price.
The maximum new home purchase price for Help to Buy Wales is £300,000. The rest is the same as in England. 5% deposit, 20% government equity loan, 75% LTV mortgage to cover the required funds.
Northern Ireland
Currently, there are two types of Help to Buy Schemes available in Northern Ireland:
Help to Buy ISA (See the section further down as it's the same throughout the UK)
Co-Ownership
Co-Ownership in Northern Ireland
Co-ownership is a rent-to-buy scheme based on shared equity, often in the region of 50% to 90%, so first-time buyers can enter into arrangements with a co-ownership provider to buy just half the property as equity.
The provider will then be paid rent based on the equity they hold on the property. You can increase how much equity you own at any time after your initial mortgage. This is what's called staircasing.
Scotland – Help to Buy Affordable New Build Homes
Scotland's Help to Buy scheme is relatively different from the rest of the UK. A registered home builder must build your home. Whether they're a small home builder or a large home construction company is irrelevant as the criteria are the same.
The only difference applies to how the homebuilders register with the Scottish Government. When buying a new home, the buyers' price is what you need to be aware of.
£230,000 was the threshold for completions by 31st March 2018. That's now lowered to £200,000 for purchases completed on or before 31 March 2018. It will lower again to £175,000 for purchases on or before 31 March 2019.
Most lenders will require a 5% deposit; however, 85% of the total purchase price must be covered by your deposit and the mortgage, with the Help to Buy scheme in Scotland providing an equity stake in the property up to the maximum of 15%.
The 15% Government Equity Stake is interest-free, and you can repay the 15% at any time without any financial penalty.
In Scotland, it's important to note that this is called the "affordable" element. If you can afford the 100% purchase price, either through a combination of a deposit or a mortgage, you won't be eligible. You must be able to prove that without the government assisting with up to a 15% equity stake, you could not afford to buy the home.
For single mortgage applications, the lending amount is capped at 4.5 times your annual income. Joint mortgage applications will be assessed at 3.5 times the annual joint household income.
The type of mortgage is restricted to repayment only. Interest Only mortgages aren't eligible for the scheme.
Currently, there are only nine participating lenders in Scotland offering Help to Buy (Scotland) Affordable New Build Home Loans. Those are:
Barclays
Glasgow Credit Union
Leeds Building Society
Lloyds Banking Group
Nationwide
Scotwest Credit Union
Skipton Building Society
TSB
Virgin Money
For an up-to-date list, you can find the details of participating lenders in Scotland at Gov.Scot – Participating Lenders Page.
Further Information for Scottish Buyers is available here.
Help to Buy Scheme Pros and Cons
Like everything in life, there's always a downside. Nothing's ever as good as it seems.
What's good about Help to Buy?
Makes it easier to get onto the Property Ladder
It makes it possible to buy a home when you only have a 5% deposit, which is low. A 95% LTV mortgage does attract high rates due to the high risk associated with them for lenders.
Having the government provide an additional bump of funding makes it possible to access lower LTV mortgages from 85% in Scotland, 75% in England and just 55% LTV for London. That brings the cost of homeownership down in terms of getting onto the property ladder and helping to keep your monthly mortgage repayments down.
5-Years Interest-Free on the Equity Loan
Interest is always payable on your mortgage, but the amount that's subsidised by the government doesn't accrue interest for the first five years.
Easier to pass the Affordability Assessment
To get a mortgage of any sort, you need to prove you can afford it. The fact that you're borrowing less because you're getting a top-up from the Help to Buy scheme means you don't need to borrow as much. This makes it easier for the affordability criteria to be met.
Smaller Deposits
A 5% deposit to buy a home is nothing to be sneezed at. Lenders often ask for a much higher deposit, often in the region of 10% and upwards.
For first time buyers, this is a big ask that prevents some of them from buying a property. It's thousands of pounds of savings, and that means years of saving to raise enough for a deposit. At just 5% required for a deposit, a property priced at £120,000 would need a deposit of £6,000. That's a modest price to get onto the property ladder.
The UK House Price Index for the UK (excluding Scotland) lists the average price of new build homes for July 2016 as follows:
England – £295,039
Wales – £196,533
London – £506,525
The Register of Scotland lists the average price at £162,374.
On the downside of accessing Help to Buy:
Limited Lenders
Not all lenders are participating lenders, so there's a narrower pool of mortgage providers available. For applicants with bad credit and a low deposit, getting approved by a participating lender can seem impossible.
New Builds Only
The scheme only applies to new build homes, and in some areas, it's only applicable if the home building company is signed up to the Scheme.
The Amount Repayable on the Equity Loan is Variable
The amount you borrow through Help to Buy is not a gift from the Chancellor. It needs to be repaid. Not only that, but it's not repaid at the amount you borrowed but instead at the market value of your property.
Should you choose to buy a new build home then later make improvements to it that were to substantially increase the property's value, you'd also add to the total amount you'd need to repay on the equity loan.
The interest is only free for the first five years
After the five years interest-free period on the equity loan, interest is charged at 1.75% from the sixth year, then every year after that, it's a minimum of 1.75% as it reverts to an RPI-linked interest rate.
If that shoots up, so do your interest repayments. So technically, it might only be good for the first five years before the interest rates become too steep therefore, you'd need to consider repaying the equity loan early to save on the fees.
The biggest downside is politics
The Help to Buy scheme is a government loan. It's not a gift. They stand to profit if you sell higher than you bought just as much as you. But, it's unlike any other loan because lenders are regulated, and you only pay back what you borrow plus interest. A new government or any reform to the government help to buy scheme could see the terms of the agreements change.
In a statement to the BBC, "the government said it had committed £8.6 billion for the Help to Buy Equity Loan scheme to allow it to run in England until 2023". What happens after that is anyone's guess.
Government Help to Buy ISA
The Help to Buy ISA scheme is suitable for first-time buyers over the age of 16. The maximum initial deposit is limited to £1,200 and then £200 per month deposits, for which you'll get a 25% bonus payment from the government.
It works out to a maximum of £3,000 per Help to Buy ISA account. The bonus payment is payable per person, so if you're buying your first home as a couple, both applicants can save regularly and receive a maximum of £6,000 (£3,000 each).
The bonus payment is only payable after the sale is completed, so the money you save will not help with your deposit. If you withdraw the savings to pay the deposit to buy a home, you'll forfeit the bonus payments.
The Help to Buy ISA scheme is designed to help you own more of your home by paying down your equity. If you save the maximum of £12,000, that will be topped up by £3,000 after the sale completes.
Some lenders will consider the bonus payment and offer a better rate of interest based on your bonus payment being used to pay straight towards your mortgage, increasing your equity and lessening the total amount owed. Not all lenders will offer this, though.
To be able to access the funds, you do need to instruct your conveyancing solicitor about your accounts, as he/she will need to apply for the bonus to be paid by providing evidence of the sale purchase.
Restrictions:
The house price you buy for can't exceed £250,000 or £450,000 for London.
The property must be residential and not used for a buy to let property.
Only one account per person – not to be confused with one account per household because two people can each have an account and receive the bonus payments.
There will be a charge from your solicitor to claim the Help to Buy ISA bonus. This is capped at a maximum of £50, excluding VAT, so that's something to factor into the total cost of buying your first home.
The Starter Home Scheme
The Starter Home Initiative is a government-run scheme that aims to build 100,000 properties for first-time buyers and that's strictly first time buyers. There are no exceptions to that. Besides, not all local authorities offer the scheme so there are a limited number of areas that will have Starter Homes available.
The scheme is being overseen by the Home Builders Federation, and only home builders signed up for the scheme will be able to offer homes with a discount.
The maximum cost of the homes will be £250,000 for England and in London, it's increased to a maximum of £450,000. Buying a home through the Starter Home scheme will get a 20% discount on the purchase price.
So if you're buying a home through the scheme in England at the maximum price tag of £250,000 as a first-time buyer under the age of 40 years old, it would get you a £50,000 discount. Buying a new build starter home in London would see the discount rise to a maximum of £90,000 off the purchase price.
Help to Buy Shared Ownership – known as Co-Ownership in Northern Ireland
The Help to Buy Shared Ownership scheme in the UK offers first-time buyers and home movers the chance they buy a share in the property from 25% to 75% of the property price. In Northern Ireland, this is called Co-Ownership and ranges from 50% equity to 90% equity.
The equity you can't afford is bought by a housing association, and you pay the rent based on the amount they own, sort of like what you would do anyway with interest payments to a mortgage lender.
The more equity you have, the less rent you pay to the housing association.
You can buy more equity at any time after your initial purchase using a process called staircasing. The amount of rent you pay is capped at a maximum of 3%.
There will be a 5% deposit required, and shared ownership is only available on leasehold properties, so there is a chance of a service charge being payable too.
For the Help to Buy Shared Ownership Scheme in England, your annual household income must be under £80,000 per year or £90,000 for London.
Government-funded shared ownership schemes can prioritise applications based on local housing needs. One key exception is the armed forces/military personnel, who are always prioritised over other applicants.
There are also shared ownership schemes for people with long-term disabilities. For people over the age of 55, the maximum you can buy will be 75% equity in the property, but – you don't pay rent on the remaining 25% equity held by the housing association.
In Summary:
For bad credit applicants looking to get a mortgage approved, the key lies in lowering your risk to lenders. One of the best ways to do that is through the Help to Buy scheme, as that'll get you a funding boost. For lenders, it means they don't need to lend as much to you, and for you, it's only a 5% deposit to buy a home.
The downside, though, is it's only for new build homes.
An alternative is to consider Shared Ownership, where you start with a mortgage for lower equity in the home, then increase your ownership using staircasing, a process that lets you buy from 25% equity and increase your mortgage amount as your progress towards full property ownership.
The closest thing to a no-strings-attached government mortgage scheme is the Starter Home Initiative as that's just a straight-up 20% discount off the purchase price of a single new build home for first-time buyers under the age of 40.
Related Reading: