Nationwide Home Improvement Loans
Find out if Nationwide home improvement loans suit your needs in 2023. A product not available on the comparison engine websites with no fees, no in-person valuation of your home and no lengthy loan application process has now become available.
Nationwide home improvement loan products & high rates of acceptance!
Match the term of the loan to remaining term of your mortgage
Same day decisions. Quick & simple
Keep your existing mortgage with no headaches
Soft footprint credit search that won't affect your credit rating
5.47% APRC fixed for life
Borrow up to 100% of the value of your home
No obligation to proceed
No early repayment charges
Pre-Decision In Principle Application Form. Sympathetic To Past Credit Problems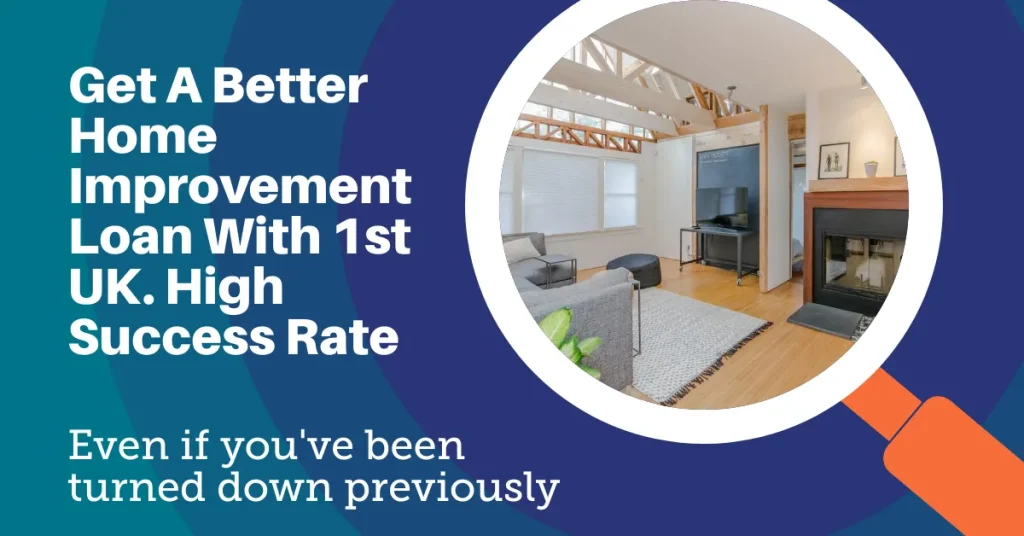 Typical Uses Of Nationwide Home Improvement Loans
Loft conversions
Extensions
Conversions of garages into additional rooms
New Kitchens
New bathrooms
Critical repairs and structural work
Rewiring and replacement boilers
Eco-friendly and energy-saving home improvements
Can even be used as a home office for your garden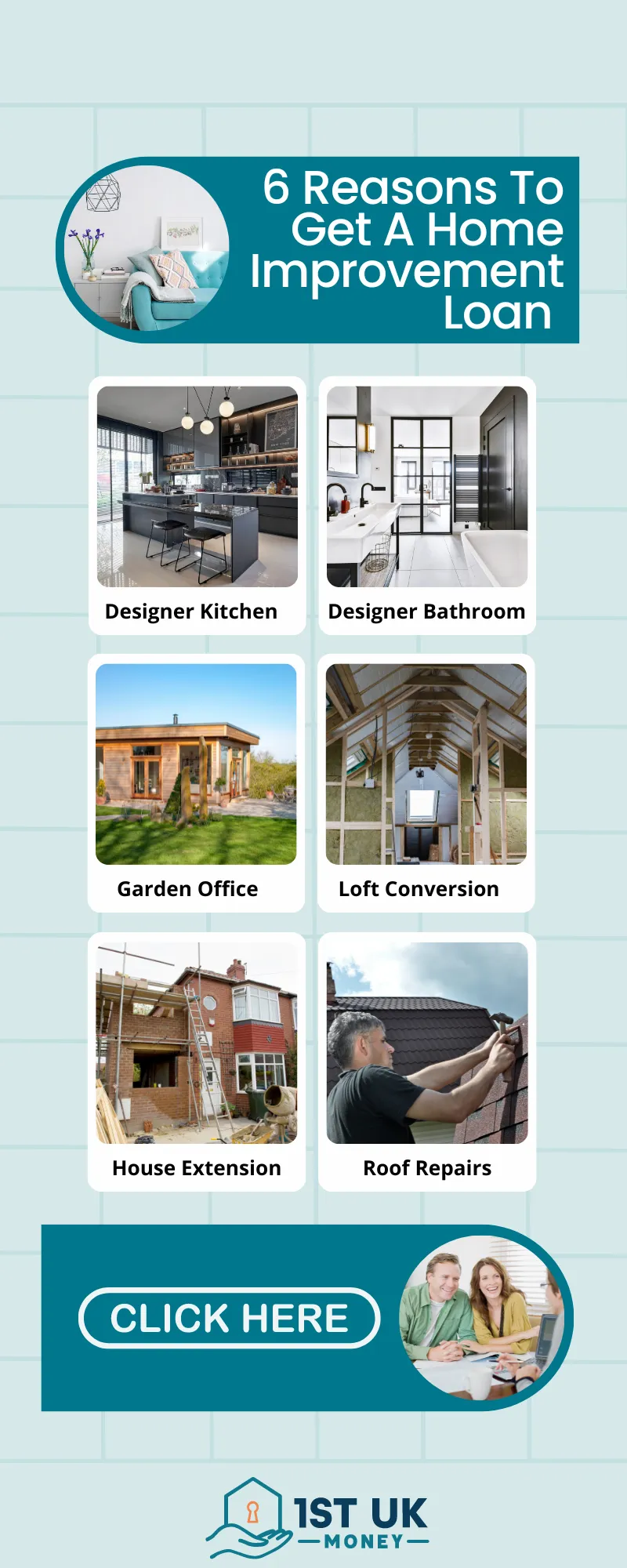 When considering Nationwide Home Improvement Loans, homeowners can expect to find various features and benefits designed to help them achieve their renovation goals. This loan product offers unsecured personal loans tailored specifically for home improvement projects, with exclusive perks available for main current account customers.
We will delve into the application process and criteria for obtaining a Nationwide Home Improvement Loan and discuss borrowing amounts and repayment terms that suit various financial situations.
Additionally, we'll explore the types of home improvements supported by this loan product and examine alternative options for those who may not qualify or prefer other lending solutions.
By understanding the ins and outs of Nationwide's Home Improvement Loan offering, homeowners can decide whether it is the right choice for funding their dream renovations.
Nationwide Home Improvement Loan Features
When it comes to financing your home improvement projects, Nationwide's unsecured personal loans are designed specifically for this purpose. These loans offer exclusive features and benefits for existing main current account customers, ensuring you get the best deal possible.
Unsecured Personal Loans Tailored for Home Improvement Projects
Nationwide understands that each homeowner has unique needs when it comes to renovating their property. That's why they offer unsecured personal loans tailored to suit various types of home improvement projects. This means you can borrow funds without having to secure them against your property, providing flexibility and peace of mind during the renovation process.
Exclusive Benefits for Main Current Account Customers
Low loan rate: Nationwide offers a competitive loan rate of 5.47% APR fixed on amounts ranging from £7,500 to £14,999 exclusively for their main current account customers.
Flexible repayment terms: Depending on your financial situation and preferences, you can choose a repayment term between 1 and 5 years.
Suppose you're an existing Nationwide main current account customer looking forward to upgrading or enhancing your living space with a new project. In that case, these exclusive benefits make Nationwide's Home Improvement Loan an attractive option worth considering.
The Nationwide Home Improvement Loan Features allow customers to make their dream home improvements without breaking the bank. With a quick online application process and eligibility requirements, you can easily apply for this loan and be on your way to making those long-awaited changes in no time.
Application Process and Criteria
If you're considering a Nationwide Home Improvement Loan, the application process is designed to be quick and easy. To begin, visit their website to complete an online application in just minutes. Before you can be approved for the loan, it's important to ensure you meet all of Nationwide's criteria.
Quick Online Application Process
The first step towards securing your home improvement loan with Nationwide is completing their straightforward online application form. Entering your name, address, occupation, and income are the primary data needed to complete Nationwide's convenient online application. Additionally, they'll ask about your desired loan amount and repayment period so they can tailor the terms of your agreement accordingly.
Eligibility Requirements and Credit Checks
Before approving a home improvement loan request, Nationwide has set customer eligibility requirements.
Some of these include:
A minimum age requirement of 18 years old
A UK resident status
An existing mortgage or homeowner insurance policy
A satisfactory credit score
Your credit history plays a significant role in determining whether or not you qualify for a Nationwide Home Improvement Loan. When deciding, they'll assess factors such as past payment performance on loans (including student loans), mortgages or rent payments, and other outstanding debts like medical bills or unsecured loans.
In addition to meeting these criteria mentioned above, borrowers should also have sufficient equity available in their property if applying for larger amounts – this helps ensure manageable monthly payments throughout the repayment period.
Your credit score and the amount you borrow can influence your interest rate, so it's best to apply online or speak with a representative for an accurate quote. To get an accurate quote tailored to your specific circumstances, it's recommended to apply online or speak with a representative directly.
Finishing the application and fulfilling all criteria is an uncomplicated, fast task. To learn more about borrowing amounts and repayment terms, read on to find out what 1st UK Money has to offer.
Key Takeaway:
Applicants must meet certain criteria to be eligible for the fast and straightforward online application process of Nationwide Home Improvement Loan, including being 18 or over, having UK residency status, a current mortgage/homeowner insurance policy, and a good credit score. Credit history plays a significant role in determining loan approval and interest rates may vary depending on individual circumstances.
Borrowing Amounts and Repayment Terms
When seeking a home improvement loan, borrowers should consider the borrowing amount and repayment terms available. Nationwide's Home Improvement Loans offer flexibility in this regard, with borrowing amounts starting at £25,000 up to an unspecified maximum amount depending on individual circumstances.
This allows borrowers to choose the right loan size based on their specific needs while ensuring manageable monthly repayments over the chosen term.
Flexible Borrowing Amounts Starting at £25k
Nationwide understands that every homeowner has unique requirements for financing their home improvement projects. That's why (as mentioned above) they offer Home Improvement Loans starting from as low as £25,000, providing ample funds for most renovation or refurbishment projects.
The maximum borrowing limit will depend on factors such as your credit score, income level, and existing financial commitments.
Minimum Loan Amount: £25,000
Maximum Loan Amount: Varies based on individual circumstances
Customizable Repayment Terms
In addition to flexible borrowing amounts, Nationwide offers customizable repayment terms for its Home Improvement Loans. You can choose a term ranging from 1 year up to 5 years (60 months), allowing you greater control over your monthly repayments and overall interest costs throughout the life of your loan.
To get an idea of what your potential monthly payments might look like with different loan amounts and repayment terms under Nationwide's current rates (subject to change), try using their online Loan Calculator.
Consider your financial position carefully and pick a repayment term that enables you to make monthly payments without causing too much pressure on your finances. Remember, defaulting on loan repayments can seriously affect your credit score and future borrowing opportunities.
Key Takeaway:
Nationwide's Home Improvement Loans offer flexible borrowing amounts starting at £25,000 and customizable repayment terms ranging from 1 to 5 years. Borrowers ought to ponder their economic circumstances and select a repayment term that enables them to pay back the loan in full without missing payments.
Benefits of Choosing Nationwide as Your Lender
Regarding securing financing for your home improvement project, Nationwide provides a reliable and competitive option that can't be beaten. As the largest building society in the world, Nationwide offers numerous advantages that make them an ideal choice for borrowers seeking a reliable and competitive loan provider.
Access to All Major UK Lenders Through One Provider
Nationwide's extensive network allows customers access to all major UK lenders through their platform. This means you can compare various loan options and choose one that best suits your needs without contacting multiple lenders individually. With such convenience at your fingertips, finding a suitable home improvement loan becomes much easier and less time-consuming.
Competitive Interest Rates Offered by a Reputable Institution
Nationwide prides itself on offering competitive interest rates on unsecured personal loans tailored for home improvements. Main current account customers offer an attractive fixed rate of 5.47% APR on loans ranging from £7,500 to £14,999 with repayment terms between 1 and 5 years.
By selecting Nationwide, you can enjoy favourable interest rates while being secure in the knowledge that your loan is from a well-respected financial provider with an impressive standing.
Dedicated Customer Support Throughout Your Loan Journey
Borrowing money for any purpose can be daunting; however, Nationwide ensures its customers receive quality service throughout their lending experience by providing dedicated customer support teams ready to assist with any queries or concerns during the application process or throughout the term of your loan agreement.
A Range of Mortgage Products Tailored To Suit Different Borrowers' Needs
In addition to their home improvement loans, Nationwide offers various mortgage products designed to cater to various borrowers' needs. Nationwide can assist in attaining your financial objectives with their specialised products and services, no matter what kind of borrower you are – a first-time buyer, looking to remortgage or additional borrowing on an existing mortgage.
Additional Financial Services Available
Beyond home improvement loans and mortgages, Nationwide provides an extensive array of other financial services, such as savings accounts, insurance policies and investment solutions. By choosing them as your lender for a home improvement loan, you can potentially benefit from exploring these additional services that may further enhance your overall financial well-being.
Choosing Nationwide as your lender can provide you with a secure and reliable loan option while offering competitive interest rates. Furthermore, this product offers many possibilities for customers to upgrade their dwellings.
Key Takeaway:
Nationwide is a reliable and competitive lender for home improvement loans, offering access to all major UK lenders through their platform. They provide attractive fixed interest rates, dedicated customer support throughout the loan journey, and a range of mortgage products tailored to suit different borrowers' needs.
Types of Home Improvements Supported by this Loan Product
Nationwide's Home Improvement Loans are designed to help homeowners make a variety of renovations and upgrades to their properties.
These loans can be used for several types of projects, including:
Kitchen and Bathroom Renovations
One popular use for home improvement loans is funding kitchen or bathroom remodels. Upgrading your kitchen or bathroom can bring both aesthetic and functional benefits and potentially raise the value of your home.
Whether you're looking to replace outdated fixtures, install new countertops, or completely redesign your space, Nationwide's Home Improvement Loan can provide the financial support needed for these transformative projects.
Energy-Efficient Upgrades
Borrowers can use the Nationwide Home Improvement Loan to invest in energy-efficient upgrades, such as double-glazed windows or solar panels, that will not only help reduce their carbon footprint but may also result in long-term savings on utility bills.
With a Nationwide Home Improvement Loan, borrowers can invest in energy-efficient upgrades, such as installing double-glazed windows or solar panels. Not only do these improvements contribute positively towards environmental sustainability efforts, but they may also lead to long-term savings on utility bills.
Home Extensions and Loft Conversions
Home Extensions: If you need more living space without moving house altogether, consider using a Nationwide Home Improvement Loan for building an extension onto your property. This could include adding extra bedrooms or expanding common areas like kitchens and living rooms – ultimately enhancing the household's comfort levels and overall property value.
Loft Conversions: Homeowners might utilise funds from a Nationwide Home Improvement Loan by converting their loft into usable living space. This could involve transforming the attic area into a bedroom, office, or even a self-contained apartment – offering additional square footage without compromising outdoor space.
Nationwide's Home Improvement Loans can be used for any project to improve your home's value and functionality. By investing in renovations and upgrades, homeowners can enhance their lifestyles and increase the worth of their homes for future resale.
Home improvement loans are an ideal way to finance your renovation project, and Nationwide's loan product offers a variety of options for homeowners. However, other financing solutions may be available that could suit your needs better; the next heading will explore these alternatives in more detail.
Key Takeaway:
Nationwide's Home Improvement Loans can provide funds for a range of home improvement projects, from sprucing up the kitchen and bathroom to adding energy-efficient features such as solar panels or double-glazed windows, plus extensions and loft conversions. These changes may not only enhance the look and utility of your home, but also could potentially raise its worth substantially in the long term.
Alternatives to Nationwide's Home Improvement Loan
Evaluating all available options before settling on a home improvement loan is essential. While Nationwide offers competitive rates on their unsecured personal loans for home improvements, other alternatives may better suit your needs and financial situation.
Secured Homeowner Loans
A secured homeowner loan, also known as a second charge mortgage or secured loan, is an option worth considering if you own a property with sufficient equity available. These loans use the borrower's property as security, allowing lenders to provide lower interest rates than with unsecured personal loans. Be aware that if payments are not kept up, it may lead to your home being taken back.
Potentially lower interest rates than unsecured personal loans
Borrow larger amounts based on the value of your property
Longer repayment terms available (up to 25 years)
Remortgage Options for Existing Homeowners
Remortgaging involves replacing your current mortgage with a new one from another lender or renegotiating the terms with your existing lender. This can be an attractive alternative if you have built up enough equity in your home since taking out the original mortgage and want to release some funds for home improvements while potentially securing more favourable interest rates.
Possibility of lower interest rates than both secured and unsecured personal loans depending on market conditions and individual circumstances
Consolidate your mortgage and home improvement loan into one monthly payment
Opportunity to switch to a better mortgage deal or lender
In addition to these alternatives, comparing different lenders and financial products before committing is essential. Online comparison tools can help you find the best deals on home improvement loans tailored to your specific needs.
Does Nationwide Offer Equity Release?
Equity release is a loan that allows homeowners to access some of the money tied up in their property. It is most commonly used by older borrowers, usually aged 55 and over, looking to unlock the value of their homes without moving. Equity release can be taken out through several policies, including home reversion plans and lifetime mortgages.
Nationwide equity release products are not offered directly. Still, they provide advice on equity release options through their partnership with Key Retirement Solutions Ltd. Key Retirement Solutions Ltd is an independent financial adviser who can advise you on whether equity release is right for you and help you find the best product for your needs.
It's important to remember that taking out an equity release plan could reduce the value of your estate and may affect your entitlement to state benefits. You should always seek professional advice before deciding to release equity from your home.
Key Takeaway:
Before taking out a home improvement loan from Nationwide, it's important to consider other options. Considering the potential risks of repossession, it may be worth exploring secured homeowner loans with lower interest rates and longer repayment terms before taking out a home improvement loan from Nationwide. Remortgaging may also be an attractive alternative for those with enough equity in their homes, potentially offering even lower interest rates and the opportunity to consolidate payments into one monthly payment or switch lenders.
Frequently Asked Questions Nationwide Home Improvement Loan
What is the monthly payment on a £100,000 home equity loan?
The monthly payment on a £100,000 home equity loan depends on the interest rate and repayment term. For example, if you have an interest rate of 5% and a repayment term of 15 years, your monthly payment would be approximately £790. However, rates and terms vary depending on individual circumstances.
Are renovation loans a good idea?
Renovation loans can benefit homeowners looking to improve their property's value or functionality. They offer flexible borrowing options tailored for specific projects with competitive interest rates compared to other forms of financing. However, it's essential to consider your financial situation and compare different lending products before making any decisions.
What is the downside to a home equity loan?
A potential downside to using a home equity loan is that you're putting your property at risk as collateral in case you default on payments. Additionally, these loans may come with higher fees than unsecured personal loans due to legal requirements such as valuation costs or title searches.
What should your debt-to-income ratio be for a home improvement loan?
Lenders typically prefer applicants with debt-to-income ratios below 40-45%. This means that no more than 40-45% of your gross income should go towards servicing debts like mortgage repayments or credit card bills each month when applying for a home improvement loan.
Nationwide home improvement loans final thoughts
Nationwide's home improvement loan is a great option for homeowners looking to upgrade and repair their homes. With competitive rates, flexible repayment terms, and the ability to borrow up to £25000 with no fees or early payment charges, this product offers an attractive way of financing your project.
Additionally, you can rest assured that Nationwide's commitment to quality customer service and security will support any approved improvements. Why not seize this chance now?
Nationwide Equity Release Contact Details
Nationwide House
Pipers Way
Swindon
SN3 1TA
UK
Prudential Regulation Authority registration number: 106078
FCA Registration Number: 355B
Telephone: +44 345 788 8444
E-mail: contact@nationwide.co.uk