Commercial Or Personal Buy-To-Let Mortgages?
Experienced landlords know a thing or two about the market and work with lenders and accountants to help them retain as much of their rental income as they can by avoiding tax hikes announced in the Governments annual budget.
The most current advantageous set up for landlords is using a Limited Company
We can help you find a bad credit buy-to-let mortgage
We search the marker to find the right buy-to-let mortgage for you
Complete the quick and simple form below
Get no obligation advice for you BTL mortgage
No Risk – Genuine Support – Dedicated Admin – Regular Updates
Types: CCJ, Defaults, Missed Payments, IVA, DMP, Discharged Bankrupts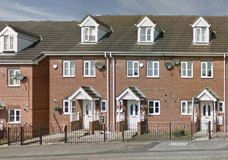 Following the Chancellors announcement of tax changes, the mortgage market shifted swiftly. Mortgages for Business are a UK specialist lender, which also compiles research data quarterly and publishes on their Buy-to-Let Index.
This showed that applications from Limited Companies since the announcement rose from 15% of all commercial B-T-L mortgages to 38% in only 6-months. It showed that commercial borrowers are setting up Limited Companies because it's tax efficient, at least for now anyway. It's likely to change in the future.
The Type of LTD Company Matters to Lenders
There are specialist lenders that cater only to Limited Company borrowers. Some of those lenders specify they work with SPV Limited Companies exclusively. An SPV Limited Company is one that only trades in one specific category. For landlords, that category is SIC code (category) L, which is for Real Estate, based on the official Government Condensed List of SIC Codes.
"Section L: Real estate activities
68100: Buying and selling of own real estate
68201: Renting and operating of Housing Association real estate
68202: Letting and operating of conference and exhibition centres
68209: Other letting and operating of own or leased real estate
68310: Real estate agencies
68320: Management of real estate on a fee or contract basis"
Source and further information: http://resources.companieshouse.gov.uk/sic
When you set up a Limited Company, you have to select a trade classification when filing with Companies House (which is required) describing the economic activity your business does. That can be up to four different business classifications, but the more you have, the more diverse your revenue sources are going to be.
A Limited Company for the sole purposes of managing rental property is set up a little different from other trading activities. In the mortgage industry, commercial lenders are looking for a very specific type of business, one that is set up as only a Special Purchase Vehicle LTD company, and how you do that is based on how you file your company setup with Companies House. Only listing your business activities as Real Estate, which then gives you a SIC code in category L.
Then when managing your company, you wouldn't have any other revenue streams related to other types of business activities listed. Only property income would be on your Limited Company accounts. If you have any other sources of income, they'd be best kept separate using a separate company so you can access the majority of commercial lenders and their product range. Your accountant will be able to advise you on the issues multiple companies can raise and the most applicable setup for your business activities.
The key point is that B-T-L specialist commercial lenders are interested in Real Estate businesses only!
For commercial lending, this is when the market opens up to a wider range of B-T-L mortgage products. It lets you enter into a new marketplace that's not open to personal lenders. The reason being there's far more underwriting involved because of debentures, fixed and floating charges which affect how the charges are applied in the case of defaults. It sets priorities for lenders.
The Commercial sector is more appealing to portfolio landlords, more so just now because of the tax changes. Landlords with currently 15 or more properties in their portfolio are exempt from the 3% tax hike and the exclusion of interest payments on Buy-to-Let mortgages.
Personal investors in property pay Income Tax and the interest paid on the mortgage is not excluded. Only when there's 15+ properties in the portfolio can the interest be added as a business expense and therefore tax deductible.
The difference to tax paid is Income Tax vs Corporation Tax and it's something that you will need advice from your accountant on before deciding to set up a Limited Company, especially for SPV purposes solely for property management.
It should be pointed out that landlords do not have to operate under a Limited Company. There are Buy-to-Let mortgages available catering to those investing in property for additional income rather than operating solely as a business, although you are still required to declare your income to HMRC.
If you'd rather keep things simple, there are B-T-L mortgages available for personal borrowers and not just catering to commercial borrowing. Even if you've bad credit, you can still branch into the Real Estate sector, and later look into having a Limited Company if it makes financial sense further into your venture.