Transfer 0f Equity And Remortgage Process 2022
Relationships break down all the time. But when that's a long-term relationship, there's far more at stake than who gets what. The person who left the home will have a lot more to do than the person who leaves the property.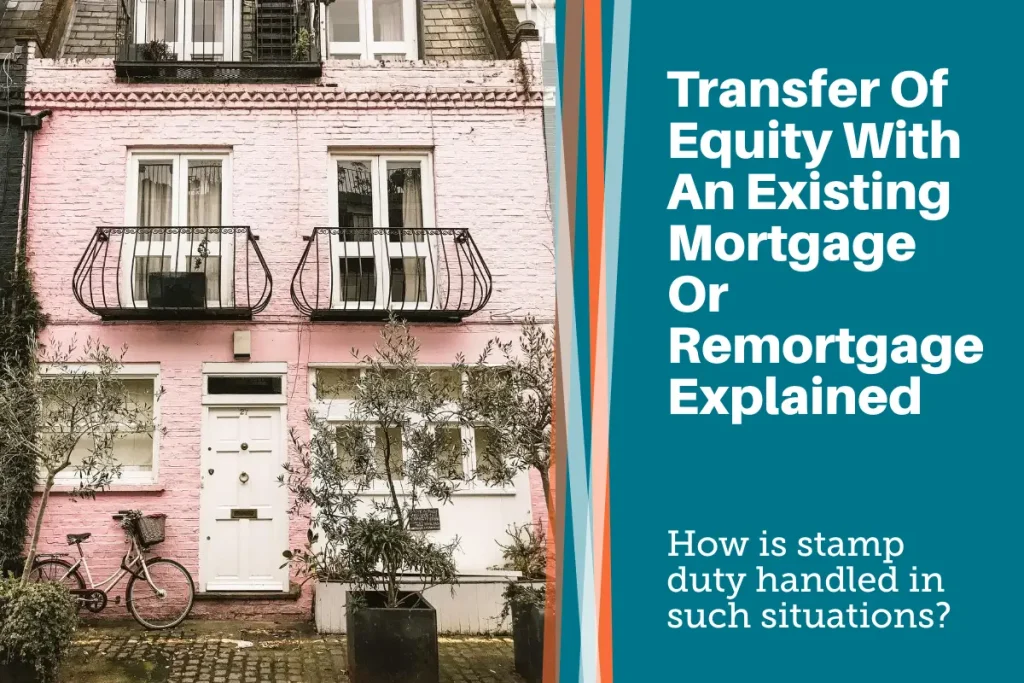 Considerations before remortgaging when a transfer of equity needs to be completed
Legal Fees
In all property transactions, there are legal fees involved. Many of the mortgage deals and in the case of remortgaging, there are offers where the legal fees are covered by the lender. Therefore, there are no legal fees incurred by you to remortgage your home.
But…
If you're intending to wait until your mortgage term is up and then remortgage to take advantage of the free legal fees during the remortgaging, it won't work. Lenders only cover the legal fees associated with a mortgage transfer from one lender to another. Not for a change of ownership which involves altering the names on the property's Title Deeds. To do that, you'll need to pay for the legal fees incurred for that service.
You can use the same legal service provider your lender provides for the change, but you will need to pay for the Transfer of Equity, as that's not going to be covered as a standard fee – simply because it isn't a standard service. Nor is it standard procedure to add and remove names to Title Deeds when you remortgage. That's why you'll have additional fees to pay.
Solicitors tend to specialise in certain fields, so just ringing around all the solicitors in your local area will be a hit and miss. Some will not provide the service. The legal service you'll need is provided by a conveyancing solicitor.
It must be pointed out that we are not legal advisors. This is a collation of general advice relating to the Transfer of Equity. It is not something the legal services from lenders tend to assist with, without additional charge. The information below will explain the reasoning behind that.
Advisory Note: Links to further websites are provided to further your understanding of the Transfer of Equity process. We have no affiliation with the third-party websites referenced nor are any endorsed by 1stUKMortgages.co.uk. Our standard terms and conditions of informational use apply. We only advise this so there's no confusion about what our field is. We specialise in mortgage products and not legal advice.
Remortgaging with Current Lenders will be Easier for a Transfer of Equity
A Transfer of Equity is easier done when you work with your existing lender. The reason is, they can work with the information they already have from arranging your existing mortgage, although that's not always the case as they can request a new valuation to be done on your property. Also, if you're working with an existing lender, they may forego any early repayment fees applicable based on extenuating circumstances.
There will be some checks that need to be completed to ensure you can still afford the mortgage on the property without the income of your ex-partner. This is something you'll need to discuss with your current lender and not your solicitor, who will probably tell you the same.
When you approach a new lender for a remortgage, they need to start from scratch with you as a sole borrower. While there are two names on the Title Deeds of the property, it's going to cause issues because both people named in the document need to agree to the remortgage terms.
For simplicity, it's best to treat the Transfer of Equity and the remortgage process separate.
Use a local solicitor to take care of the Transfer of Equity, then remortgage when it's only you on the Title Deeds. If your situation is a relationship breakdown, your solicitor will act in your best interest. They'll only notify your ex-partner about what's happening and advise him or her to seek their own legal representative. The two solicitors will then work together so you don't need to deal with your ex-partner. Whether he or she gets legal advice is entirely on him or her.
All they have to do is sign the documents your solicitor sends them and return them. Once your acting solicitor has the signed document returned, expressing permission to remove their name from the Title Deeds, that's what's done.
Then you can just approach the remortgaging dilemma for a sole mortgage without involving anyone else. This is, of course, assuming the case is a separation and not a divorce, which is entirely different.
Emsleys Solicitors has some further information relating to the legal process.
The implications of not separating the two
When you remortgage jointly, both parties are involved in the process. If you're releasing equity from your home while there are two names on the Title Deeds, both parties have rights to the cash equity value released.
There may be situations when the other person in a relationship has run up debts using a joint credit card or other means, for which you intend to put right by using equity release. If that were the case, the Transfer of Equity would definitely need to be completed before releasing any equity to ensure that the entire cash released would be solely yours.
The importance of independent legal advice can't be stressed enough. The costs will vary depending on your location within the UK. For England, it's possible just to have a Transfer of Equity done, whereas Scottish Law may require the Transfer of Equity and additional fees payable for a Minute of Agreement – a legal agreement between two parties without the need for formal court action, such as the case with divorce proceedings.
In addition, it should also be considered who gets what amount of the equity. It may be the case that following a relationship breakdown, your ex-partner wants his or her share of the equity they've paid towards the homeownership. When both people have been paying towards a mortgage, there may well be a settlement fee involved. This is something that should be discussed carefully with a professional advisor to assess just how much equity you'd be best to release to pay any settlement fees incurred during the Transfer of Equity and any agreements made in the process.
Tax implications
Stamp Duty Land Tax can be payable if the property price is in excess of £125,000. This can be applicable even if no money changes hands.
As an example, if your property is worth £300,000, with an outstanding joint mortgage of £200,000, an even split of that using a joint mortgage between the two parties separating would be £100,000 each. Following a Transfer of Equity, the sole owner of the property and sole mortgage holder would have an increased amount of equity, thereby may be liable for the SDTL incurred. This is something your solicitor will discuss with you as it will need to be addressed before any remortgage is put in place.
Related Reading: