Homeowner Loans Bad Credit – Best 2023 Rates
There is a massive demand for homeowner loans bad credit in 2023. So what do you need to know?
So, for whatever reason, you have ended up with a poor credit history. You might think that lenders have ripped you off for years or years.
Well, that is not the case. When it comes to homeowner loans for bad credit, there are two main things that matter. Firstly, you can afford to make the loan repayments, and secondly, you have enough home equity.
Specialist lenders compete to lend to people with poor credit history just like the big high street banks compete to lend to people with a much higher credit score.
So if you have unsecured personal loans, bank overdrafts, store cards, credit cards, car finance and other credit agreements and the chaos of them all has resulted in a bad credit rating, experienced lenders have mathematical models on how people's circumstances change when they consolidating existing borrowing.
Do any of the following apply to you?
Do you need to reduce your monthly outgoings and rid your life of high cost credit?
Are you looking to raise funds to make home improvements or buy a new car?
Have you been recently turned down for a loan?
Do you have a poor credit history or have you missed recent loan or credit card payments?
Do you have little equity in your property?
Do you want a lender that will give you a payment holiday if you need one?
Are You Looking For A Homeowner Loan With Bad Credit?
Please Complete Our No-Obligation Enquiry Form Below And Let Us Help You.
Bad Credit Homeowner Loan Lender 1:
Up to 100% loan to value
CCJ's and defaults for small amounts not an issue
No hidden broker fees
Can be used for debt consolidation purposes
Payment holidays offered once per year
No new CCJs or defaults in your file in the last 6 months accepted
Secured loans with bad credit at 6.4% APRC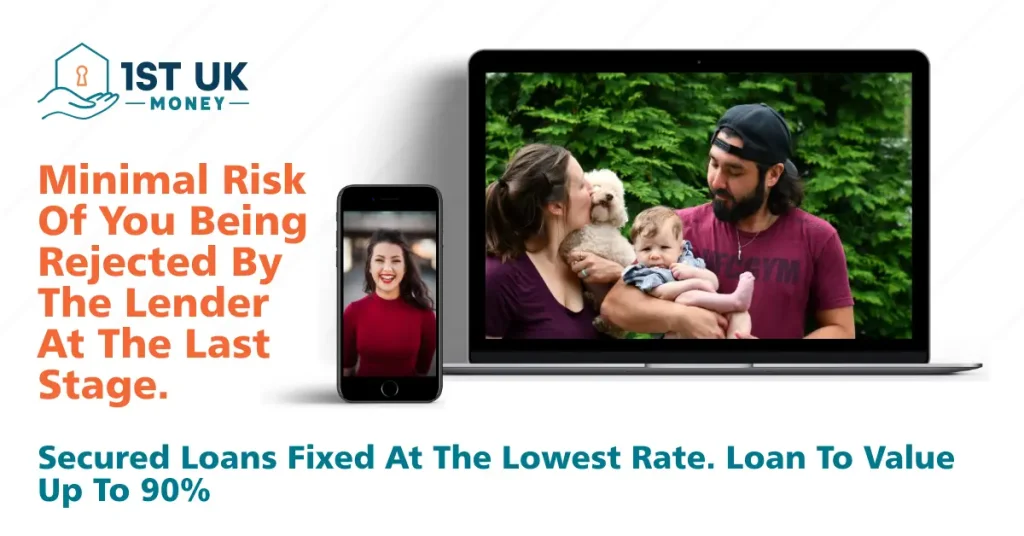 There are two main reasons people who consolidate debt end with an improved credit score. Firstly there is just one monthly payment, so your finances are de-cluttered. Secondly, the debt secured on your home is likely a much lower annual interest rate than all the previous credit agreements, so your personal circumstances quickly improve.
There may indeed be a lender fee and broker fee to pay for the secured loan you choose that fits with your bad credit history credit report. Still, once you have a less than perfect credit history and other debts, you get a secured loan if you want to improve your credit record. This could be the least bad option and the key to a financial future with a good credit score.
What is the best secured loan to consolidate other debt?
The best secured loan is likely one that your poor credit score will exclude you from; you need a homeowner loan with the best rates and terms for your financial history with monthly payments you can afford.
Debt consolidation over a long period of time can save money on a massive scale and make previously missed payments on unsecured credit a thing of the past.
Secured loans tend to be for larger sums of money, whereas unsecured loans are not an option.
I have consumer credit and unsecured debt all over the place – does that mean my loan application is a waste of time?
No, definitely not! Suppose you have missed repayments on a catalogue account or a small CCJ (county court judgement) for not paying a water bill. In that case, many lenders are willing to overlook these relatively minor dents in your credit record.
When you do your secured loan application, the main thing is to be truthful and don't make any claims about your income or circumstances that you can't substantiate, as your bank account, your credit record, and your payslips/accounts will tell the lender all they need to know.
It can be possible to get interest rates close to high street lenders with bad credit secured loans, as long as a broker can prove to a lender that the monthly repayments are affordable and a bad credit secured loan is suitable for you.

What about looking for a direct lender?
When looking for a loan for bad credit, you might think that you don't need the help of a broker or other 3rd party. But, with a secured loan for bad credit, other lenders will expect you to go via a regulated advisor as they will do the work on your application.
What if I want a secured loan for bad credit for home improvements?
This is a much better reason to get a loan secured on your home than to manage debt that has piled up. You might want a new kitchen or bathroom, so your house is more desirable. But, the best reason to get a secured loan with bad credit is to improve your home by making it bigger.
You may want to convert your garage into another room on the ground floor. You might want to borrow money to extend your home or build another bedroom.
Secured loans for loft conversions are increasingly popular, where you may add another bedroom and a bathroom to your home. Changing your home into a 4-bed house from a 3-bed one will bring it into another price bracket for a later home valuation.
Why can't I get an unsecured loan for bad credit – wouldn't this be a lower overall cost?
People with a good credit score can borrow up to around £20,000 on an unsecured basis if they are homeowners. However, if you have bad credit, a personal loan will likely be unavailable to you.
When you pledge your home as collateral, your loan is much less risky to the lender, and existing debts and poor credit histories become less relevant to the lender.
Why do I have to pay a valuation fee?
The bad credit lender will want a trusted 3rd party to assess your home's value and ensure it has no issues.
Spray foam insulation in the loft, electricity pylons, unauthorised building works, and all sorts of things can make a lender uncomfortable with granting a loan. However, some lenders only do an electronic or drive-by valuation, which can be cheaper and delivered faster.
How quickly can I get a secured loan with bad credit rating?
It all depends on how efficient you are at getting your paperwork together. Some lenders may want to see the following:
Bank statements
Paperwork for existing mortgage
Wage slips
P60's
SA302's
Accounts signed off by a qualified accountant
Employer details
Employment contracts
You will likely need the consent of your existing mortgage lender for the 2nd charge to be put on your home.
You may have to wait for the lender's underwriting department to study your application. But, your loan could still complete within a few weeks.
Alternatives to bad credit secured loans
Depending on the terms and interest rate on your existing mortgage, you could be better off with a bad credit remortgage.
For example, if your discounted term has run out, and you are on a lender's standard variable rate that is not that great, a new mortgage from a specialist bad credit lender could provide you with the loan amount you need.
What are the risks of getting a bad credit secured loan?
There are certain risks associated with taking out a bad credit secured loan in the UK:
One of the biggest risks is losing your home if you default on the loan. This is because the lender would have the legal right to repossess your property to recoup their losses.
Another risk is that interest rates on bad credit secured loans tend to be higher than on traditional loans, which means you could end up paying back more than you originally borrowed.
Finally, it can be more difficult to obtain a bad credit secured loan in the first place, as most lenders are less willing to take on high-risk borrowers.
As a result, it's important to ensure you understand all the risks involved before taking out a bad credit secured loan in the UK.
Why do I have a bad credit rating?
There are several reasons why you might have a bad credit rating:
One of the most common reasons is missed or late payments on bills and other debts. This can happen if you have a change in circumstance that makes it difficult to keep up with your payments, such as job loss or illness.
Another common reason for a bad credit rating is using too much of your available credit, making it appear that you're struggling to manage your finances.
Additionally, if you have defaulted on a loan or had a CCJ (county court judgment) against you, this will also negatively impact your credit rating.
Finally, having a limited credit history can also make obtaining a good credit rating difficult, as lenders won't have much information to assess your risk.
If you're concerned about your credit rating, there are several things you can do to improve it.
These include making all your payments on time, keeping your balances low, and only applying for credit when needed.
Additionally, using a credit-builder card can help improve your score by showing you can manage debt responsibly. Following these tips can gradually improve your credit rating over time.
What should I do if I'm denied secured loans?
You can do a few things if you are denied a secured loan. First, you should check your credit score and make sure there are no errors. If there are errors, you can dispute them with the credit agency.
Second, you can try to negotiate with the lender. They may be willing to work with you if you provide additional collateral or explain your financial situation. Finally, you can try to get a loan from another lender. Other lenders will probably be willing to give you a loan if you have average to good credit.
How much can I borrow?
In the UK, you can typically borrow anywhere from £5,000 to £500,000 with a secured loan. The amount you can borrow will depend on several factors, including your collateral's value, credit history, and income.
With a secured loan from, for example, a company such as loans warehouse, your collateral (usually your home) acts as security for the loan, meaning the lender can seize your property if you fail to make repayments. As a result, loans secured on your property tend to have lower interest rates than unsecured loans.
A secured loan could be a good option if you're looking to borrow a large sum of money and have equity in your home. However, it's important to remember that if you default on your loan, you could lose your home. You should always consider affordability before you get a loan.
Are you looking for a £25000 loan at a low interest rate?
The key issues with personal loans for 25000 are the long loan term, the effect of credit card payment arrears, the home valuers forced sale price and the borrower not being on the electoral register.
Are you considering an application for rates for second mortgage with a soft credit check?
The key characteristics of a 2nd mortgage rate are early repayment charges, the impact of secured loan arrears, the home valuers forced sale price and the evidence of payday loans on bank statements.
Are you searching for fixed rate homeowner loans with a fixed rate?
The main features of loans with fixed rate are early repayment fees, the effect of secured loan arrears, the delays in the lenders valuation and the borrower not being on the electoral roll.
Are you considering an application for second mortgages with no phone calls regardless of your credit score?
The key issues with a homeowner loan no phone calls are the score from the credit check, the effect of loan arrears, the delays in the home valuation and the evidence of payday loans on bank statements.
Considering fast secured homeowner loans without a second charge on your house?
The main characteristics of homeowner bad credit loans are early repayment charges, the effect of CCJs and the delays in the home valuation.
Are you able to borrow for a secured loan for poor credit to pay for home improvements?
The main issues with secured loans poor credit are the risk of losing your home, the effect of loan arrears, the delays in the lenders valuation and the evidence of too many credit applications.
I'm interested in a smaller loan, such as a £10k secured loan over ten years. How realistic is this?
You can get a secured loan over 10 years in the UK. There are many lenders in the UK who offer secured loans with a term of 10 years or more.
These include banks, credit unions, and other financial institutions. The amount you can borrow, the interest rate, and the terms and conditions will vary depending on the lender and your individual circumstances.
Before applying for a secured loan, it's important to consider your ability to repay the loan carefully. If you're unable to make your repayments, you risk losing your home or other asset that you've used as collateral.
Homeowner loans bad credit FAQ updated 2023
Can I get a mortgage on my own with bad credit?
Yes, you can consider homeowner loans direct lenders, bad credit remortgages or if you are buying a new home, a normal bad credit mortgage.
Is it easier to get a loan as a homeowner?
Yes, homeowner loans direct lenders are competing right now to lend to people that have good home equity and good income.
Is a homeowner loan the same as a mortgage?
No, a mortgage has the first charge on the property. A 2nd mortgage or secured loan has a 2nd charge which offers less security to the lender.
Can I get a 90 mortgage with bad credit?
Yes, lenders compete to lend money against UK homes with a 10% deposit. However, you must prove you have enough income to support the payments.
What documents do I need to be approved for a homeowner loan?
When you apply for secured loans for bad credit instant decision, you will need to prove your income and show you can afford the monthly repayments. Accounts, wage slips, P60 and other documents may be necessary depending on your circumstances.
Who will deal with my homeowner loan application?
If you are considering homeowner loans bad credit direct lender the lender themselves will deal with your application. However, you could get a better deal if you go to a secured loans brokers and consider ocean homeowner loans.
Is a bad credit homeowner loan the same as a bad credit secured loan?
Yes, homeowner loans for poor credit are just secured loans. The best homeowner loans are the ones that require a higher credit score.
Why might I need a bad credit secured loan?
When making your homeowner loan bad credit application, you will need to be sure you need the money as you will have to pay all the money back over many years, but you may need the money for debt consolidation, which will help financially.
How much demand is there for Bad Credit Homeowner Loans UK?
In 2023, loans for homeowners with poor credit have been a massive story in the financial services marketplace.
How to get a Homeowner Loan Online?
There are many direct lenders online offering some of the best bad credit secured loans. You can do an online fact find with a lender or broker to get you the best rate for your circumstances.