Remortgage For Car Purchase Best Options Updated 2023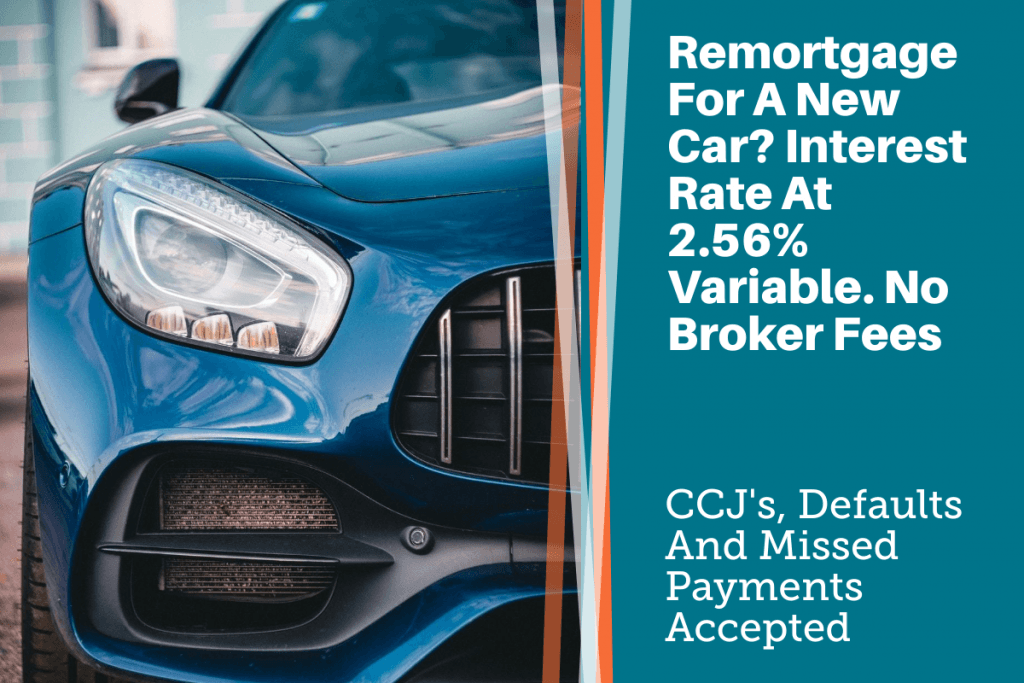 Remortgage your home, PCP or HP for your next car? Find the solution with the lowest monthly payment
There are two main reasons you would want to remortgage to buy a car. If you could get an interest-only remortgage at a very low rate, this would enable you to own the car without paying down the principal. Most car finance is like a secured loan on the car, where the lender expects you to repay the loan.
Depending on your credit score, the car finance interest rate could be much higher than the mortgage rate. Lenders perceive a home to be an appreciating asset while most cars are depreciating assets that typically lose approximately 20% of their value each year.
The other strong reason to remortgage to purchase a car is if you buy a car that is a classic or a one where its age excludes it from conventional car finance. 1st UK Money has access to lenders with very low rates. Many of these lenders are not featured on the comparison engine websites.
Discover Whether You Qualify Please Complete The No-Obligation Form Below:

Our Semi-Exclusive Lenders:
Lender 1: 2.41% APRC fixed for 3 years with Loan To Value of 85%
Lender 2: 2.17% APRC fixed for 5 years with Loan To Value of 75%
Lender 3: 1.91% APRC fixed for 5 years with Loan To Value of 70%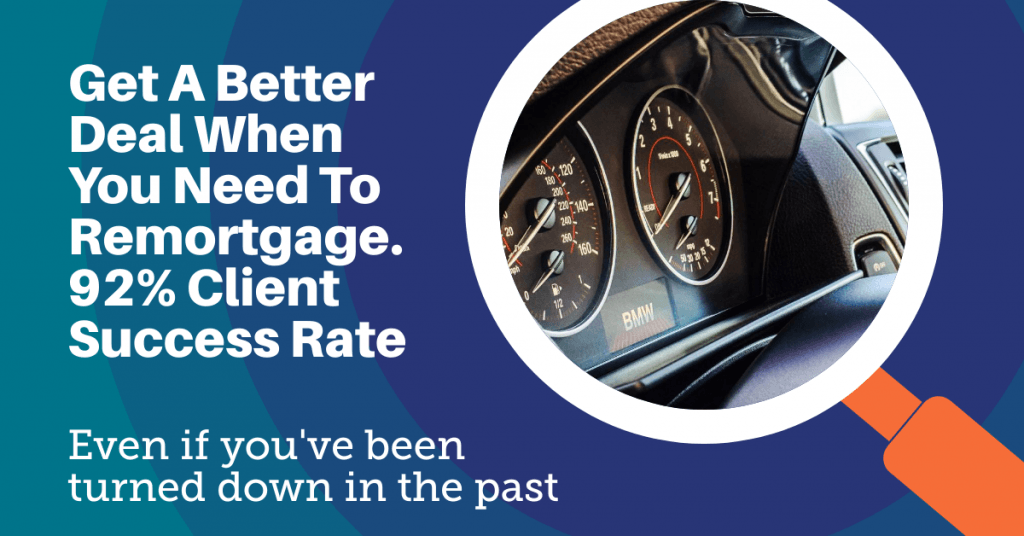 Benefits Of Our Services:
Some 1st UK Money lenders have a tolerance of previous mortgage arrears
Interest-Only remortgages with affordable payments
Small valuation fees around £275
1st UK Money have lenders not available on the "far from impartial" comparison websites
Find out how much you can borrow and save by switching your remortgage to a cheaper deal.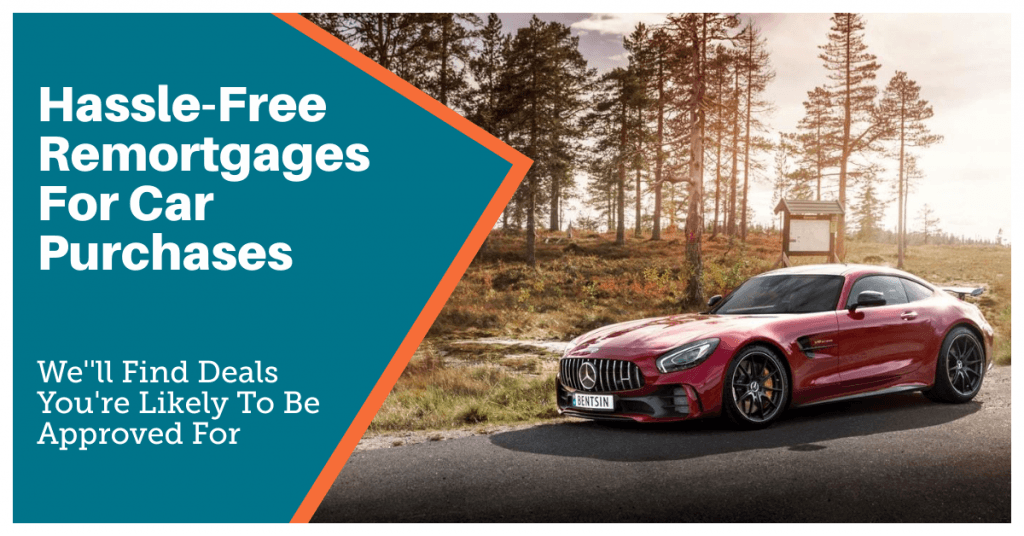 Should you want to buy a new car; the cost of finance will add thousands to any vehicles price tag. Car finance is generally provided at double-figure interest rates. Therefore, it's perfectly acceptable to remortgage to buy a car and spread the cost using your home loan. It saves a bundle on the interest charges.
Secured loans are also a good way to buy a new vehicle because you're essentially approaching the showroom as a cash buyer. Used in tandem with good negotiation skills to leverage your cash buyer position, you could find yourself negotiating a surprisingly good discount by paying upfront.
You May Have Dropped Your Loan-to-Value Band
All rates for remortgages are based on LTV ratios. Some are only 50% with others going as high as 95%. If you've been paying your home loan down for a while, it's likely you've moved LTV bands since you took your initial mortgage out. The more you own, the less of the total home value you're asking for when you move.
As an example, if your current home is valued at £200,000 and you've already repaid £100,000 of that, you'd be eligible for a 50% LTV deal. The majority of lenders have offers for much higher ratios, sometimes going as high as 95% LTV.
The more you repay, the better deals become unlocked because there is now far less risk to the lender.
If the initial mortgage was taken with a 5% deposit that would be a 95% LTV mortgage deal you entered. When you switch, you're able to borrow up to that amount, provided your home has retained its value. For many properties, the valuation has increased, which effectively moves the LTV band just because of a property valuation fluctuation, and sometimes due to some overpaying on occasion to reduce the outstanding balance. Get free advice, and a free soft quotation search to find out how much you can borrow.
Comparison Checking Current Rates
There's a number of online comparison websites that will show you tables of the best interest rates. None of these comparison tables covers the whole of the remortgage deals available though. They will show what's available for borrowers and others that are available direct. They won't show the offers that are only available through mortgage brokers.
To get a Whole of Market quotation search, a mortgage broker with access to a database of ALL lenders is needed. All Our Brokers are Whole of Market Independent Brokers with Zero upfront costs and have access to one of the largest lender databases available.
Is it Viable to Remortgage to Buy a New Car?
Whether it's a viable option is dependent on how much it's going to cost. When you remortgage, you can choose terms varying between two years to five-year deals over a set term usually up to 25 years. Some of the best rates are on two-year fixed-term deals. After your initial introductory offer expires, you'll revert to your lender's standard variable rate (SVR) which is usually higher than new offers.
Flexible or Tracker: Which is best?
There are different products available such as fixed rates and tracker rates. Fixed rates will give you an exact figure that you'll know you'll be paying each month for the duration of the remortgage term. Trackers are flexible rates that adjust and don't give you certainty over how much interest you pay. Some may be higher than other months so if you're close to your monthly budget, fixed rates are generally more suitable.
Factoring in fees
The only way to know if you're going to be cheaper to buy a car using secured finance through a home loan is to work out the total over the term, inclusive of all fees.
Some lenders will allow the fees to be incorporated into the mortgage, meaning there's no upfront cost to you, whereas others will want the fees paid in advance of arranging the remortgage.
If you're adding the fees to your remortgage total, add them all up. Then divide the total amount payable for fees by the number of months you'll be paying the loan for.
For example: if you're taking a two-year fixed rate deal with an arrangement fee of £999 with free legal costs and valuation, and no exit fees payable to your existing lender, you'd just divide the £999 by the term of the loan, such as 10-year term. That works out to £8.33 per month if you were to tack the fee into the mortgage before interest is applied.
Buying a new car by releasing money from your home when you remortgage will mean you'll spread the cost over a longer period. It will bring your monthly cost down in comparison to any other loan, but it'll also mean you're paying it for longer.
Many large purchases are cheaper to finance through a remortgage because they can be repaid over a longer term. Find out how much you can borrow, at the best interest rates, and with the lowest fees – obtain your free quotation today!
When it's not worth remortgaging for car finance
There are only a few circumstances that won't leave you better off by remortgaging and those are:
Your current mortgage deal is still within its fixed term or introductory rate period. If this is the case, the exit fees may be high to switch. It may be possible for your current lender to move you onto a different product within their range, but you won't be able to move to a new lender without incurring a penalty.
If your circumstances have changed since you took your mortgage out. Since 2014, lending regulations were tightened to ensure that borrowers could afford the repayments. You need to pass an affordability check for all financial products. If your circumstances have changed, such as from a dual income to a single-income household, it may affect your eligibility for a range of products, including remortgages. Those who have changed from employed to self-employed may also find it more challenging to remortgage with main lenders, and therefore may require a specialist mortgage lender. Some circumstances that affect your credit rating can make it challenging to obtain any finance, but most circumstances can be catered to by using a specialist lender.
Homeowners with a low outstanding balance remaining on their home loan. If you're close to being mortgage-free and are only looking to raise under £25,000, it may be more challenging. Most lenders have a minimum of £25,000 and for those who do, there are often higher fees and interest rates attached to the deals, making it more likely that other forms of finance may be more suitable.
Get free advice from remortgage specialists today! All circumstances considered and No Obligation Quotations.
Other remortgage-related pages that might be of interest:
Could a secured loan be a more cost-effective option for a car purchase?
Some homeowner loans for bad credit UK can have lower rates than sub-prime car finance, so depending on the car and how long you will have it a secured loan could be a good option.
In the ever-evolving UK financial landscape, understanding the relationship between car finance and mortgage can be the key to unlocking the potential for significant savings and opportunities. Whether you're considering a classic ride or an environmentally-friendly electric car, the realm of car financing opens up numerous options, especially when juxtaposed with mortgage solutions.
So, what is remortgaging your house? Remortgaging involves switching your current mortgage to a different deal, either with your existing lender or a new one. The primary reasons homeowners consider this move include securing a better interest rate, consolidating debts, or releasing equity from their homes.
A common query homeowners grapple with is, "how do I remortgage my home?" The answer begins with evaluating your current financial situation, understanding the value of your home, and then exploring various mortgage deals available in the market. It's essential to consider why remortgage your home? For many, the drive is the potential to raise significant capital, especially for large purchases or investments.
Now, when we introduce the concept of car finance into this equation, things get interesting. The best way to purchase a car may not always be straightforward car finance. For instance, if you have substantial equity in your home, you could consider buying an electric car with home equity. This could be especially enticing if you're looking to buy an electric car with poor credit.
But what about those who faced credit challenges in the past, say around the time of bad credit mortgage lenders 2024? There's a route for them too. Secured loan options such as poor credit secured loans for electric car or bad credit secured loans for classic car exist. These allow individuals to leverage their property as collateral, thereby obtaining funds to finance their dream vehicle. So, whether you want to get finance on an EV with poor credit or secure your next classic car, leveraging home equity can be a viable strategy.
It's also worth noting the emergence of sustainable building practices and the rising need for materials that comply with the concrete british standards. Just as homeowners are pivoting towards green energy solutions like electric cars, there's a parallel shift in the housing sector towards sustainable construction.
In essence, the interplay between mortgages, car finance, and the broader UK financial ecosystem presents various avenues for homeowners and car enthusiasts alike. Whether you're aiming to get behind the wheel of a new EV or exploring how to remortgage your home, the possibilities are vast and ripe for exploration.