Best Remortgage With A CCJ Or County Court Judgement 2022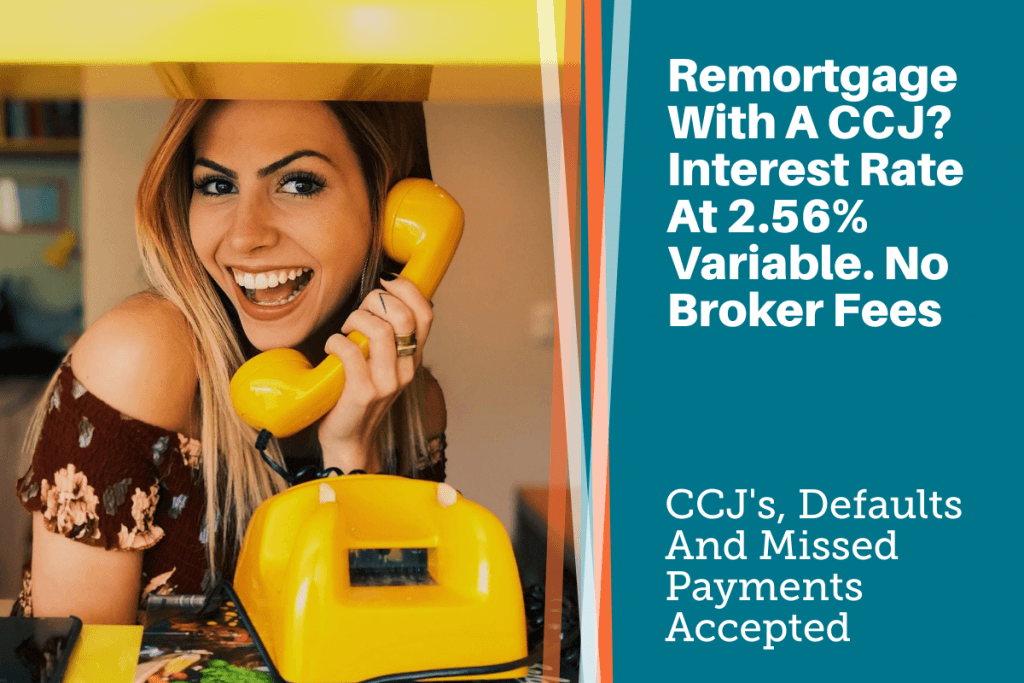 Did You Know 2,330 County Court Judgments Were Issued Daily Last Year?
If you've been searching for any of the following we can very likely help you:
Mortgage lenders that accept ccj's
ccj remortgages from halifax
ccj mortgage lenders
Help to buy schemes with a satisfied ccj
ccj remortgage specialists
Barclays mortgages when you have a ccj
Our Semi-Exclusive Lenders:
Lender 1: 2.42% APRC fixed for 3 years with Loan To Value of 85%
Lender 2: 2.15% APRC fixed for 5 years with Loan To Value of 75%
Lender 3: 1.92% APRC fixed for 5 years with Loan To Value of 70%
CCJ Remortgage Pre-Decision In Principle Application Form:
Benefits Of Our remortgage With A CCJ Services:
Some 1st UK Money lenders tolerate previous mortgage arrears
Interest-Only remortgages with fair and affordable payments
Small valuation fees around £272
1st UK Money have access to lenders not available on the "far from impartial" comparison websites
Statistics from The Money Charity show the average monetary value of each CCJ is £2,171 CCJs apply to England, Decrees to Scotland, and a Northern Ireland Judgment to Northern Ireland.
All will put a stain on your credit files and stick to them like glue for six years unless you pay within a month. Experian explains how to have it removed here if you can settle balances owed within a month.
Remortgage With A CCJ Exploring Options Fast
When you're hit with a judgment, it's easy to think that there's nothing you can do about it, opting to sweep it under the carpet. The cost of doing could have ramifications on your future credit interest rates. It might also reduce your chances of securing a remortgage with a CCJ. Moreover, it could also affect your ability to access credit at all.
Your first port of call will be the emergency services of personal finance and that's the CAB Service. The Citizens Advice Bureau is a free service and since they provide money advice, they are under the same codes of conduct and financial regulations set out by the FCA.
​Doing Your Due Diligence…
Peter Mugleston of OnlineMortgageAdvisor.co.uk advises against applying to high street lenders for bad credit home loans, or mortgages as advisors are working to targets to run a credit check and get a quick turnaround.
Not on financial products but of customers with poor credit being turned around and shown the door.
Instead, his four-part process is:
Grab copies of your credit reports (Free with Credit Karma)
Do not make multiple loan applications – especially to high street banks
Use a broker
Repair your credit
In addition to #2, we would add that researching the market is important because there are smaller and often local building societies willing to offer more favourable credit deals.
A broker though, that's going to set you back, but without one, can often set you back more.
As for repairing your credit, since we know the average amount is £2,171, it may be possible to access smaller loans for adverse credit, which will work out more favourably if it allows you to pay off within a month and have the CCJ/Decree removed.
​When You Can't Remove Your CCJ You Can Soften The Blow
You don't have to wait six years to remove your CCJ. As TrustOnline.org.uk explains, you can apply to have your CCJ marked as satisfied.
A satisfied CCJ on your credit report shows you have paid the balance in full. An unsatisfied judgment shows the opposite and money is still owed.
That satisfied status is a significant game-changer for accessing any type of credit because even the big banks recognise it as lowering your risk to them.
In October last year, the Guardian published an article about subprime lenders, showing the interest rates as high as 8%. With mortgage rates continuing to fall in early 2016, the lowest rate comes from the Yorkshire Building Society at just 1.14%.
Bluestone Mortgages and Pepper Home Loans mentioned in that Guardian piece, would set you back nearly eight times the lowest mortgage rate. There's also noise in the buy-to-let mortgages sector with Foundation Home Loans focusing its offering to those in the market for buy to let mortgages with bad credit.
The message is clear when it comes to remortgages – clean up credit reports
A possible saving grace to get a CCJ application considered for removal…
If for whatever reason, you didn't attend the hearing when you were issued a CCJ, you'd be issued with what's known as a default judgment. Andrew Crisp of Mason Bullock makes a good point about applying to have the judgment set aside.
The caveat with this is that you must have a good reason for not attending i.e. you didn't know, moved address, exceptional circumstances such as bereavement and that when you first became aware of the issue, were prompt in the redress to apply for the judgment to be set aside. If you are successful in having it set aside, it'll be removed from your credit report.
Be proactive in cleaning up your credit report, put steps in place to rebuild your credit history by managing personal finances better. Plastics are the way to go, but NOT if you lack self-control. You need to stick to budgets, within your limits and be able to pay balances down in full every month.
If you can't do that, do not get plastic. Having credit cards when you lack good money management is dangerous territory.
CCJs aren't a complete barrier to accessing mortgages. It just means you'll need a specialist provider, possibly a broker, and will most certainly pay higher interest rates.
When you do, be sure to stick with shorter-term mortgages, as that will let you access better mortgage rates as your credit rating improves.
Remortgage-Related Pages Worth A Read: