LV= Liverpool Victoria Equity Release Reviews 2023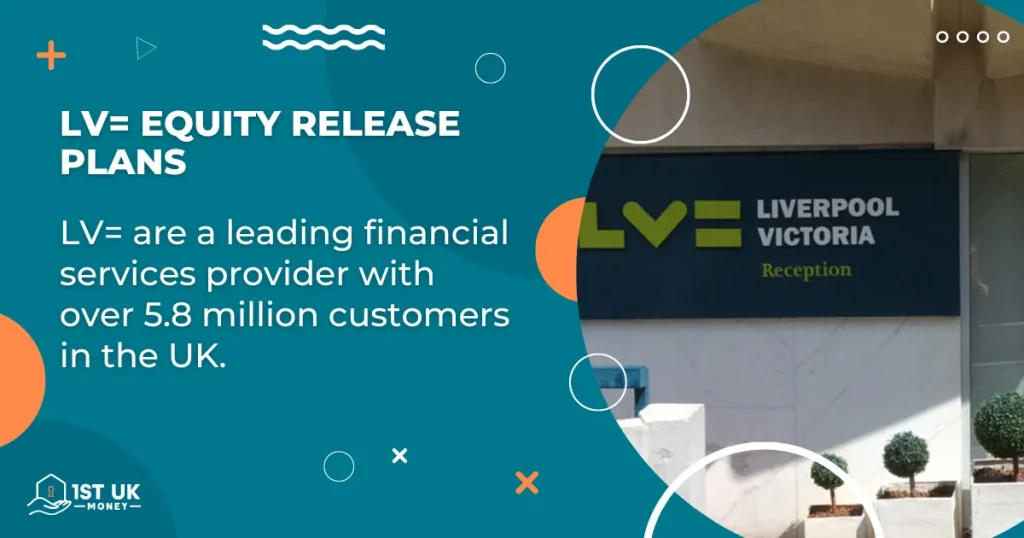 Are you looking for a way to unlock the value of your property and turn it into a tax-free cash lump sum? Equity release from Liverpool Victoria (LV=) could be the answer.
With LV equity release, you can access the money tied up in your home without having to move out or downsize. This is an ideal solution for those aged 55 and over who want to make their retirement years more comfortable and enjoyable.
Equity release with LV= offers a range of benefits, including no monthly repayments, no impact on inheritance, and the ability to stay in your own home while still enjoying financial freedom. Plus, you'll have access to expert advice from qualified advisers who can help you make informed decisions about your finances.
With LV= you can enjoy greater financial security in retirement without compromising on lifestyle or comfort. Unlock the value of your property today and start living life to the fullest.
Example Equity Release Plans For School Or University Costs
Equity release at 4.15%.
Free valuations available upon request
No monthly payments unless you would prefer an interest-only option
Continue to live in your home and retain 100% ownership
You can still move home as this plan is transferable
Up to 70% loan to value on some educational plans
Please Enter Your Details Below For A Free Quote

Firstly, Is Liverpool Victoria Equity Release Safe?
Equity release from Liverpool Victoria (LV) is a safe and secure way to access the value of your property. LV has been providing equity release products since 2002 and is a member of the Equity Release Council, which ensures that all products adhere to strict safety guidelines.
The most popular type of equity release product offered by LV is a lifetime mortgage, which is secured against your property and requires you to pay off any existing mortgages or loans first. This means that you will still own your home but will have to make regular payments towards the loan until it is fully repaid.
LV also offers other types of equity release plans such as home reversion plans, which allow you to sell part or all of your property in exchange for a lump sum payment. All equity release plans come with safeguards such as no negative equity guarantee, so you won't owe more than the value of your home when it's sold.
Overall, if you're looking for a safe and secure way to access the value of your property then LV's range of equity release products could be an ideal solution for you.
Do any of the following apply to you?
​Do you have a mortgage you need to pay off?
Do you require money for repairs or home improvements? Like a new kitchen or bathroom.
​Would you like to help ​a family member purchase their first home?
Would you like to pay off all your credit cards and loans and have zero monthly payments?
Would you like a better lifestyle, change your car or have a well-deserved holiday?
Release Equity From Your House As A Cash Sum Or Regular Payments
Lets Get Started: LV= Our Equity Release Review
LV is a leading retirement services provider having won numerous awards for their equity release services.
Unlike many other providers who compound interest monthly, LV equity release compound the interest annually, saving borrowers on interest fees.
LV is one of the few UK lenders to allow equity release on second homes within the UK.
Brief Summary:
If you're considering equity release, this LV review will help you compare what's on offer. For a more thorough comparison of equity release options completely tailored to your situation, get in contact with 1st UK today!
What to Know about Liverpool Victoria / LV=
LV is the abbreviation used for Liverpool Victoria. They are a leading provider of financial services, serving over 5.8 million customers throughout the UK with cost-effective insurance solutions, investment choices and a wealth of retirement solutions.
Since 2002, LV= has specialised in equity release funding, are regulated by the Financial Conduct Authority and are voluntary members of the Equity Release Council, giving reassurance that when they promise a no negative equity guarantee, they stand by it, alongside all other rules and principles that members of the Equity Release Council are obliged to uphold.
In addition to offering solid protection backed by unequivocal guarantees, they also have a string of awards to their brand, including:
The Gold Standards Awards for retirement services in 2015
5 Star Award from MoneyFacts.co.uk for Equity Release Services through their Flexible Lifetime Mortgage
The most recommended insurer by YouGov
Financial Advisor Service Awards in 2015 for outstanding achievement
Suffice to say, when it comes to equity release LV= are ahead of the curve, know what financial solutions people want and are well-positioned to offer market leading financial services.
The Options LV Equity Release Provide
LV= have two products, both straightforward to understand:
The Lifetime Mortgage – Lump Sum+
The LV Flexible Lifetime Mortgage
How much you can borrow from both plans will depend on your age and your home's value. A prerequisite for both products is that you must get financial advice from a financial adviser who's certified to provide advice on equity release products.
1st UK has the experts at hand to provide solid financial advice on all aspects of equity release and can compare the whole of market, reviewing all offers and advising you on the best custom solution suited to your needs. Contact us Today
The Lowdown On Each Of The LV Equity Release Products
Lifetime Mortgage Lump Sum+
The Lifetime Mortgage Lump Sum+ Offers homeowners the option to release a lump sum payment based on their age at the time of application and the property's current value.
The minimum lump sum you can release is £10,000 with the possibility of borrowing more later and the amount you'll be eligible to borrow ranges from 25% of your property's value for applicants aged 60 years old, rising to 55% for homeowners aged 90 years of age to 95 years of age.
The single lump sum payment of £10,000 can cost less in comparison to the Flexible Lifetime Mortgage. Furthermore, interest is compounded annually, bringing even more interest savings. Future borrowing may be available depending on individual circumstances.
Who's it for?
The Lifetime Mortgage Lump Sum+ is suited to those who need to pay for a one-off expense, be it home improvements, to clear outstanding debts, pay for family tuition fees, take a holiday or a buy a new caravan.
Flexible Lifetime Mortgage
LV's Flexible Lifetime Mortgage has the same minimum loan amount of £10,000, but instead of it being released as a lump sum, it's released in stages of at least £2,000 per withdrawal. It can be more cost-effective than the Lump Sum+ product as you'd only be paying the interest on money released and not what's on reserve for withdrawal at a later date.
The amounts you can borrow is determined by your age at the time of application and your home's valuation. 20% for customers aged 60, rising to 50% of homeowners aged 90 to 95.
When a Flexible Lifetime Mortgage is arranged with LV=, the remaining loan amount on reserve is valid for 15 years with a restriction of one withdrawal per year.
As the minimum you can release is £2,000, it would mean if you were to borrow the minimum £10,000, you could release £2,000 per year for the next five years, or every three years from the date of approval, taking your loan validity to the maximum 15-year term. Interest rates are variable and based on the time you release the funds. No interest is paid on money you have on reserve to release at a later date.
There is the option to increase your loan amount during the term of the loan; however it will be subject to a home revaluation.
As with all LV= equity release options, you do need to consult with a qualified financial adviser to be considered for any of the LV= Lifetime Mortgage products.
Speak to our friendly advisors certified to discuss equity release products with you and compare the various offers from the whole of the market to find the most cost-effective solution to meet your financial requirements.
The Eligibility Criteria For LV Equity Release
Homeowners need to be aged between 60 and 95
Joint homeowners require a joint application
The minimum home valuation is £70,000
The property must be a freehold
Long-leaseholds are considered but must have a minimum term remaining
All properties must be in good condition, be well-maintained and built with conventional materials. Specialist buildings can be considered.
Any existing mortgages remaining in place must be paid in full from the funds released
Properties must be within the United Kingdom (inclusive of Isle of Wight and Anglesey)
The Small Print of LV= Equity Release Schemes Reviewed
Adequate buildings insurance must remain in place
Your property has to be kept in a good state of repair
Before others occupy any part of your home, you need the express permission of LV=
If your properties Title Deeds are in joint names, both names need to be on the LV Equity Release agreement
If you sell your home, you can either
transfer the Lifetime Mortgage product or
repay the outstanding mortgage
A joint applicant can be added to the product at a later date, provided they meet the eligibility criteria
Early repayment fees are applied to loans repaid within the first ten years.
Interest is compounded annually
One thing that's' noteworthy of LV= is they're one of a select few lenders prepared to arrange equity release funding on second homes with the only requirement being they're in the UK and not an overseas holiday home. That's rare to find.
Compare Equity Release Schemes
While our LV= Equity Release review covers the need-to-know aspects and whether you'd be eligible, comparison of the whole of the market is even more beneficial.
As LV stress in all their documentation, it's essential you get the best advice on equity release from a certified financial advisor to ensure you are aware of all the implications and the total costs.
1st UK are specialists in equity release, able to advise on a range of products from a multitude of lenders and will compare the whole of market, getting you the best key illustration fact sheets from the most competitive products available.
Get in contact with our team today to find out how we can help you release the cash tied up in your home on the most favourable terms at the best rates.
Please note that the LV= logo is a trademark of Liverpool Victoria, to which we have no direct affiliation. The equity release firms we work with provide quotes from many providers.
Liverpool Victoria Details
Address: County Gates Ln, Branksome, Poole, Bournemouth BH1 2NF, United Kingdom
FCA Registration Number: 12383237
Phone number: 0800 028 8974
Related To This Subject: