​How To Use Equity Release For Home Improvements
Release The Equity In Your Home As A Cash Sum Or Regular Payments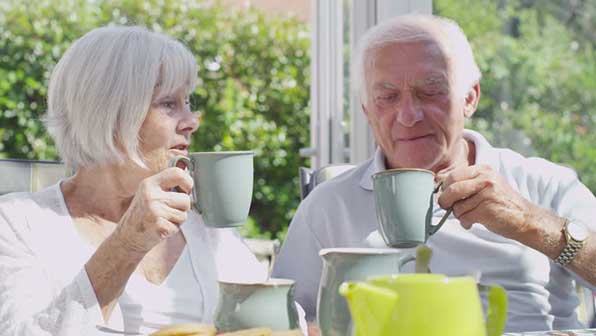 ​Compare The UK's Top Equity Release ​Deals. Best Quote 30 Second Form

​​​The broker will compare options from the following brands only:Aviva, Hodge Lifetime, Just (Just Retirement), Legal & General (L&G), LV (Liverpool Victoria), More2Life, OneFamily, Pure Retirement, Retirement Advantage.
Lets Get Started: ​Equity Release ​Explained
​Last year (2018), there was a 12% rise in the number of homeowners over the age of 55 turning to equity release for home improvements.
For some, it's the only financing option available as traditional lenders are keener to lend to younger borrowers than they are to take on new customers over the age of 55, especially for larger home improvement loans that are likely to have repayments continuing into your retirement years.
A common reason for older borrowers raising finance for home improvements is because it's cheaper to boost the quality of your home and personalise it to your décor tastes than it is to buy a new modern home with all the mod-cons included. Besides, it's much less stress to adapt your current home for senior years living than it is to downsize to a smaller home.
When Equity Release For Home Improvements Is A Good Financing Option
For equity release to be a viable financing option for home improvements, it tends to be more attractive to those borrowing higher sums of money that would take the repayment terms into their retirement years and eat into your disposable income, perhaps to the extent where you'd struggle to make the monthly repayments.
When your repayment terms on other types of home loans take you past the retirement age, lenders will enquire about your repayment strategy. They'll want to know you have a pension pot that can support your lifestyle and that it can be used to afford the monthly repayments.
For those with a problematic credit history, that can also hinder your ability to access traditional finance options.
For home adaptations that would allow you to remain in your home in later life, those are the types of scenarios where equity release can be beneficial.
That being said; so too can downsizing to a better-suited accommodation. There are a variety of lending options suitable for later life borrowing, some of which can be a more affordable borrowing method.
As equity release is highly regulated and requires plan providers to include a no negative equity guarantee among other safety features to protect your financial wellbeing and your loved ones, it's always a requirement to speak with a professional equity release adviser. This ensures you have explored all your options and reached a joint conclusion that equity release is indeed a viable option for home improvement loans. If there are other options better suited, those are always discussed with you prior to equity release plans.
Determining the Costs Using an Equity Release Calculator
When comparing various equity release plans for home improvements or any other reason you need to raise capital, one of the terms the majority of people will search online for is an equity release calculator.
These are available for a number of providers and brokers, but they aren't always reliable. A lot of brokers have an online calculator that lets you put in data about your home's value, the amount you have left to repay on your mortgage, your age, whether you're a single or joint applicant, in retirement or nearing retirement and the list could go on.
What you can find once you've put in all your personal data is that you need to input a valid email address and/or phone number to get your personalised calculation detailing what you could borrow based on the details you provided.
This is a way for equity release broker firms to generate a list of people interested in taking out an equity release plan. It's essentially a marketing tool to generate qualified leads for their agents to follow up to sell you on equity release plans and related services.
One of the very few equity release calculators that gives a good indication of how much you could borrow with an equity release plan is the one from debt charity, Step Change.
The Step Change equity release calculator requires minimal personal data and no requirement to give your personal email address or phone number to get a baseline indication of how much you could borrow through equity release for home improvements.
You can access the Step Change equity release calculator here.
​Is Equity Release A Safe Option?
Using equity release for home improvements gives you the cash to splash on upgrading your tired looking kitchen, adding a conservatory, putting a new bedroom in, or getting a garden outhouse installed to extend your functional living space into your garden.
There's a lot you can do to your home with the funds released through equity release, however, as these are lifetime mortgages, it's best to consider if you really want or need to use equity release to fund the renovation projects you want to do.
Alternative Ways to Fund Home Improvements
When financing home improvements, it's generally a better idea to find an alternative method of financing your home improvement project so you can keep equity release there as an option for later life borrowing. The reason being, spending on home improvements, should, theoretically, increase the market value of your property.
As an example, having a lean-to conservatory added to your property, costing up to £10,000 could increase your property value by around 5%, adding an extra £15,000 to your home's market value. There are more high-end conservatories that could cost in excess of £30,000, potentially increasing your home's value even more.
The reason alternative financing is best explored before equity release is that the amount of money you get is based on your home's valuation report at the time you apply for an equity release plan. The more your home is worth, the more equity you can release.
How to Finance Home Improvements That Increases Your Properties Valuation
Remortgage your home
If you can remortgage your property, it can be a decent way to finance your home improvements, but you do need to let lenders know what you intend to do to your home. After all, your property is the security on all mortgage products.
If you're going to start knocking down walls to create an open plan living space, perhaps install French doors that open out to a raised timber decking area or even get a hip to gable loft extension done on an end-terraced home – which would require altering the roof of the property – lenders may be hesitant to approve on a remortgage when they know you're planning extensive alterations to the property structure.
There are other considerations for remortgaging as there are more fees involved than meet the eye. First, you need to find the right deal, which is trickier than you'd imagine. Most people will use comparison sites to find the best deals. The thing is, the best isn't really the best if you go by interest rates alone.
The arrangement fees are stacked against you on comparison best buy tables. Lenders know people want low interest rates, so they've effectively rigged the best deal sites with low interest rates and pushed their profits into arrangement fees instead. Once you find a remortgage deal with a decent interest rate and low fees, you've then hoops to jump through to be approved. Affordability checks will always be a factor as lenders are required to make sure you can afford the monthly repayments across the entire term of the loan.
For those over the age of 55, you'd likely only be considered for a mortgage deal that would be repaid before you retire. If you need to borrow into your retirement years, that's when equity release for home improvements may be your better option as it lets you borrow for life with no requirement to make monthly repayments.
There is, however, plenty of equity release providers that will allow you to repay some of the capital each year to lower the interest payable on lifetime mortgages.
Another aspect of equity release that can be beneficial over remortgaging is the ability to raise finance without a credit check. Not all equity release providers require credit checking, instead having ID verifications for legal requirements as they don't really need to verify your creditworthiness because they don't need you to repay the loan. They have security by owning your property, so they know they'll get the loan repaid when your home is sold. You still retain the right to live there for the rest of your life, though.
If you can borrow enough to cover the cost of home improvements with a remortgage that can be repaid before you retire, that could be the way to go, and it could increase the amount you could borrow through equity release when borrowing later in life. Keep in mind that any remaining balance on a mortgage product must be repaid using the money raised from an equity release plan. For that reason, remortgaging for home renovations or improvements is usually only a viable option when you can repay the capital with interest before you retire.
Home Improvement Personal Loan
Home improvement loans can be secured on unsecured. The advantage to using either is that you get to know in advance what the fixed monthly repayments will be each month for the duration of the loan.
These are only usually suited to those with good credit ratings (on both secured and unsecured loans) and even then, only half the applicants to apply for a loan will get the advertised APR or better.
The rate of interest advertised is only representative. The rate a lender offers you is based on your credit history. If that's lacking credibility such as having a CCJ or accounts in default, the cost of borrowing using a home improvement loan will be high.
Generally, for smaller home improvements costing under £10,000, a secured loan can get competitive interest rates. Unsecured loans will have much higher interest rates pushing them into an unrealistic category for financing home improvement projects.
For smaller home improvements or upgrades such as installing a downstairs toilet, making it easier for bathroom trips in your senior years, estimates on priceyourjob.co.uk put the cost at around £4,000 for a downstairs loo to be installed, and that includes a toilet and washbasin supplied and fitted, a privacy window installed, plastering, decorating, flooring, and an extractor fan.
A project like this may be feasible for a secured or unsecured loan taken over terms under 5-years to limit the amount of interest payable.
Equity Release Calculation Form
​Other Equity Release Departments