Equity Release Schemes For The Over 90s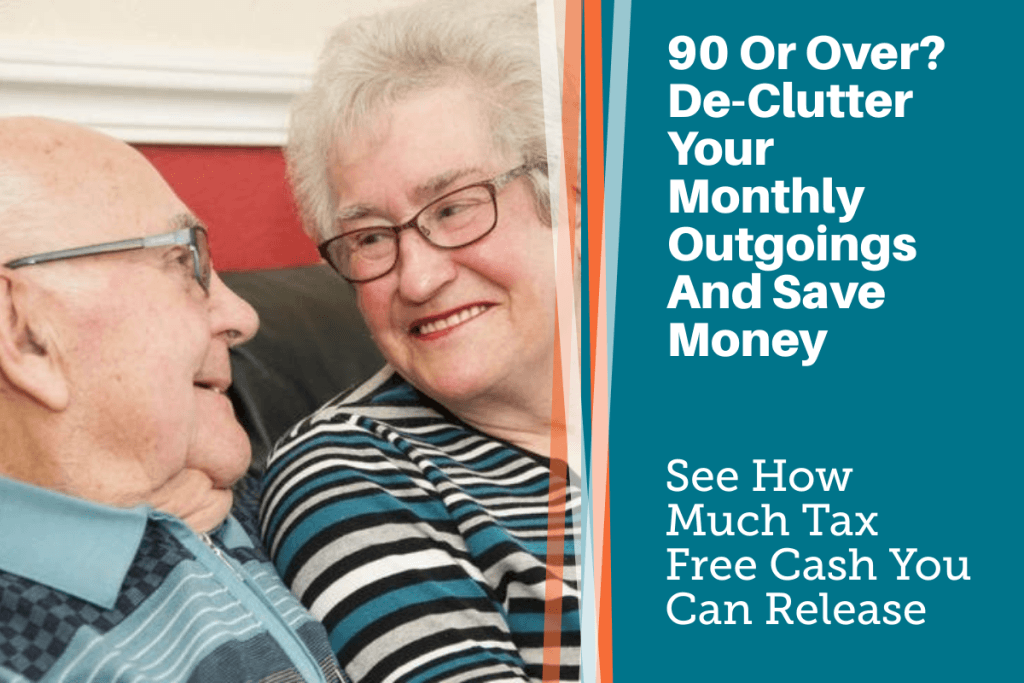 Example Equity Release Plan For People In The UK:
Property Valuation: £185,000
Release Amount: £120,600
Loan To Value: 65%
Rate: 2.81% MER
Is There A Redemption Penalty: No
Is This Product Portable: Yes It Is
Please Enter Your Requirements Below: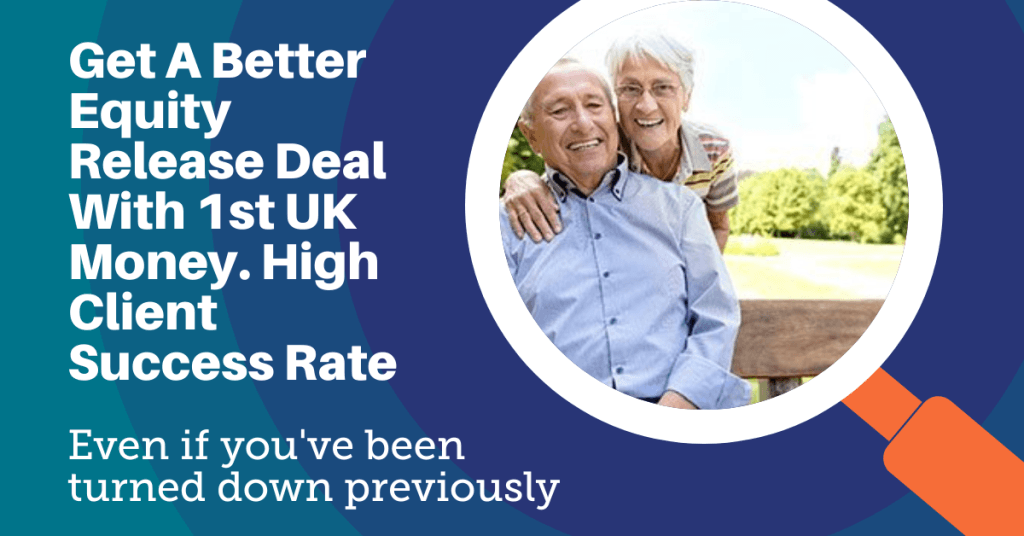 Do any of the following questions apply yo you?
Do you have a mortgage you would like to pay off soon?
Do you require money for repairs or home improvements? Like a new extension or conservatory?
Would you like to assist a family member buy their own property?
Would you like a better lifestyle, change your car or have a well-deserved holiday such as a cruise?
Equity Release For People Over 90 Explained
The equity release over 90 market is a booming age group that plan providers are increasingly adapting their later life lending plans, to accommodate an ageing population. The Office of National Statistics shows that the UK has over half a million people aged over 90. Some 14,000+ of those are over the age of 100.
The finance market is adapting to meet the needs of people later in life. Most are equity release providers, but there are also building societies throwing out their upper age limits completely to meet the growing consumer needs to finance retirement. When people are homeowners and find themselves with under-performing pension plans, they often need to raise capital to fund their retirement, make home adaptations to prevent downsizing, fund their social care, or spend on big-ticket, once-in-a-lifetime experiences.
Whatever you need capital for, there are ways to release equity from your home that don't require you to move house to a smaller and cheaper property to get your hands on the cash tied up in your home.
Is Equity Release Over 90 A Good Idea?
This depends on the type of plan you take out. Interest-only products, yes, interest roll-up, sometimes, home reversion plans – definitely not.
A look at your options with equity release for over 90s
Interest-Only Lifetime Mortgages
Interest-only lifetime mortgages are as they sound. The plan will release either a cash lump sum or multiple payments based on your home equity, and you only pay the interest. It works the same as an interest-only mortgage and a retirement interest-only mortgage.
The advance you get as the home loan stays the same, and you continue to make the interest payments each month. As these are lifetime mortgages, the monthly repayments of interest are due each month for the rest of your life.
These are accessible from as young as 55 years of age. Naturally, the earlier they're taken out, the more interest is payable.
The No Negative Guarantee available from members of the Equity Release Council gives a guarantee that your loved ones don't inherit debt. With some plan providers, they allow you to build in an inheritance guarantee. How the inheritance guarantee element works are by reducing the LTV (loan to value), you can borrow at.
All equity release plans let you release a percentage of the equity you own in your home. By the age of 90, most will have full ownership, so no mortgage to pay. For those who have managed to get a mortgage approved that runs until you're over 90, the remainder of the mortgage balance will need to be paid off from the money released.
You can't take out a lifetime mortgage of any type and continue to have a mortgage. The funds you release from your equity in your home has to be used to bring your ownership to 100% equity. Equity release (over 90s anyway) is attractive because lenders increase the LTV they'll lend at and lower the interest rates too. Interest-only lifetime mortgages are one of the few plans with no upper age limit. You could be 99 years old and still be eligible for an interest-only lifetime mortgage.
However, being eligible and being suitable for the plans are two entirely different things. Lenders need to know you'll be able to comfortably afford the monthly interest repayments without it affecting your quality of life, perhaps due to spending over budget or restraining your disposable monthly income significantly.
Another aspect that's appealing with interest-only lifetime mortgages is that you are not required to make the monthly payments for life. These plans start you out on a fixed rate of interest that lasts the duration of the loan. If, however, you find later in life that you no longer have the income to continue paying the interest every month, then you can switch it over to interest roll-up.
The interest rates will be higher, but for the years you're able to make the repayments on the interest, it will have saved interest accruing that would have if you were to start out making no interest repayments. This makes this type of equity release plan suitable for those who want to protect the value of their home to use as an inheritance for their loved ones.
Interest Roll-Up Lifetime Mortgages with Drawdown
Lifetime mortgages with interest roll-up using draw-down is a way to release a cash lump sum of usually £10,000 minimum and leave more on reserve should you need it.
The advantage of this plan is that the interest-only applies to the money you release, not the funds you're approved for. You could have as much as 55% LTV available. If you were to take it all as a cash lump sum, the compound interest would accumulate fast, decreasing the value of your estate.
Using a plan with a draw-down facility, you can take a smaller lump sum advance, leaving a percentage on reserve in case you need it later in life. Interest is not charged on reserve funds so these types of plans can be suitable for smaller cash advances using some of your equity while building in a safety net you can tap if and when you need it.
Interest Roll-Up Lifetime Mortgages Lump Sum Plans
Using equity release for a lump sum payment tends to have the highest long-term cost as interest on all the cash advanced will accrue compound interest for the rest of your life. As with most equity release for over 90s, there is an option to guarantee an inheritance is left available and there can be more because you're older as the LTVs are higher.
To leave part of your home's value as an inheritance, plan providers will deduct the amount you want to leave protected from the amount they'll approve based on the LTV they offer.
For over 90s applying for equity release, the LTV ratios are usually around 50% and over. If, for example, you wanted to ensure at least 30% of your properties value was available to your family, you would get a cash advance based on a percentage of your home's value, less the 30% protected element. In practice, if your home is valued at £100,000, and the plan provider is willing to extend an LTV advance of 55%, and you want to leave 30% to your family, you could arrange for a 25% LTV lump sum advance with a 30% inheritance guarantee. When the plan finishes, upon your death or you move into long-term care, the cash advance you received would be repaid with interest and 30% of your home selling price going to your heirs.
Home reversion plans are a type of equity release that can be entered into from the age of 55 years of age, just as all other types of equity release plans are. The drawback, at any age, is that the reversion companies offering these plans buy your home at below market value. Sometimes as low as 40%.
The older you are, the higher the percentage they pay. Usually, these are only considered a viable option of equity release for over 70s as that's when they tend to pay the higher percentages of your homes' value, but even at that, it's around 60% so still significantly less than you'd get on the open market.
That being said, they can be suited to certain groups of people who'd rather sell some or all of their home equity to pay for care in their senior years while retaining the right to live in the same home for the rest of their life. Home reversion plans are a high-risk product and can't be entered into without professional financial advice to ensure they're a) appropriate and b) the most suitable financial product for your situation.
Unlock Tax-Free Cash Application Form
Alternatives To Equity Release For Over 90s
Just a few years back, being beyond 75 would have ruled most people out of traditional secured loans of any type, especially home loans.
In today's financial landscape, there are far more options available, and that can mean that you may not need to tie yourself into a lifetime mortgage product to release some of the cash tied up in your property, or even need to consider downsizing to release your property wealth.
Mainstream lenders tend to have upper age limits, but building societies are beginning to increase financing options for those over the age of 90.
As of 2022, there are 16 societies with no upper age limits and the Family Building Society has an upper age limit of 95. This just means whatever amount you want to borrow, they'll let you provide that you can prove affordability, creditworthiness and have the loan repaid (capital plus interest) by your 95th birthday. If you can't repay a traditional home loan by the age of 95, remortgaging with another senior-friendly building society could be possible.
How to Access Equity Release Plans
If equity release feels appealing, discuss it with a financial advisor. As with all types of equity release, you'll be required to get professional advice before you can apply to ensure you know everything involved in the process and the potential costs.
Advisor consultations can be done online, by telephone or in-person. However, once your application is ready to be submitted to a plan provider, members of the Equity Release Council (highest protection among equity release plans) require at least one in-person meeting with a solicitor. Some plans include contributions towards your legal fees, while others will need you to pay for the solicitor fees.
Your financial advisor will discuss this with you prior to submitting an application.
With regards to advisor fees, those may need to be paid directly by you or, in some cases, the advisor may have their fees covered on the client end by negotiating a commission fee with the plan provider.
Ask your financial advisor before making the appointment how they charge for equity release consultations using the lifetime mortgages over 55 calculator.
OTHER RELATED DEPARTMENTS