1st Stop Secured Loans Review
Discover whether 1st Stop's loan rates are right for you. 100's of secured 2nd charge finance products & high acceptance rates!
Special "broker-only lenders" not featured on the comparison sites with great terms
Intelligent lending technology & no upfront fees
Great for clearing other loans/credit cards/existing car credit
New lenders for 2022 and beyond
High loan-to-value (LTV) with some lenders
Homeowners could borrow from £5k – £950k
Keep your existing mortgage with no worries
We only soft footprint credit search that won't affect your credit rating
Sympathetic To Past Credit Problems: 1st UK Have Lenders That Accept ​Nearly All Forms Of Credit.Prime, Light, & Heavy Adverse All Considered.
Pre-Decision In Principle 60 Second Application Form for 1st Stop Secured Loans: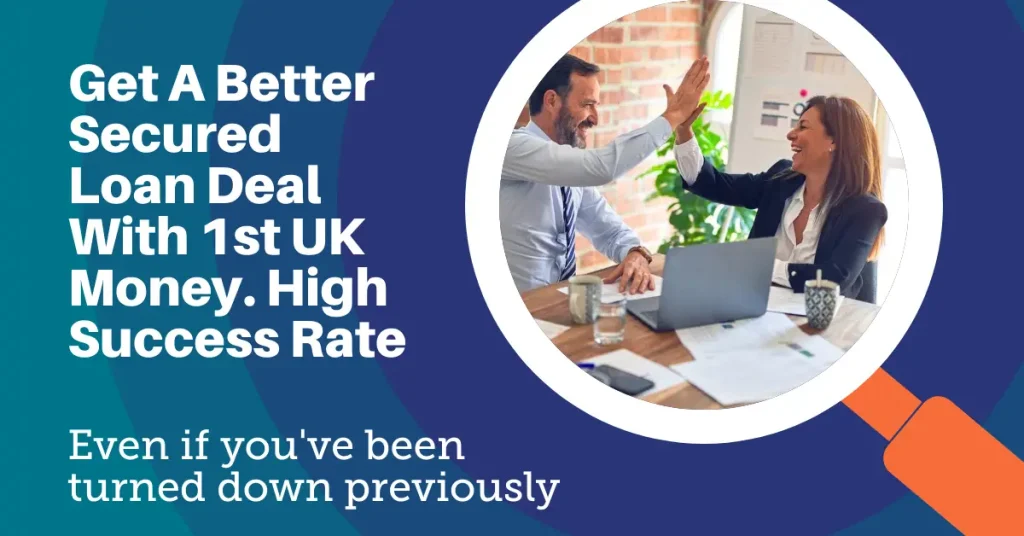 ​​1st Stop Poor Credit Secured Loans Introduction
​The 1st Stop Group were established in 2004, and are a registered member of the Financial Conduct Authority. As such, they can provide financial solutions to homeowners across the UK, including Northern Ireland.
The firm is Lancashire based and pride itself on a fast turnaround time of second charge mortgage applications. Perfect for those struggling to access finance and have workers waiting to get started on a new project on your home.
Loans are available for almost any purpose, including home improvements, renovations or debt consolidation.
Regarding the risk profile of customers they accept for second mortgage products, they are relatively tolerant to a range of adverse credit entries on your credit files.
What You Should Know about 1st Stop Home Loans. How Long Does It Take?
Loans are available from £5,000 to £50,000.
The repayment terms can be for two years, up to twenty years.
All rates are variable and start at 12%.
Applicants need to be between the ages of 21 years old and 70 years old at the time of application.
All second mortgage products require a full home valuation. The maximum LTV (loan to value) is 120% with 1st Stop Home Loans; however, there is a minimum valuation of £75,000.
​Poor credit second mortgages from 1st Stop are only available on residential mortgages, and not suited to BTL (buy to let)
They will consider Debt Management Plans, provided it has been well maintained, as well as Individual Voluntary Agreements (IVA), which are satisfied.
​​​1st Stop ​Eligibility Criteria
The minimum income requirement is a net monthly income of £1,200 for a single application and £1,500 monthly net income on a joint application.
Some benefits can be used to support your income assessment. For those borrowing into retirement, income from pensions isn't accepted.
Applicants must have a full year's employment history.
Self-employed and contractors will be eligible, provided a full year of verified accounts can be supplied.
All types of account defaults will be considered, regardless of severity.
Only homes with an existing first charge mortgage will be eligible for a second mortgage. Unencumbered homes will not be accepted.
Applicable Fees
The lender fee is variable, starting at £795 rising to a maximum fee of £1,295.
If you repay your secured loan early, the maximum penalty is the equivalent of two months interest.
​​​​What You Need To Apply…1st Stop Loans Process
​The evidence you'll need to supply in your application are:
Previous address history for the past five years.
Proof of your employment history for at least the past year.
Your current income and expenses, including your current borrowing levels.
​​How 1st Stop Home Loans Can Help
​1st Stop Home Loans are one of several lenders that focus heavily on assisting homeowners with an adverse credit profile to raise finance, using their home as security by placing a second charge on the property.
This lets homeowners borrow cost-effectively and for almost any purpose. Some lenders will specify what you can and can't do with any funds released as a secured second charge mortgage. Others, let you spend the money as you please.
1st Stop Home Loans are suitable for almost all purposes. The only exclusions are using the funds for investment or business purposes as these loans are only for residential purposes.
You can use the loan to fund home improvement projects, pay for life events such as a wedding, or use the money to consolidate your debts by paying all your existing creditors, leaving you with the one monthly payment to cover all of your current debts. It makes month to month budgeting far easier.
Representative Example:
"Representative 23.6%APRC based on a loan of £20,000 repayable over 120 months at an interest rate of 17.4% pa (fixed). Monthly repayment of £405.62. Acceptance fee £995. Broker fee £2,000. Total interest payable £28,674.40. The total amount payable £48,674.40."
Source ~ 1st Stop Home Loans
1st Stop Personal Loans Review
1st stop home loans are known for being very tolerant of people with a bad credit history. 1st stop personal loans are also well known for speedy applications so it's a great option to apply to them if you need money fast.
People that have had successful applications often tell friends and family about 1st stop loans bad credit as the costs of the interest is worth it to them when they need the cash.
What about my bad credit history because of my poor payment record?
If you have some missed payments or some defaults for some relitively small amounts of money you could consider secured loans with bad credit as long as you have the income to support the borrowing.
​​Related To 1st Stop Loans Reviews
These lenders are particually good for higher loan to value.